Macha Theatre Works presents "Happy, Happy, Happy..." 
Macha Theatre Works presents "Happy, Happy, Happy..." 
Play exploring the secret lives of moms opens Oct. 13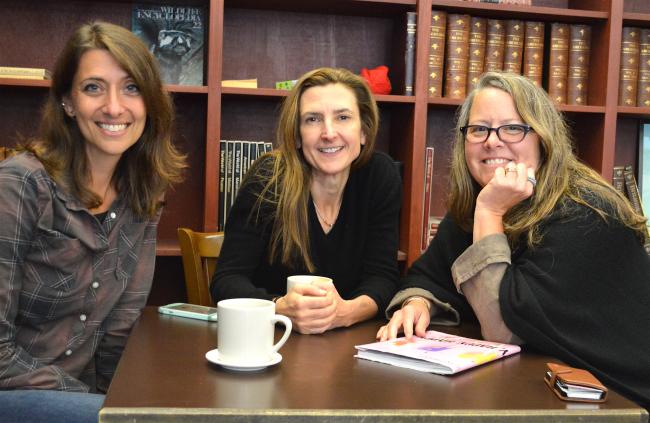 Lindsay Peyton
Mon, 10/02/2017
By Lindsay Peyton 
Things aren't quite what they seem in "Happy, Happy, Happy . . ."
The play, directed by Ballard resident Amy Poisson, stars the two women who wrote the script – Lisa Every and Jenn Ruzumna.
Every and Ruzumna met at Freehold Theatre in 2004, where they were both acting -- and soon discovered that they had a lot in common. 
"We were both moms, and we had both put motherhood first and were trying to fit theatre around that," Ruzumna said. 
They also were both frustrated by the types of roles available to women on the stage. 
"All the female roles were like obnoxious, overbearing mothers or sex objects," Ruzumna said. "Women were just supporting the main male character. There were very few nuanced female roles."The pair set out to write their own roles – and four years later, have created a play where they both get to shine. 
"Happy, Happy, Happy . . ." stars Every and Ruzumna, as well as Martyn G. Krouse and Warren Levi Haney, who play the two male characters. 
The plot centers on a day in the character Lauren's life, when she has to navigate both her grandmother's death and her son Caleb's 19th birthday. Her husband spends all his time jogging, and her best friend seems removed and distracted. 
Secrets are revealed as the characters struggle with mortality and morality in this dark comedy. The story had a strong appeal to Poisson. 
"The play takes place in two days," she said. "There's a funeral and a birthday. The women are best friends, and they live five minutes away from each other. They're moms together. And there's a big betrayal in the play."
"Moms have secrets," Ruzumna added. "There's a little bit of desperation in between loving your family and loving yourself. There are certain sacrifices you make."
Poisson said the story-telling technique is not traditional. "It's more emotionally based than literal," she said. "It heightens the play and brings it to life."
Poisson recently returned to directing after working as a stage manager. She also felt women still have a lot of territory to gain in theatre. 
"I had a fair amount of negative experiences as a female stage director with male directors," she said. "I wanted to be in charge of my own destiny. Theatre is still a boys' club, but I'm done pounding my head against the wall."
Now Poisson works as a director for Macha Theatre Works and her focus is on producing plays by women playwrights or on stories with strong female characters. 
"I'm in a position to give opportunity and voice to women who could have been pushed aside instead of empowered," Poisson said. 
Every said that part of the inspiration for the story was about finding her own identity as a woman in her 40s and being a mother.
"I had this sense of mortality," she said. "Like I've got half of my life left. How am I going to live it?"
For now, she hopes – with Ruzumna and Poisson at her side – to shake things up a bit for women in theatre. 
"Happy, Happy, Happy . . ." opens Friday, Oct. 13 and runs through Saturday, Oct. 28. All shows start at 8 p.m. at the Erickson Theatre Off Broadway, 1524 Harvard Ave, 98122.
For more information, visit www.machatheatreworks.com.