Chef Ryan Donaldson opens "Gather" --- restaurant and gathering place in Ballard
Chef Ryan Donaldson opens "Gather" --- restaurant and gathering place in Ballard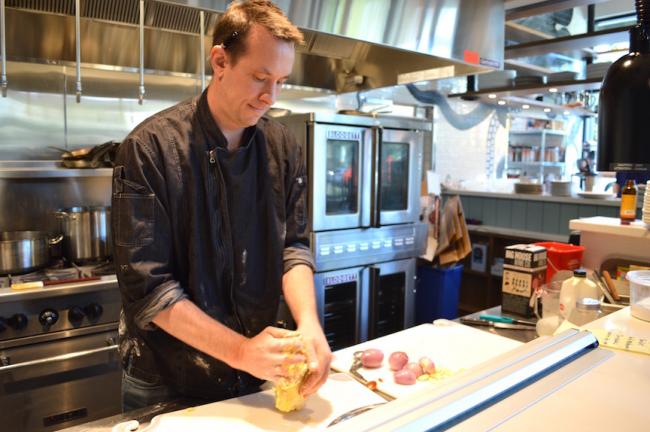 Lindsay Peyton
Mon, 10/16/2017
By Lindsay Peyton
As a child, Ryan Donaldson thought his destiny would be on a basketball court. He discovered, instead, that his path would lead to the kitchen. 
The chef, who recently opened Gather at 5605 22nd Ave NW in Ballard, still remembers when sports injuries made him take a fateful turn. 
"I thought my life was over," Donaldson said. 
He took a job at a restaurant to fight the boredom, while his anterior cruciate ligament (ACL) healed. 
Even though he was flipping burgers and making pizza, he fell in love with the restaurant business. 
At the end of the day, Donaldson discovered that working in the kitchen was similar to playing sports. 
"I loved the fast pace; I loved the teamwork and the camaraderie," he said. 
Donaldson worked his way up to grill cook, then took a job at Schwartz Brothers, where he eventually was promoted through the ranks to sous chef.
Recognizing a dream to one day own a restaurant, he took shifts working the front of the house, waiting tables and bartending. 
"It consumed me," he said. "It became my passion. I knew I wanted to have my own place one day. And to understand how things work, you have to learn every aspect."
Donaldson attended Seattle Culinary Academy at Seattle Central College, and while finishing his courses, started working at Sazerac.
Then, he decided to pursue his bachelor's degree at Washington State University, studying hospitality and management. 
After graduating, Donaldson was recruited by JW Marriott in Tuscon. He started working there as manager and eventually became chef de cuisine. 
"It taught me a lot about management," he said. "It molded me to become the manager I am today."
He eventually moved back to Seattle to pursue his dream of opening a restaurant. He found a space and the Stone House was ready for business in September 2008. 
Donaldson said shortly afterwards, the recession hit. "It was a struggle," he said. 
Still, he pulled through, and the restaurant has become a success. He still owns the place. "It's in good hands," he said. "All the people there are passionate about what they do, people who grew up with me."
When he had the opportunity to open a new spot, he jumped at the chance. With a group of investors who believed in him, Donaldson began looking for a location over a year ago and settled on Ballard. 
Donaldson went to work building his dream kitchen – and designing his menu. 
He took his inspiration from the large Thanksgiving dinners at his family's house.
"We have a big, long communal table," he said. "And we have food from everywhere – traditional and nontraditional. We have a big spread."
He wanted restaurant guests to feel like they had just arrived at a feast, with plenty to choose from – and to interact the way they would at a family dinner. "We want to create an experience," Donaldson said. 
He describes his cooking style as "Northwest contemporary meets French bistro."
Donaldson equally reveres classical European dining and food cultures from around the world – and enjoys learning about various cooking styles. 
The 80-seat dining room and bar at Gather will have a menu of sharable plates and tapas-style snacks that pay homage to a range of cuisines. 
Guests may try a mason jar filled with this season's pickled vegetables, roasted marrow bones with capers, fennel and parsley or duck rillettes with pickled cherry and cocoa nib. 
Other items on the menu include fried cauliflower with buffalo sauce, grilled Octopus with fried potatoes and black olive vinaigrette and braised beef cheek with gnocchi, red onion marmalade and ricotta cheese. 
The menu will rotate seasonally – as will the "nosh hour" bar menu. Gather will offer local craft and seasonal beers, wine and handcrafted cocktails.
Donaldson hopes his restaurant becomes a gathering spot in Ballard – and that regulars will stop by frequently to connect with friends and family over a meal.
"There's so many dishes on the menu, you can't try them all," he said.  
For more information, visit gatherkitchenandbar.com.