Ballard Police Blotter week of 11-6-17
Ballard Police Blotter week of 11-6-17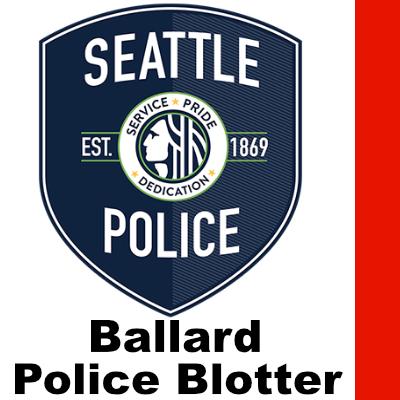 Mon, 11/06/2017
Business burglarized on Holman Rd. N.W.
At 7:17 a.m. on Sat., Oct 28, police received a call from an employee of a business located in the 8700 block of Holman Rd N.W. A hole had been cut through a common wall from the vacant business next door. The floor safe was cut open with a power saw, and the contents had been emptied out. At least $388 in cash was missing. One key box in the front door was broken open. The owner of the business arrived with surveillance video. It shows that at 3:50 a.m., two subjects crawled on the floor behind the counter by the safe. Both suspects were wearing gloves. Officers photographed the scene and uploaded the pictures into evidence. 
Jewelry and cash stolen from home on 23rd Avenue N.W.
Officers received a report of a burglary around 1 a.m. on Sat., Oct. 28. When they arrived on the scene, at a home in the 7300 block of 23rd Avenue N.W., the victim said that he had returned home and found his kitchen window ajar with a lock broken. The back door had been unlocked. The window screen was on the ground near the window. There were pry marks on the window frame. The man then discovered that a bottle of tequila was stolen, as well as some of his wife's jewelry. In addition, $20,000 cash was taken from a drawer in the closet. The victim had a security camera installed in his home. While footsteps were audible in the video, no one was in view of the camera. No fingerprints or other evidence were recovered from the scene. 
Residential burglary on 21st Avenue N.W.
At 9:10 p.m. on Fri., Oct. 27, officers were dispatched to the 7000 block of 21st Avenue N.W. to investigate a burglary. The complainant said that he left his home between 6 p.m. and 9 p.m. to take his family to an event. When they returned, they noticed that the master suite and his daughter's bedroom had been ransacked. The subjects entered the home through an unsecured bedroom window. They stole jewelry, coins and dollar bills. Then, the suspects exited through the same window. The estimate value of lost items totaled $4,035. Officers were unable to find fingerprints. 
Attempted burglary on 10th Avenue N.W.
A man reported an attempted burglary at his home in the 7700 block of 10th Avenue N.W. on Fri., Oct. 27. He explained that he was running an errand around noon and saw trash and recycling bins moved to the south wall of his house, under the bathroom window. He was alarmed, because the bins are normally in his backyard. He then noticed that a screen was pried off and the window was cracked open. The window was secured, however, so no entry was made. Officers searched for fingerprints but were unable to find any.