Ballard Police Blotter Week of 11-13-17
Ballard Police Blotter Week of 11-13-17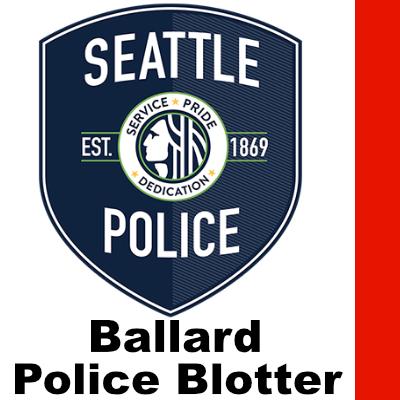 Mon, 11/13/2017
Trespassed man picks fight with security officer
At 5 p.m. on Thurs., Nov. 2, officers were dispatched to the 900 block of N.W. 45th Street to help stop a fight between a man and a security officer. When they arrived, the suspect had fled north in a blue Dodge Magnum. The victim explained that the suspect had been verbally trespassed from the store but kept returning. This time, the security officer told the suspect to leave. The suspect said he wanted to speak to the store director. The guard called without success and told the suspect that he couldn't reach the director. The suspect turned and walked towards his car. The guard followed, walking about 20 ft. behind him to ensure that he left. The man grew angry and told the guard to stop following him and to leave him alone. The suspect said he was a trained fighter and then shoved the guard in the chest. The guard pulled out a can of mace. The suspect reached down and picked up two rocks from the ground. The guard told him to leave, and the suspect walked to his car and drove away. Officers were able to locate his car and placed the man under arrest for assault. The suspect was booked into King County Jail. 
Burglars hit parking garage on N.W. 80th Street
The manager of an apartment building in the 300 block of N.W. 80th Street called police around 11 a.m. on Wed., Nov. 1. She reported that during the night an unknown person entered the parking garage and broke into a maintenance closet. Nothing was taken from the closet, but the door was damaged. One of the tenants reported a garage door opener missing from a vehicle. Officers believe that the suspect climbed over the west side of the building to get inside.