Paul Duncan has made Ray's Boathouse his culinary home
Paul Duncan has made Ray's Boathouse his culinary home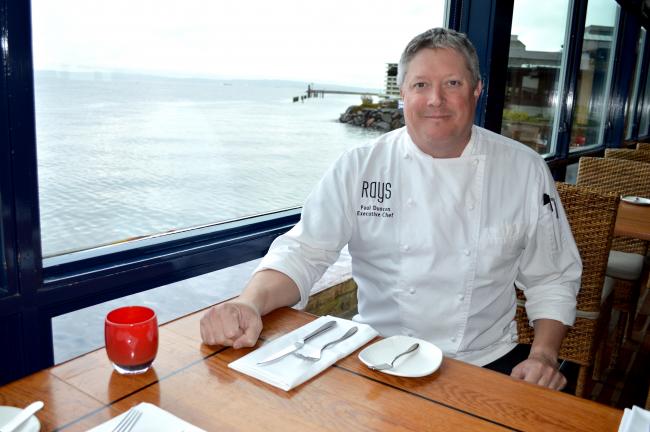 Mon, 11/13/2017
By Lindsay Peyton 
Paul Duncan has found a home in the kitchen at Ray's Boathouse & Café in Ballard.
He has worked at the seaside seafood oasis since 2013. Before that, his career in cooking led him to a number of establishments, big and small in Portland and Hawaii. 
Originally from Portland, Duncan first learned to cook from his mother. He enjoyed being in the kitchen with her. 
"It was warm, smelled good, and I could taste things," he said. "Our kitchen was the soul of the house." And his mother was an inspiration. 
"She was a full-time nurse with four children," Duncan said. "Dinner was always ready at 7 p.m. with fresh baked bread and dessert. I don't know how she did – she just managed to get it done."At the age of 14, he had his first experience in the food industry – selling Hebrew Nationals at the Portland Saturday Market. 
"This was my first ever food experience," Duncan said. "I had never had a Hebrew National hot dog, and it blew my mind."The work was hard – but he had fun. And when he was older, working his way through college, he returned to work in kitchens to pay the rent. 
At age 21, he took a job as sous chef at Widmer Brothers Brewing in their Gasthaus Pub kitchen. "I didn't even know what a sous chef was," he admitted. "I told a couple white lies. They asked if I could do some things, and I said yes. I knew I could figure it out."
Along the way, he learned how to work in a proper kitchen and with a head chef. After two shifts there, he bought his first set of knives and was off to the races. 
"I was hooked," he said. "It was an open kitchen, lots of noise. What really got me was the camaraderie."Next Duncan moved on to Assaggio in Southeast Portland in the late 1990s. He served as the chef's right hand man. "That's where I had my second food epiphany," he said. 
He fell in love with Italian cuisine and ingredients. 
After a couple of years, he took a job at another Italian restaurant -- Serratto, in Northwest Portland. 
Duncan explained that the neighborhood was known for progressive restaurants and this was his first experience opening a restaurant.
"We started from ground zero, assembled a team, a tight knit group" he said. "Everybody in Portland wanted to eat there. It was glamorous."Duncan went on to work as chef at Caffe Mingo and Tabla in Portland -- before he caught a wild hair and moved to Hawaii in 2008. 
"I knew from the first time I visited that I wanted to live there at some point," he said. 
Duncan responded to an ad for an unnamed restaurant group that turned out to be Bubba Gump Shrimp Company.
He trained in California and Minnesota in the company's corporate kitchens – and then headed to Maui. "The training program was amazing," he said. "It was like I was back in school. It was half boot camp and half university. I had a blast."Two days after landing in Hawaii, he was at work as one of two chefs. He stayed for a year at the highest volume kitchen in which he had ever worked. 
Then, Duncan assumed the post of chef at the Ritz Carlton Kapalua for four years.
After a while, however, he grew tired to barging food in – and wanted to return to cooking with fresh, regional ingredients. "I wanted to see what was going on back in the Northwest," he said. 
But he wanted to stay on the water. Instead of moving back to Portland, he decided to head to Seattle. 
"I moved here without anything, without a job," he said. 
It didn't take long before he landed a position as head chef at the Hi-Life in Ballard. Then, he became the sous chef at Ray's Boathouse & Café. He worked his way up to chef de cuisine in 2013 and two years later was promoted to executive chef. 
"This is the biggest operation I've ever had my hands on," Duncan said. In addition to the main restaurant, there's an upstairs café and catering operation to run. 
Duncan enjoys the challenge. "My favorite part of cooking is pulling it off – feeling like there's no way you can but then you do for one more day," he said. "You just roll up your sleeves. At the end of the day, I just love feeding people." 
Duncan agreed to share his recipe for Penn Cove Mussels in Thai Style Coconut Broth with Westside Seattle readers. 
Ray's Boathouse 
Penn Cove Mussels in Thai Style Coconut Broth
This recipe is for 3lbs of Mussels (de-bearded).
For the broth:
    •    2 cups coconut milk
    •    2 Tablespoons red curry paste
    •    ½ Tablespoon chopped garlic
    •    1 Tablespoon fresh chopped ginger
    •    1 cup Sake
    •    1 Tablespoon fresh lime juice
    •    2 Teaspoons fish sauce
    •    1 Tablespoon fresh chopped Thai basil
    •    Add all broth ingredients to a standard blender with lid attached and pulse for 1 minute until all ingredients are combined. Set aside.
Method:
    •    In a large saucepan add 2 tablespoons un-salted butter and allow to melt. Then, add the Mussels and stir to combine. 
    •    When the mussels begin to "hiss and pop," add the Thai mussel broth, turn heat to medium and cover. 
    •    The mussels should be fully cooked in two to three minutes. Turn off heat and pour mussels and broth into a deep serving bowl and serve family style. Garnish with whole Thai basil leaves.