Ballard resident turns magician and transforms driveway in Diagon Alley
Ballard resident turns magician and transforms driveway in Diagon Alley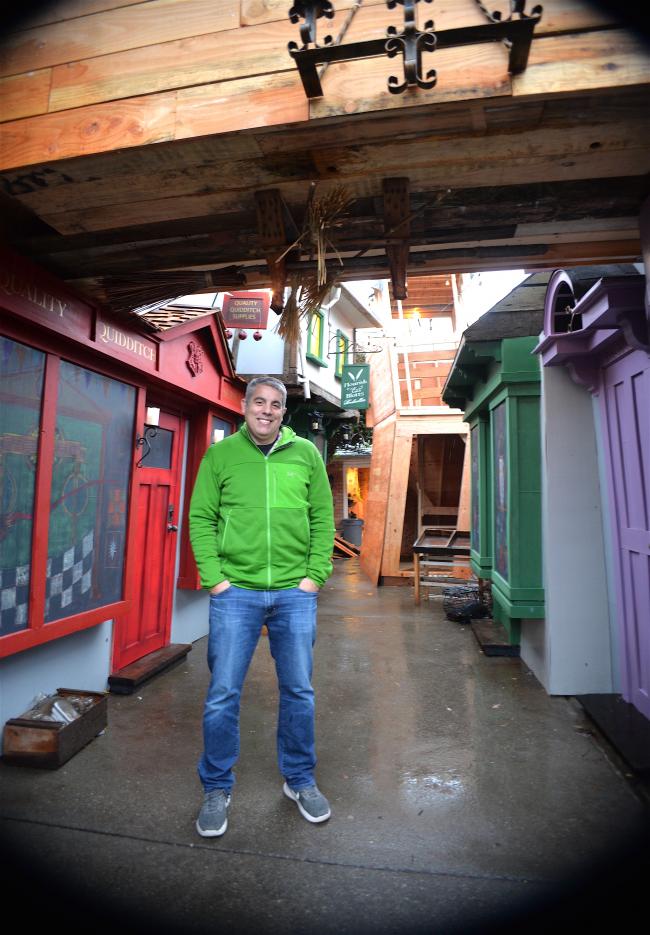 Photos by Lindsay Peyton
Fri, 11/24/2017
It's almost as if a magic portal has opened in Ballard.
For a limited time, you won't need a wizard's wand, a ticket on Hogwart's Express or the ability to find a secret passage in the back of a pub to reach the shops and sights of Diagon Alley, the main street of Harry Potter's magical world.
Simply head to 7514 13 Ave NW. What once was a driveway at the Chambers' home has become a destination for Harry Potter fans across the city and beyond – and for anyone looking for an escape from the ordinary "Muggle" world.
The fantastical streetscape offers doorways to shops for potions, owls and spell books.
And soon there will even be snow – and an appearance of Dumbledore as Santa Claus.
The Hogwarts headmaster, who has an eerie resemblance to St. Nick, will be on deck -- and available for photos -- from 1 p.m. to 6 p.m. on Saturday, Dec. 2 and Sunday, Dec. 3. The holiday fun is free and open to the public.
The whole Diagon Alley installation is doubling as a fundraiser for a worthy cause -- the Pancreatic Cancer Action Network. The Chambers family lost their friend Matt Bencke to the disease in October. They have already raised $6,000 from visitor donations to fund pancreatic cancer research.
"People are enjoying it – and it makes money for a good cause," the streetscape's creator Jon Chambers said. "The whole thing is about bringing people together – and inspiring them."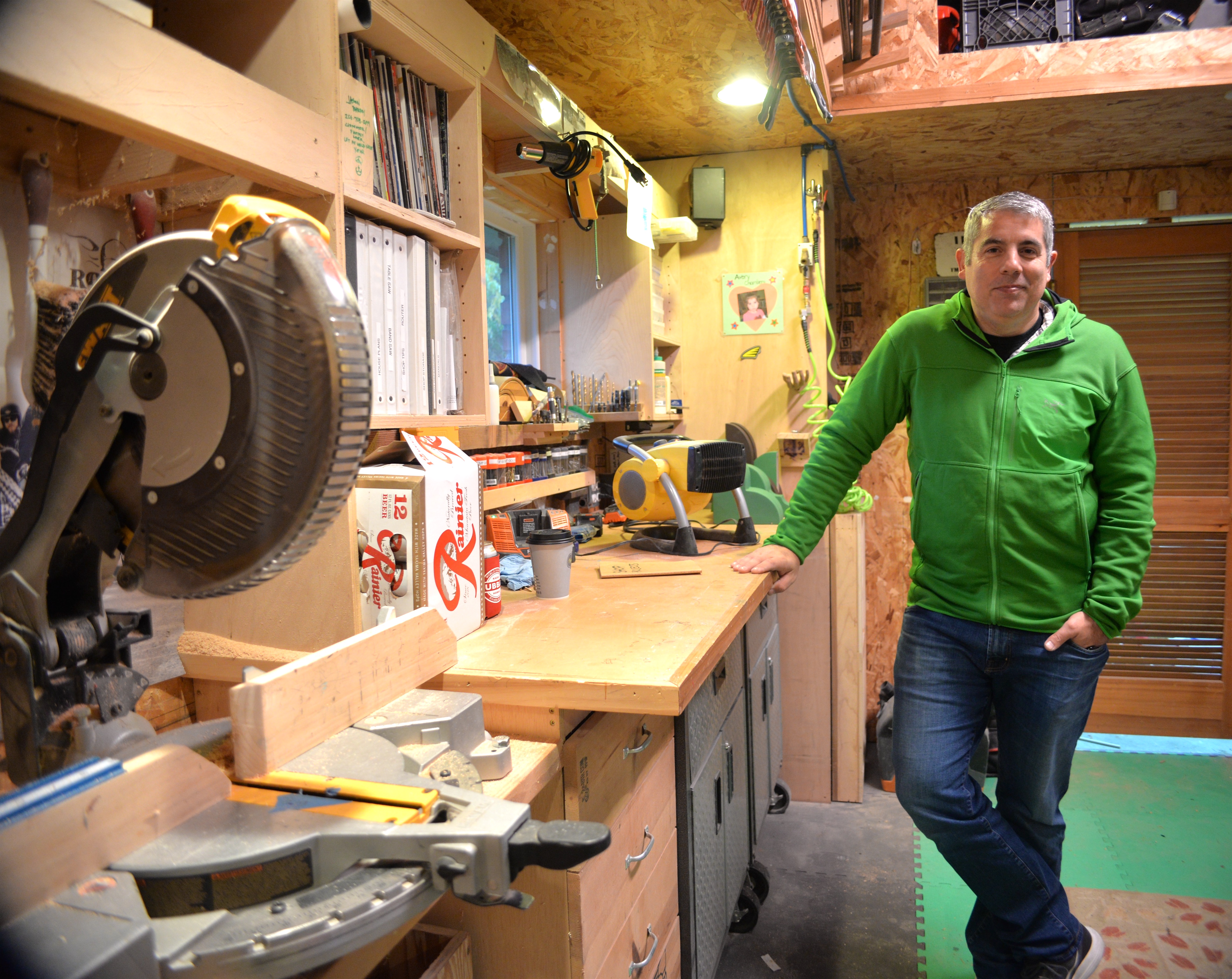 The idea for the life-size installation came as the result of a family brainstorming session.
Early in the summer, Chambers had gathered his wife Jennifer and his two daughters Haley and Avery to discuss how to attract more trick-or-treaters to the neighborhood.
Chambers was born the day before Halloween – and it has long been his favorite holiday.
Lately, the day had become a bit of a let down.
"It's just been dead out here," Chambers said. "It seems like the kids had been skipping our block. We wanted to get more kids out."
A light bulb went off in the girls' heads immediately.
They were both huge fans of the Harry Potter series – and they suggested that their father recreate Diagon Alley in front of their house.
"They grabbed their sidewalk chalk – and started drawing plans out," Chambers said.
While the girls recreated the magical world on the sidewalk – from memory – Chambers sat down with his sketchbook and started thinking about proportions. If he were going to dive into this project, it would have to pack a big wow factor, he decided.
"I wanted kids to be in awe, but I didn't want adults to think, 'Oh this is just a kids' thing,'" Chambers recalled.
The answer involved making it life-size – and movie set quality.
Chambers was up for the challenge. He had done some construction work before – and knew how to frame a structure, as well as how to build the trim.
He is also a long-time artist, so being creative was not a stretch.
"I've done stuff before, but not at this level," Chambers said.
He had been working in start-ups for the past few years – and Chambers said that gave him an edge.
"Doing start-ups, sometimes you don't have a plan – and sometimes that's better," he said. "I just had some rough plans. I had an idea of the scale. I didn't use a level; sometimes I didn't even use a tape measure – and sometimes that helped with the speed."
He combined his can-do, throw-caution-to-the-wind attitude with a period of time between gigs – and started construction on his Diagon Alley on Oct. 14.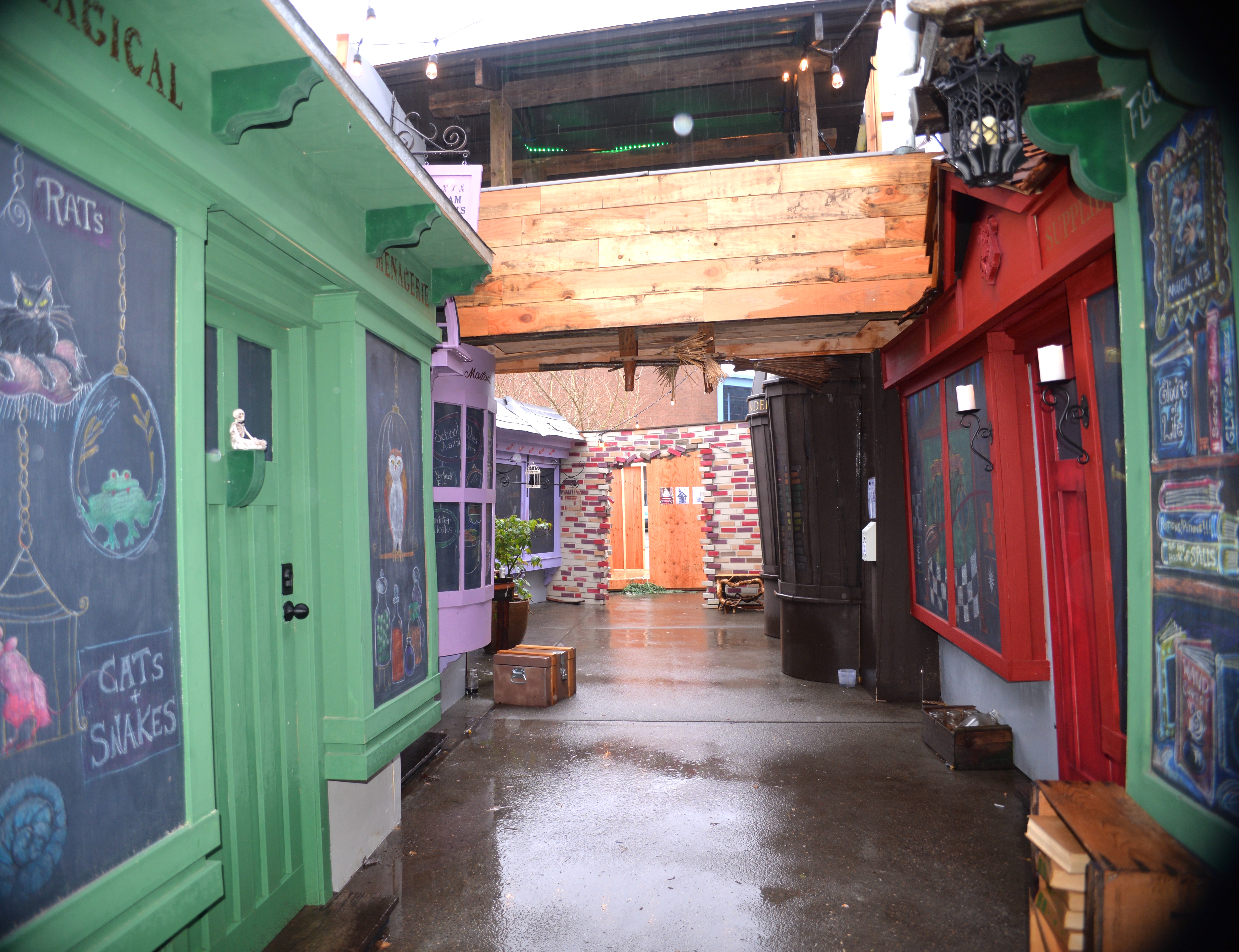 The first day, a couple friends came over and helped him begin building the 26, 4 ft. by 8 ft. panels that would serve as the base of the project.
After a slow first day, Chambers realized he needed some help.
"I made a plea on Facebook," he said. "Sure enough 30 friends showed up. We had an assembly line going and started cranking it out. It set the pace for the next two weeks."
His childhood friend James Hopper made regular appearances to help. "We're like brothers," Chambers said. "He just gets me. He can pick up where I left off. We just rocked it."
As the structure was raised, children at Whittier Elementary School, which is right across the street, started to notice.
"Kids were at the fence everyday cheering us on," Chambers said.
And more and more adults were volunteering to help.
"It really was a massive community effort," Chambers said. "A lot of people came and said, 'Put me to work.'"
They worked right to the eleventh hour.
"There wasn't anything left unfinished," Chambers said. "It all came together at the last minute right on Halloween – and worked right until then."
A line of children stretching around the block was waiting.
"It didn't stop," Chambers said.
In total, 2,700 people visited the site on Halloween. A thousand more came the next day – and the next. Eventually, Chambers stopped counting.
"It was the ultimate pay-off to see the reactions on their faces," he said.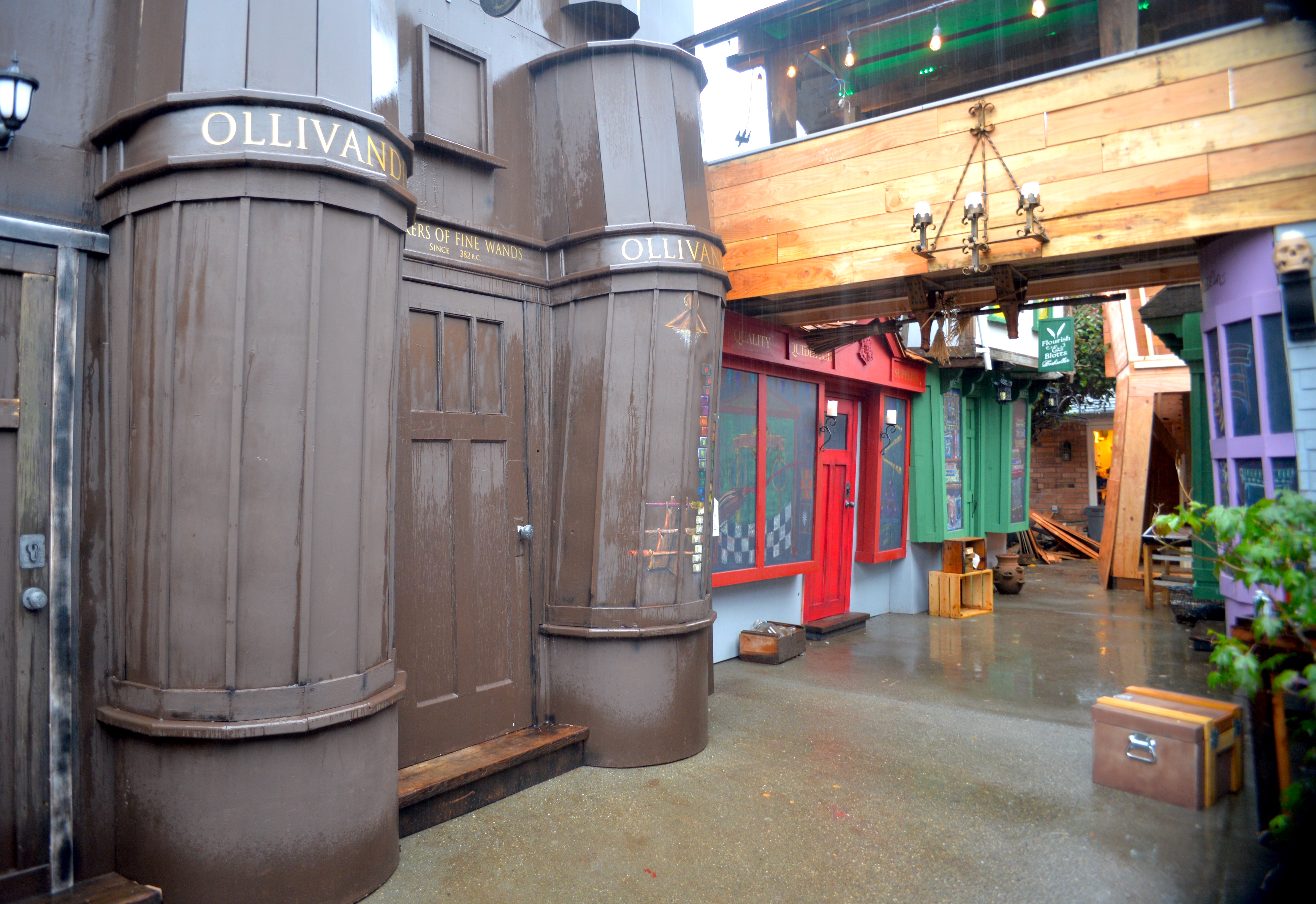 It's hard to walk through the space without breaking into a smile, Chambers' neighbor Bill Dunnell said.
"When you stand right in the middle of it, it's just a world away from the world," Dunnell said. "It's like an isle of happiness. The people who show up, you can tell it makes their day."
Dunnell has known Chambers for 18 years. "He gave me the lumber to finish my shed, we battled raccoons together, played soccer together," Dunnell said.
He clearly recalls when Chambers first told him about his Diagon Alley idea.
"At first I thought he was crazy – but then I thought, it would be pretty cool if he pulled it off," Dunnell said.
And he knew that if anyone was up to the job, Chambers was the man.
Dunnell said more children came to the neighborhood than ever. "We had to make three candy runs, because there were so many kids," Dunnell said.
Chambers recently completed a crowdfunding campaign to build two more structures, which he plans to finish in time for Dumbledore's visit.
Chambers also will install a giant papier-mâché dragon on the roof, made by L.A. artist Frank Carrillo, who contacted him after seeing the installation online.
In January, Chambers will begin to take Diagon Alley down – but he already has a plan for where it will go – Camp Korey in Mt. Vernon, a place where children with serious medical conditions and their families can go year-round, for free enrichment experiences.
Chambers plans to weatherproof his structure and make it a fixture at the camp.
He's already planning what he will build for next Halloween.
"I know exactly what I want to do," he said. "It's definitely Star Wars. This year was for the girls. Next year is for me."
To learn more about Jon Chambers and his Diagon Alley installation, visit http://diagonalleyproject.com.