Ballard Police Blotter; Week of 1-6-18
Ballard Police Blotter; Week of 1-6-18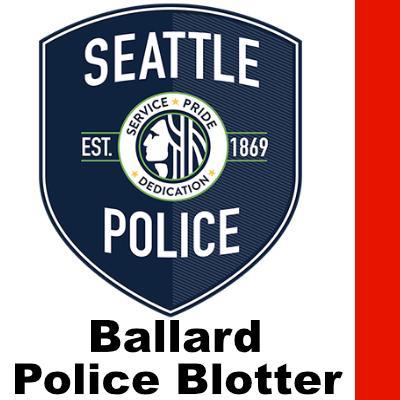 Mon, 01/08/2018
Report of assault on 13 Ave
Officers headed to the 9000 block of 13 Ave NW around 12:20 p.m. on Wednesday, Dec. 27 to investigate a report of a weapon. After arriving in the area, they learned that a possible suspect got on a bus. Officers stopped the vehicle and detained the suspect. The victim said that the suspect was knocking on his door and threatening to kill him. A second victim said that he came to the scene of the crime, and the suspect punched his car window and pulled out a handgun from his waistband. Officers and a K9 unit searched the area but were unable to find the firearm. The suspect from the bus was taken into custody. The suspect said that he did not have a firearm and never threatened anyone. He was then booked into King County Jail. 
Couple burglarized while trying to unpack
Just before 10 p.m. on Friday, Dec. 29, officers were dispatched to the 1700 block of NW 60 St. to investigate a home that had been burglarized. The callers were in the process of moving into the place -- and had noticed a suspicious vehicle watching them unload their belongings a couple days earlier. They said that they went away for a night and came home to find their boxes, suitcases and belongings had been rifled through. Their electronics were stolen, including a television, Xbox, computer and monitors. Officers were not able to find any fingerprints. There was a plunger, black hat, box of raisins and broomstick in the house that did not belong to the couple. The key box containing the key to the home was also stolen. 
Tools stolen from construction site
A group of contractors were working at a remodel in the 1700 block of NW 57 S. On Friday, Dec. 22, they all left the construction site and secured their items in the garage. They returned around 7 a.m. on Wednesday Dec. 27 and found their tools were gone. A security officer had been monitoring the site over the weekend but was unavailable for an interview. The victims said they would send police the serial numbers for the stolen tools at a later date. 
Theft at storage unit
Officers met a woman at her storage unit in the 2800 block of NW Market St around 6:55 p.m. on Tuesday, Dec. 26. She said that upon arriving at the unit today, she noticed that her lock had been cut. Several firearms were stolen.
Comments
isnt that special, the tweakers are now stealing guns.....ballard is so lovely these days
Add new comment