At Large: The Lobster Quadrille
At Large: The Lobster Quadrille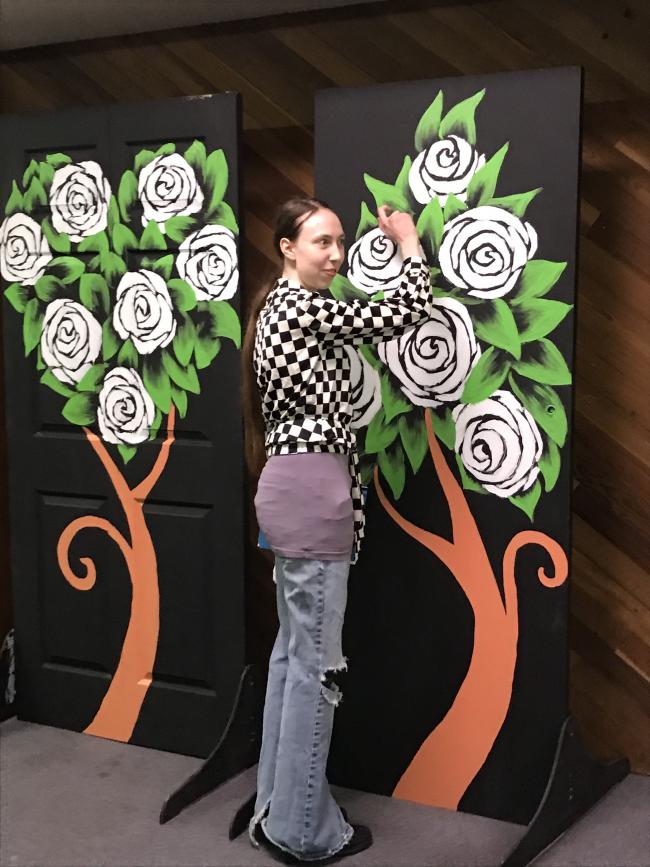 Photos by Cristie Kearny


Photo by Cristie Kearny
Mon, 01/22/2018
By Peggy Sturdivant
"If we can pull this off, it's going to be the most brilliant thing I've ever done." That's what writer/producer/director Cristie Kearny said about her upcoming Ever After Theater production of "Alice in Wonderland – The Adventure." 
When Kearny's dream is realized I have no doubt she will succeed in transporting 25 guests per performance into Alice's Wonderland dream. Moving through the donated space of Ballard Baptist Church the lucky ticketholders will fall through the rabbit hole, grow…and shrink, have tea and treats with the Hatter, play croquet with the Royal Party and do the Lobster Quadrille with Mock Turtle. The magic mushroom will be a chocolate confection, but the immersive experience set in present-day Seattle should be delicious overall. 
Kearny's take on Lewis Carroll's Alice's Adventures in Wonderland sounds re-hallucinated rather than just re-imagined. After all the infamous Tea Party will be steampunk-inspired. Caterpillar is a hipster. "I get these visions of what I want it to be," Kearny said, "I want perfection." 
"Alice in Wonderland – The Adventure" runs February 8-24, Thursday-Saturday, with two performances on Saturdays and a special Wednesday, Valentine's Day performance. Tickets are already on sale through eventbrite. Kearny did a Kickstarter for funding. The Ballard Baptist Church is donating use of the space. The production is a benefit for the Ballard Boys & Girls Club, and there will be a free performance for foster children. From building the rabbit hole to benefitting the community, every aspect of the production is ambitious, and driven by at least one Kearny. 
Sitting in a coffee shop Cristie Kearny looks the part of typical Seattleite in winter, hand-knit hat and sweater, instead of someone who's trying to determine the perfect King of Hearts costume for her husband. She's a longtime Crown Hill resident who, along with her husband James (pastor/actor and carpenter responsible for THE rabbit hole) raised four Ballard High School graduates, all boys. Kearny mostly refers to them by their birth order; # 2 son is in the production as one of the guides, # 3 son created the Kickstarter video, # 4 is doing the music and sound. #1 son sent money. 
Cristie and James Kearny met as theater majors at Cornish and have been doing benefit theater productions on Capitol Hill for many years. She is currently teaching for Stone Soup Theater in public schools all over Seattle. She has long dreamed of doing this particular production as experiential; although she's learned the term now is 'immersive.' When she chose Ballard Boys & Girls Club as the beneficiary (four boys!) she decided, "If I'm going to do it for a Ballard organization, I should do it in Ballard." Through a club contact Kearny met with the Pastor Don and his wife Kristi at Ballard Baptist Church. Although there are many churches along that corridor, Ballard Baptist is the closest to the club, just across the street at 2004 NW 63rd. They have opened their doors wide, though no one has seen final product of the metal tree Seattle Steam Rats is fabricating and the doors may need to be opened even wider. 
The actors came through general auditions after a casting call at Theater Puget Sound. In addition to her day job, rehearsals, and costuming, Kearny is trying to contact local businesses to provide treats for the tea party, and deliver posters to storefronts. When we met, the Cheshire Cat had gone missing and there was a bit of concern about the 1910 church's archaic wiring. Since then the idea of producing Tea Party treats had really piqued the interest of Royal Drummer's owner Jill Killen. 
Kearny hopes all the shows sell out, at $25 general admission and just $15 for students, seniors and military personnel, I'm more concerned with demand exceeding supply. Croquet, steampunk, chocolate and treats in Ballard? One show already sold out to someone who is bringing all of his guests in costume to participate. Did I mention the Lobster Quadrille is set to Jefferson Airplane's "Go Ask Alice?" I'm going to buy my ticket right now and definitely wear the lobster hat that always embarrasses my niece Sarah. 
Tickets at https://www.eventbrite.com/e/alice-in-wonderland-the-adventure-tickets-40865965202
Mores details at https://www.facebook.com/thelobsterquadrille