Ballard's Copine launches "Alumni Dinners"
Ballard's Copine launches "Alumni Dinners"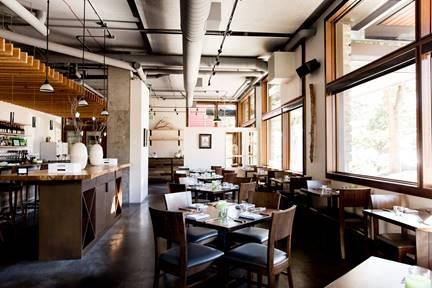 Mon, 02/05/2018
Chef Shaun McCrain of Copine restaurant in Seattle introduces the "Alumni Dinners", a series that reunites Chef McCrain with fellow Per Se alumni under one roof at Copine. The first "Alumni Dinner" will be held on Friday, February 23 in collaboration with André Mack, sommelier and owner of Maison Noir Wines. Additional dinners will be announced for Spring 2018.
McCrain, who spent two years in France at Elysées Du Vernet and Taillevent, joined Thomas Keller's opening team at Per Se in New York City as a chef de partie, working his way to the position of Executive Sous Chef. His four years at the world-renowned restaurant—alongside his wife and head host, Jill Kinney—marked the most influential period in his career, and his relationship with Keller proved invaluable.
"Jill and I speak a lot about that time in our lives and how integral it was to our careers. Working with people like Chef Keller and Laura Cunningham at Per Se showed us what it means to be truly invested in what you do every day," McCrain said. "Our peers from Per Se have gone on to achieve amazing things and I am humbled and in awe of our collective accomplishments. Jill and I want to celebrate that time and the people who made it so memorable by working side-by-side with them once again. We look forward to having André join us in Seattle to kick off the series with his Maison Noir Wines collection."
Mack initially left his successful banking career to pursue his passion for wine. While working as a sommelier in San Antonio, he discovered the joys of introducing guests to the little known vineyards that first attracted him to the business and "the instant gratification of a guest's reaction." While still in Texas, he was awarded the prestigious title of "Best Young Sommelier in America" by the highly regarded Chaine des Rotisseurs. This recognition led to a job as sommelier at Chef Keller's world-renowned French Laundry in Yountville, California. Mack went on to accept the position of head sommelier at Per Se in New York City, where he managed a 1500-selection award-winning wine list and first met McCrain and Kinney. Mack went on to pursue his dream of winemaking, which came to fruition in 2007 when he founded Maison Noir Wines.
The "Alumni Dinners" feature a five-course tasting menu for the evening representing a collaboration between both parties.
The menu with Maison Noir wine pairings from André Mack is as follows:
Puna Gardens Hawaiian Hearts of Palm
Shiitake Mushroom Relish, Ginger-Basil Aigre-Doux, Macadamia and Yuzu Tuile
Pairing: 2014 Oregogne Chardonnay
Hand Rolled Garganelli Pasta
Roasted Duck Jus, Foie Gras Emulsion, Crispy Duck Skin
Pairing: 2013 Lieu Dit Pinot Noir
Caramelized Sea Scallop
Octopus "Bacon," Yukon Gold Potato Purée, Winter Truffle, Périgourdine
Pairing: 2010 Touché Pinot Noir
Grilled Wagyu Beef Cap of Rib-Eye
Gremolata, Roasted Romaine, Young Carrots, Sauce "Oregogne"
Pairing: 2013 Oregogne Pinot Noir
Cheesecake Bouchon
Blood Orange, House Graham Cracker, Chantilly Cream
The tasting menu with wine pairings is $200 per person, exclusive of tax and gratuity. Reservations are available from 5 p.m.-9 p.m. Advanced reservations are required for the February 23rd dinner and can be made by contacting Copine directly via phone at 206.258.2467.