Ballard High School Theatre Group Performs Damn Yankees
Ballard High School Theatre Group Performs Damn Yankees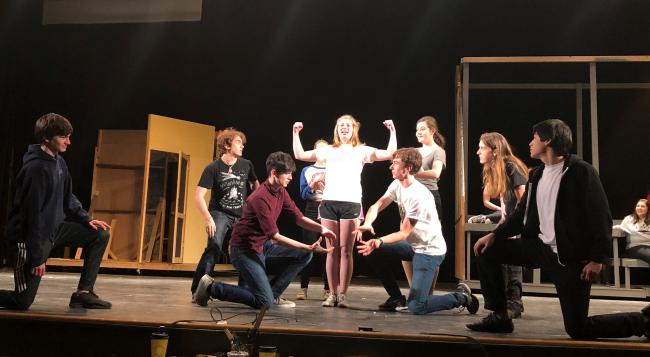 Fri, 03/02/2018
The Ballard High School Theater Group is preparing for their biggest production of the year - the  Winter Musical presentation of Damn Yankees. Eighty Ballard High School performing arts students, under the direction of BHS Theater Director Shawn Riley, are involved in the production, including 40 student actors and a 25-student live pit orchestra. New to this year's musical will be a walk on role by the winning bidder at the annual Ballard Performing Arts auction!
    Damn Yankees is a musical comedy based on the novel The Year the Yankees Lost the Pennant. Set in the 1950, it presents a modern retelling of the Faust legend. Featuring the hit songs "Heart" and "Whatever Lola Wants", this musical will surely entertain the whole "damn" family!
Enjoy dinner and a show before the March 17 performance
The Ballard Performing Arts program will also host a fundraising dinner before the March 17 performance at 5 p.m. Guests will enjoy a pre-dinner mixer with the cast featuring  a catered pig roast buffet (vegetarian options also available) and ballpark snacks such as soda and boxes of Cracker Jack; and reserved seats to the performance. Diamond Club Level participants will also receive a Washington Senator's baseball cap. This dinner is a fundraiser for the Ballard Performing Arts program.
Performance Details
The performances will be on March 15, 16, 17 & March 22, 23, 24 at 7:30 PM at the Earl Kelly Center for Performing Arts at Ballard High School. The Musical Gala is March 17th at 5 PM.
Tickets for Damn Yankees are available for purchase at SHOWTIX4U.COM. Tickets are $15 for adults, $10 for students and seniors.
Tickets for the Pre-show dinner fundraiser on March 17 are available for purchase on the Ballard Performing Arts website. Tickets are $75 for the Baseball Diamond Club, $50 for the All Star level, and $35 for under 18.