Ballard Police Blotter week of 3-12-18
Ballard Police Blotter week of 3-12-18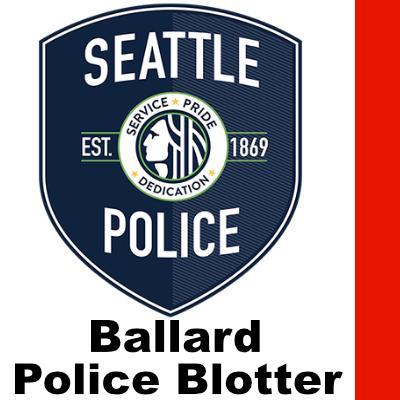 Mon, 03/12/2018
Flirting turns to violence at Market St. bar
Just before midnight on Friday, March 2, officers received a report of an assault in the 3000 block of NW 54 St. The woman described by the caller had been drinking with a group at bar on Market St. The bartender said she did not appear drunk but was acting strangely. She then started flirting with a bar patron, who seemed irritated and asked to leave.
The woman started talking to another customer at the bar, and she became increasingly pushy and flirty. The man told her multiple times that he was not interested and asked her to leave.
The woman then punched him in the head and screaming at him. She eventually fell over and hit her head on a table. She got up, picked up a barstool and ran at him. He grabbed the barstool from her. She took a pint glass from the bar and threw it at his head. The woman left the bar for a minute, before returning to yell more. She started grabbing random items from the bar, ripped out the credit card reader and knocked more glasses to the ground.
The woman threw receipts and money at customers. Finally, she left the bar, heading to NW 54 St. A witness filmed the incident. No one at the bar was able to positively identify the woman. Photos and video of the assault were submitted into evidence.