Ballard director prepares "Smoke and Dust" for the stage
Ballard director prepares "Smoke and Dust" for the stage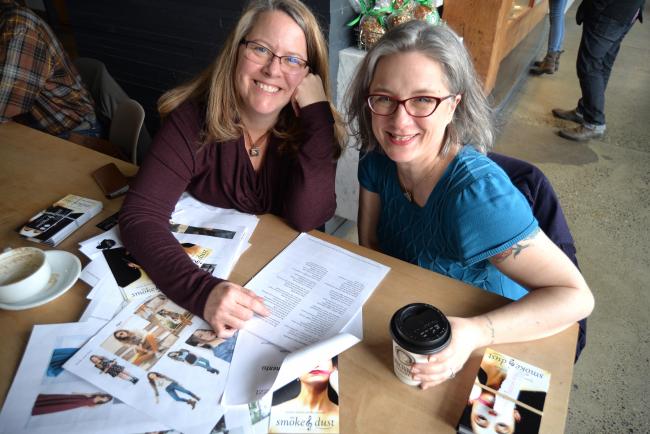 Mon, 03/19/2018
By Lindsay Peyton
The future of theatre is female, according to Ballard director Amy Poisson of Macha Theatre Works. Her mission is producing works by women playwrights or on stories with strong female characters
Her next production "Smoke and Dust" by Joy McCullough-Carranza fits the bill on both accounts. Poisson is bringing the play to the stage at Theatre Off Jackson, 409 7th Ave. S. The show runs from Friday, March 23 to Saturday, April 14. 
The story centers on Barbara Strozzi, an ambitious 17th century composer rumored to be a courtesan.While Strozzi is considered one of the most prolific composers of Baroque vocal music, McCullough-Carranza struggled to find many sources to research on the historic figure. 
"There's not a lot out there about her," McCullough-Carranza said. 
Soon, she decided that the mystery surrounding Strozzi itself could be the subject of her story. "I was intrigued by how little was known about her," McCullough-Carranza said. 
She created a play-within-a-play as a way to explore how female talents have been stifled in a male-dominated profession, both then and now. The plot begins when a modern acting troupe explores Strozzi's music and personal life.
"The modern day characters' storyline is equal to and just as interesting as Barbara Strozzi's story," Poisson said. "It's horrifying and funny, how similar the stories are."
The director said the play opens with the troupe in rehearsal. By the second act, they're in full costume and make-up. 
"It's a swirling tornado of so much happening at once, in a glorious, lovely way," Poisson said. "It's for women of all ages. It deals with growing older, motherhood, male oppression and female empowerment. It's so full of so much. It's complex, and I love it."
A number of Strozzi's compositions will also be performed in the show.
McCullough-Carranza worked with Poisson about three years ago on another one of her plays, "Blood/Water/Paint," a story about Italian Baroque painter Artemisia Gentileschi. 
McCullough-Carranza just released the book version of the story this month.  Poisson said she was immediately impressed with McCullough-Carranza's writing and can't wait to bring her next story to the stage. 
"I feel so lucky and so ready for this," she said. "I'm right where I'm supposed to be in the very moment right now, being involved in feminist theatre."
"Smoke and Dust" stars Bianca Raso, James Lyle, Caitlin Frances, Shelby Windom, Belle Pugh, Peter Cook and Michael Blackwood.
The production team includes scenic and props designer Robin Macartney, sound designer Johanna Melamed, lighting designer Dani Norberg, costumer designer Jocelyne Fowler, video designer Roberta Christensen, production stage manager Natalie Berg, assistant stage manager Rena Borg and producing managing director Kyna Shilling.
For more information, visit www.machatheatreworks.com/currentshow. 
To learn more about McCullough-Carranza, visit https://joymccullough.com.