Theatre Review: Ballard director brings whirlwind, world premiere, "Smoke and Dust" to the stage
Theatre Review: Ballard director brings whirlwind, world premiere, "Smoke and Dust" to the stage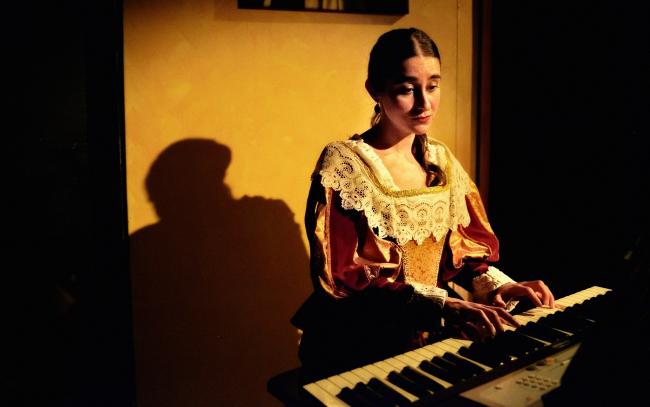 Photo courtesy of Joe Iano Photography
Sun, 04/01/2018
Stick with me for a minute, because the structure of Macha Theatre Works' current production "Smoke and Dust" is a little difficult to explain.
It's a play within a play plus a vlog and a concert. The story is about creating a story. It's about how to tell someone's tale without knowing much about them.
The play, written by Joy McCullough-Carranza, centers on Barbara Strozzi, an ambitious 17th century composer rumored to be a courtesan. While considered one of the most prolific composers of Baroque vocal music, Strozzi failed to make it into the history books.
"Smoke and Dust" opens with a small theatre company producing a story about Strozzi, and by the second act, they're in full costume and make-up. In the meantime, the play they are creating in rehearsal gives a glimpse of the possible history of the Baroque composer.
The actress playing Strozzi in the play-within-a-play is also dealing with some of the same issues as the heroine, struggling to make her way as an artist and possibly using her body to make the money she needs to pursue her dreams.
In between behind-the-scenes scenes and snippets from Strozzi's imagined life, a third story unravels. The little sister of the main actress has her own vlog, and the cast on stage watches as she goes from Internet star to runaway teen.
Ballard director Amy Poisson had a lot on her hands, bringing all of these pieces together, to highlight the truly massive issues facing women and, in particular, female artists.
And somehow Poisson pulls it all off wonderfully.
She describes "Smoke and Dust" as a "swirling tornado of so much happening at once, in a glorious, lovely way" –and perhaps that's the best way to sum it up.
The viewer just needs to jump into the tornado and enjoy the ride. The play shines a light on serious issues, like the way female talents are stifled past and present, the way women sometimes work against each other and the way aging can thwart a career.
In the midst of the storm of emotions and plot, the audience is thoroughly entertained. There is even something for music lovers, as some of Strozzi's original compositions are performed.
McCullough-Carranza's "Smoke and Dust" is running on stage at Theatre Off Jackson, 409 7thAve. S through Saturday, April 14.
The playstars Bianca Raso, James Lyle, Caitlin Frances, Shelby Windom, Belle Pugh, Peter Cook and Michael Blackwood.
The production team includes scenic and props designer Robin Macartney, sound designer Johanna Melamed, lighting designer Dani Norberg, costumer designer Jocelyne Fowler, video designer Roberta Christensen, production stage manager Natalie Berg, assistant stage manager Rena Borg and producing managing director Kyna Shilling.
For more information, visit www.machatheatreworks.com/currentshow.
To learn more about McCullough-Carranza, visit https://joymccullough.com.