Ballard SeafoodFest is back for its 44th annual event; Music line-up announced
Ballard SeafoodFest is back for its 44th annual event; Music line-up announced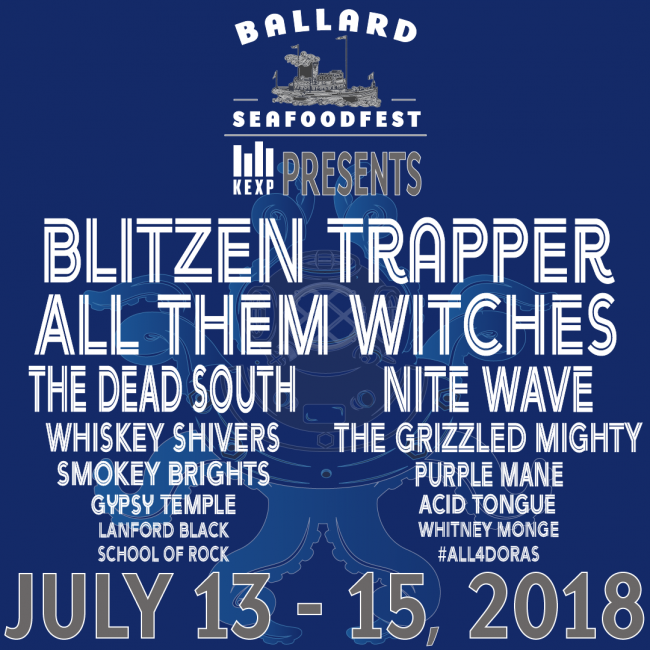 Mon, 04/09/2018
Ballard SeafoodFest is back for its 44th year as north Seattle's largest and longest running free festival celebrating seafood, great music and craft beer. The festival continues to grow each year and the quality of the music lineup is evidence. Featured this year are two headlining acts rocking the Ballard SeafoodFest MainStage on Saturday July 14: Blitzen Trapper and All Them Witches.
"We are excited to announce a stellar lineup of musical artists that complement everything this three-day festival has to offer," said Ballard SeafoodFest Director Mike Stewart. "Through the support of our generous sponsors and countless volunteers, we are pleased to produce Ballard's signature summer event that is free and open to all."
LIVE MUSIC LINEUP:

Blitzen Trapper | All Them Witches | The Dead South | Whiskey Shivers | Smokey Brights | The Grizzled Mighty | Nite Wave | Purple Mane | Gypsy Temple | Acid Tongue | Lanford Black | Whitney Monge | #All4Doras | School of Rock
Back by popular demand the festival will open on Friday evening featuring Seattle's favorite 80s cover band, "NiteWave" and "#All4Doras". For those 21 years and older, the SeafoodFest Beer Garden opens on Friday evening and several food trucks will be available for all ages. Paella House, Where Ya At Matt, Nosh and Off the Rez will be serving up dinner and getting everyone's palates ready for a weekend of amazing food offerings.
The fun continues on Saturday and Sunday with the full assortment of food, beverages and activities. In addition to the MainStage music, the Ballard Market Kids' Deck will take over Ballard Commons Park; Festi-bowl in the Ballard Commons skateboard bowl, an all-ages all-skill levels skateboarding competition; Game Plank, an adult-friendly play area; the Beer Garden, featuring all locally crafted beers; Crab Shack serving Alaskan crab; hand-crafted arts and crafts vendors; seafood-inspired food vendors; the Lutefisk Eating Competition which promises to gross and delight; and as always, the famous Trident Seafoods sponsored Alder Smoked Salmon Barbeque.
FESTIVAL HOURS
Friday: 5:00 p.m. — 11:00 p.m. (Music, Beer Garden and Food Trucks only)
Saturday: 11:00 a.m. — 11:00 p.m.
Sunday: 11:00 a.m. — 9:00 p.m.
The Ballard SeafoodFest has been a production of the Ballard Alliance (formerly the Ballard Chamber of Commerce) since 1974 and is made possible each year by our generous sponsors and dedicated volunteers.