Cathedral reaches for a higher goal
Cathedral reaches for a higher goal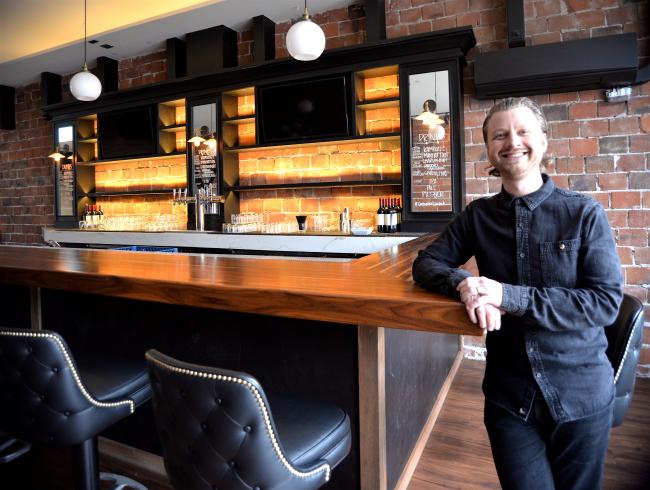 Thu, 04/12/2018
Cathedral is an event place of a whole different variety.
The 4,000 sq. ft, two-story historic building once was home to the bumping beats of BalMar dance club in Ballard. Now the bar is shuttered, the space scrubbed clean and the building repurposed for a higher calling.
Cathedral is the only event space in Seattle that donates 100 percent of its profits to charity—and, located right at the intersection of Ballard Ave and Market St, the venue is poised to bring attention to any worthy cause it promotes.
Co-owner Nate Stone, one of the visionaries who dreamt up the concept, spent five years as a church leader before looking for a career change.
"As a pastor, I loved helping people in an emotional context, but I didn't feel like I had the tools I needed," Stone said. "I kept wondering, 'How could we help the world in real ways.'"
Seeking a way to empower Seattleites to be the change they want to see, he started brainstorming with friends, family and anyone who would listen.
He soon found willing, like-minded individuals, including his wife Amy and the couple's close friendsDerek and Natalie Lockett. They had all worked in the service industry in the past and started putting together a plan for a restaurant.
The idea was to use the business as a tool to raise funding that could then be donated to worthy causes. "We wanted to make a spot where people could meet and talk, where people could have a beer and help others in the process," Stone said.
Over time, the idea morphed from restaurant to event space. The concept stayed the same. The fees for renting the building would be used to support nonprofit groups.
The next step was finding the space. Eventually, a friend sent Stone the listing for the former BalMar building, which was Jones Brothers Restaurant at the time.
"Amy and I brought our girls there for dinner that night," Stone said. "We toured it the next day and put an offer in that night."
Things continued to move at a fast pace after that. The Stones and the Locketts went to work cleaning and organizing the space and then prepared to host events.
Cathedral can be rented for weddings, mixers, fundraisers, corporate meetings, birthday parties or any other event. There's capacity for 170 at a cocktail-style party or 120 for a sit-down event. The space has a full kitchen for use by a caterer, private Wifi access, microphones and a sound system.
Clients can either pick a charity to support or proceeds will go a list of preferred nonprofits.
"What's most exciting is the exposure the charities get," Stone said.
Everyone attending an event can learn about the nonprofit it supports, and Stone hopes conversations will be sparked about how to do more to help those in need.
"Important work takes time," he said. "It's not about everyone doing everything. It's about everyone doing something."
And doing something small could include electing to host an event in a space that gives back, Stone explained. "We're doing something to help you do something," he said.
Natalie Hanni was the first to lease the space. She hosted a Teach for America mixer. The concept of the party was unique. Everyone broke into groups for quick problem-solving sessions, while sampling beers from a local brewery.
"We wanted it to be fun and have people working on teams," Hanni said. "Think Hackamon meets trivia."
She said Cathedral was the perfect place for the party. "There was a common area where people could come together, but it was also great, because people could spread out and work on their ideas," she said.
Hanni plans to lease Cathedral again. "People want to have fun, drink beer, meet people and network, but they also want to do something good for the world and good with their time," she said. "We're trying to mesh that together, and Nate's doing the same thing."
She also feels good knowing that proceeds from her event will go to charity. "It's really nice to know we're actually supporting our community," she said. "As a nonprofit, we work really hard to earn our money and we want to be conscious stewards of that funding."
Cathedral has also become the home base for another of Stone's ventures, Bar Church, an open group for people of all backgrounds to discuss faith and spirituality over beer and drinks.
The nonprofit meets the first two Sundays of each month, with a focus on taking action to help others. For example, on a recent weekend, members of the group chipped in money to buy food and then assembled lunch bags to donate to those in need.
For more information, visit http://barchurch.com.
For more information about Ballard's new event space with a do-good mission, visit http://seattlecathedral.com.