Ballard Police Blotter week of 4-16-18
Ballard Police Blotter week of 4-16-18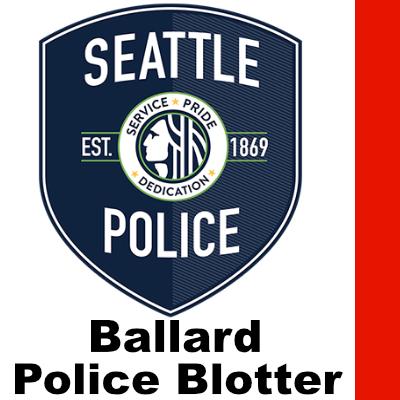 Mon, 04/16/2018
Burglar takes booze, apples
At 1:15 a.m. on Sun., April 8, officers were dispatched to the 3000 block of N.W. 69th Street to investigate a burglary. The victim said he left his home around 9:25 p.m. the night before and returned just after midnight to find that a burglar broke into his west-side door. The frame to the doorway was broken. A number of bottles of liquor were missing, as were several apples. Officers checked the backyard and found a wooden stool placed underneath one of the man's windows. 
Bicycle thief on Ballard Avenue
At 5:20 a.m. on Sat., April 7, an alarm system for a business in the 5200 block of Ballard Avenue N.W. started going off. Officers received a notice and arrived at the location to discover that the store had been burglarized. They were able to review the security footage. The suspect took bolt cutters out of a bag and cut a cable securing three bicycles to a rack. The suspect was in the store for only 5 minutes but was able to take all three bikes, valued at $2,500 each. 
Resident stops thief from climbing in window
Just after midnight on Sat., April 7, a man residing in the 7000 block of 9th Avenue N.W., returned to his house after stepping outside for a cigarette. Before he reached his door, he saw a suspect climbing inside his living room window. He had a gun in a locked safe that he was able to access and retrieved the weapon. The victim then pointed the gun at the suspect and told him to leave. The suspect dropped from the window. Officers checked the exterior of the house for evidence. They saw a number of buckets near the window and believe the suspect used them to enter the window. A K9 unit responded to the scene but was unable to track the suspect. 
Bike burglar hits carport
 A woman residing in the 1700 block of N.W. 61St Street returned home from a trip away to discover that her bicycle was missing. She kept the bike hanging in her carport. The lock securing the bicycle had been cut. She reported the crime around 1 p.m. on Sat., April 7.