Ballard High School Jazz Band going to Essentially Ellington May 10-12
Ballard High School Jazz Band going to Essentially Ellington May 10-12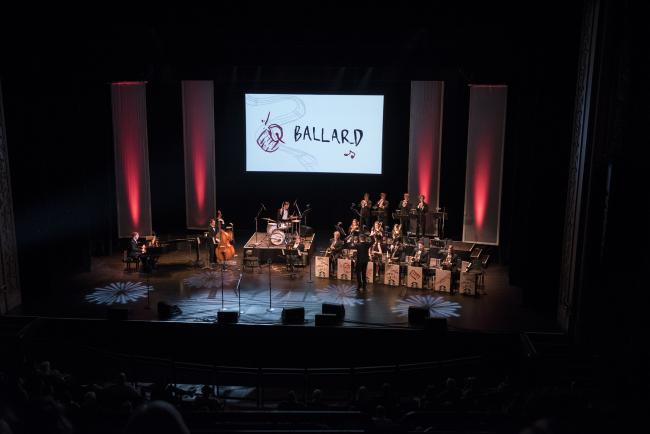 Sun, 04/29/2018
information from Ballard Performing Arts
  Ballard High School's award-winning Jazz Band 1's epic year keeps getting better: the band is one of only 15 bands across the country selected to perform in the 23rd annual prestigious Essentially Ellington High School Jazz Band Competition & Festival in New York May 10-12. Essentially Ellington is one of the most innovative jazz education events in the world.
The band will spend three days immersed in workshops, jam sessions, rehearsals and performances at the "House of Swing," Frederick P. Rose Hall at Lincoln Center.

   The finalists were selected from 109 high school jazz bands across North America that entered the competition. Each school submitted recordings of three tunes performed from charts from Jazz at the Lincoln Center's Essentially Ellington library. More than 4,600 high school bands are members of Jazz at Lincoln Center's 2017-18 Essentially Ellington program and benefit from free charts and resources.

       The invitation to Essentially Ellington comes on the heels of a year of non-stop successes and accomplishments for this outstanding student jazz group. On March 30, Jazz Band 1 was one of five Western Washington high school jazz bands selected to perform in Starbucks' 23rd annual Hot Java Cool Jazz performance at the Paramount Theater for a sold-out performance. 
Starbucks hosts this event annually as part of their ongoing commitment to supporting local youth. All proceeds from ticket sales directly benefit the school music programs, and Since 1995, this event has raised more than $625,000. Also in March (8-10), Ballard Jazz Band 1 was one 13 high school bands selected to play at the Next Generation Jazz Festival in Monterey, CA.     
    
Ballard Jazz Band 1 joins Roosevelt High School and Mountlake Terrace high school jazz bands, the other Washington high school bands invited to Essentially Ellington. Stream the Performance Live at  https://academy.jazz.org/ee. Ballard's Jazz 1 participates in part 3 of the competition on Saturday, May 12.

   Catch a local performance: See the Ballard High School Jazz 1, Jazz Band 2 and the choral group Vocal Jazz play at Jazz Alley on May 29. Doors open: 6 p.m.; Show starts: 7 p.m. Tickets, $26, are available online at https://www.jazzalley.com/www-home/artist.jsp?shownum=4919