Beloved Norwegian musicians return to Ballard for Nordic Museum opening
Beloved Norwegian musicians return to Ballard for Nordic Museum opening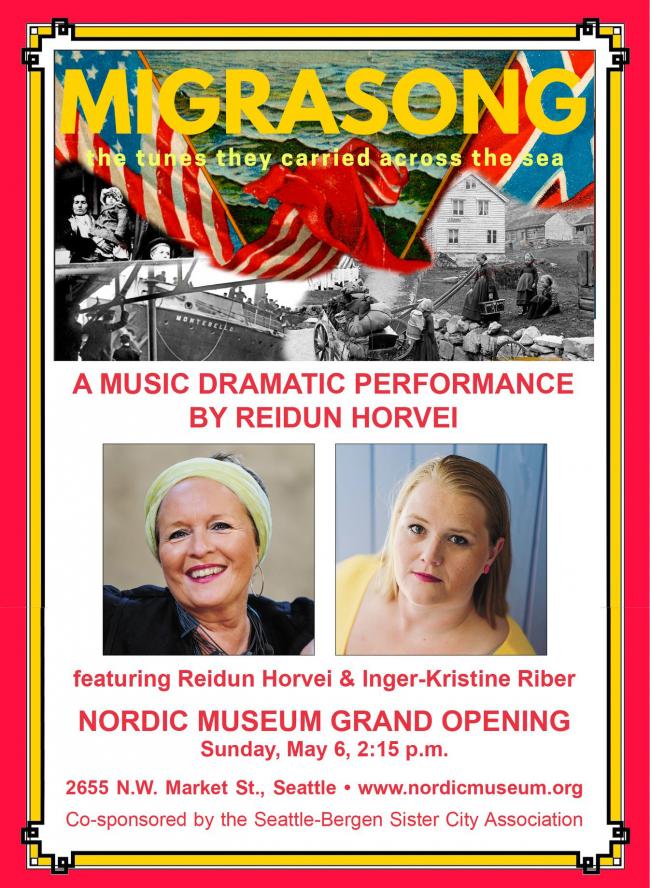 Photo: Martin 

Mon, 04/30/2018
The connection between Seattle's Ballard neighborhood and Norway is a strong one, going back to early settlement days, a relationship that will be celebrated with the Grand Opening of the new Nordic Museum on Saturday, May 5 and 6. Most appropriately, on hand for the celebration will be three of Ballard's most favorite Norwegian musicians, Bergen's Reidun Horvei and Inger-Kristine, and Eva Vea of Stavanger.
The Norwegians are returning for the celebration after having taken Seattle by storm last year, first Eva at the 17th of May Norwegian Constitution Day celebration, and then Reidun Horvei and Inger-Kristine Riber as the featured guest artists at the annual Seattle-Bergen Sister City Association Grieg Gala at Ballard First Lutheran Church. All three performers have a strong anchoring in Norway's folk music traditions — and naturally, everyone wanted them back for one of the most anticipated events in Scandinavian Ballard's history.
For the museum opening, Horvei's original musical production Migrasong will see its North American premiere. A multimedia experience, the performance includes historical photography that serves as a backdrop to the narrative of the emigrant experience. Folk songs were an important part of the everyday life, an expression of cultural identity, and were a bridge-builder between cultures, with many parallels to the situation in the world today. In Norway, the United States, and in other countries across the globe, people are seeking new, better lives. It is an appropriate story to tell at Ballard's Nordic Museum.
For the Migrasong performance, soprano Horvei and classical pianist Inger-Kristine Riber have created special arrangements for their U.S. tour, which will continue in the Midwest. Both musicians are at home in Voss and are prominent in the Bergen cultural scene. Their performance will take place at 2:15 in the Museum auditorium on Sunday, May 6. All Nordic Museum Grand Opening performances are free and open to the public.
Eva Vea hails from the island of Karmøy, another town in Norway with strong ties to the Ballard fishing community. Currently based in Stavanger, Vea has relatives here. She first came to visit on tour with a gospel group from Norway, Voice of Joy, and has had a strong local following ever since.
The American gospel sound is a strong component in Vea's musical production. Her repertoire is extremely versatile, crossing over from gospel to jazz and popular music. She plays keyboards and sings in a voice that is smooth and mellow, an expression of her calm and loving demeanor: her connection to her audience is immediate and authentic.
Visitors to the new Nordic Museum will get a chance to hear Eva Vea at the opening festivities on Saturday, May 5, at 3:30 p.m., and then again at the Swedish Club on Friday May 11, followed by performances on May 17 at the sold-out luncheon at the Nordic Museum and then at Bergen Place Park at 4:30 p.m. in a performance that is free and open to the public. Visit www.17thofmay.org/event/entertainment-at-bergen-place to see the entire lineup for the afternoon.
For more information on any of the performances, please contact the Seattle-Bergen Sister City Association at seattlebergensistercities@gmail.com.