The Vestibule offers space for art and a stay in Ballard
The Vestibule offers space for art and a stay in Ballard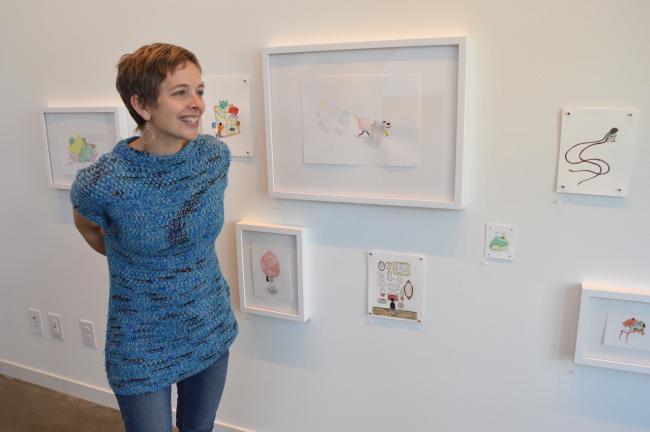 Mon, 05/14/2018
By Lindsay Peyton
Imagine being able to spend more time with the art you love--longer that a stroll through a gallery or a visit to a museum.
That's part of the concept behind Ballard's unique art space entitled the Vestibule. It's part exhibition space and part Airbnb, a place where you can stay awhile and sleep with art.
Husband and wife artists Kascha Semonovitch and John Snavely created the Vestibule last May. They purchased the building, located at 6312 32nd Ave NW and moved into the apartment upstairs.
In the meantime, they transformed the downstairs into an Airbnb and offered the space to artists who wanted to create installations or gallery shows. They started curating exhibits in September
"Normally, you walk in a gallery and you spend 10 minutes," Semonovitch said. "You don't have much interaction with the art. People want a different relationship to art, and we want to pursue that."
The concept was something completely out of their imaginations and daydreams. "We've never seen anything like this," Semonovitch said.
She and Snavely both studied art, before their careers took them in different directions. Starting the gallery is their way to shake things up in the art world, creating an alternative way to exhibit and experience creative work.
Every exhibit has been different and so far has primarily focused on the work of Pacific Northwest artists. Plans for expanding to a wider range of exhibitors, however, are in the works.
"We show the work we want to see," Semonovitch said.
Currently on view in the space is a kid-friendly exhibit featuring drawings and watercolors by Jessixa Bagley. Her work has been featured in her children's books.
Bagley was working on a completely different style when she was approached about showing at the gallery. Usually, her characters are animals. This time, she focused on figurative work.
"I wanted to go back to my fine art roots," she said. "It's a new style and new content for me."
Bagley admitted to being slightly reluctant to exhibit the new work. Once she saw Vestibule, she changed her mind.
"I really responded to the space," she said. "I really loved this experimental art gallery idea. They do everything you would see in a normal gallery, just in a smaller space."
A reception for the artist is slated for 4 p.m. to 6 p.m. on Saturday, May 12. Otherwise the gallery is open weekends or by appointment, when the space is not rented as an Airbnb.
Semonovitch said Bagley's show, entitled "Hide and Seek," appeals to all ages. "Each one has a little story in it," she said.
Her friend Betty Beaumont co-curated the show.
Funds from the rentals help keep the shows going. Artists show their work in the space commission free. 
 
For more information, visit thevestibule.org or email home@thevestibule.org. Follow the Vestibule on social media at the_vestibule_ on Instagram,  @the_vestibule on Twitter or on Facebook at www.facebook.com/thevestibuleballard/. 
To learn more about an overnight stay, visit www.airbnb.com/rooms/14715742.