Ballard Music's Spring Concerts Begin May 24
Ballard Music's Spring Concerts Begin May 24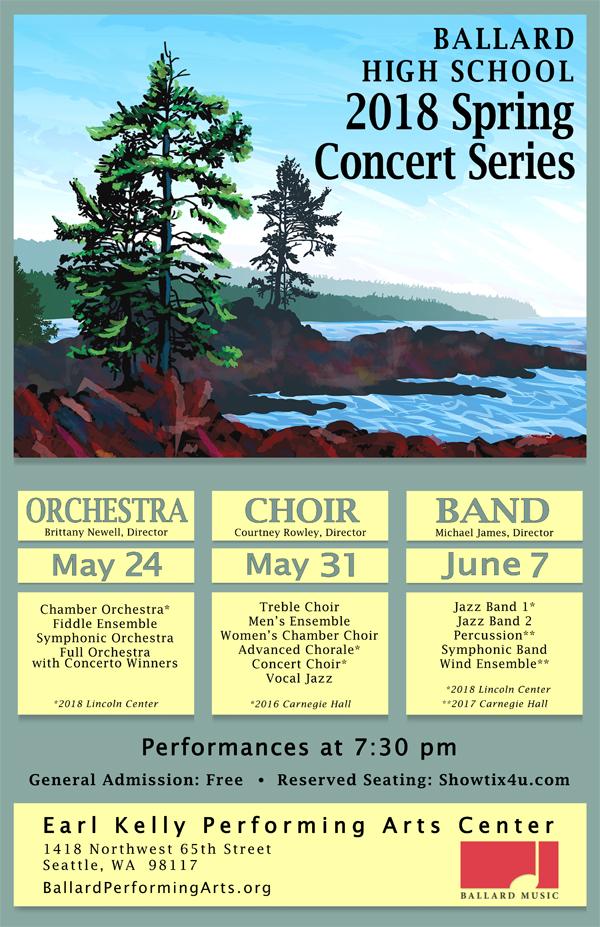 Sun, 05/20/2018
Orchestra Concert May 24 | Choir Concert May 31 | Band Concert June 7 | 7:30 P.M.
Fiddle Showcase June 8 | 7:00 P.M.
May 19, 2018    The Ballard High School music program is wrapping up the school year with its final series of spring music concerts. Whether you enjoy the melody of strings, the harmony of voice, or the rhythm of brass and woodwinds, this is your last chance to experience these outstanding performers before the end of the season. And if you'd like to add a little swing, the BHS Fiddlers will get your toes tapping with their Fiddle Showcase and square dance at Ballard Homestead. Here's the Spring  lineup:
Orchestra Concert, May 24, 7:30 p.m.
The Spring Orchestra Concert will feature three concerto soloists: seniors McKenna Taylor and Leander Van de Fen performing Reinecke's Flute Concerto and Carl Maria Von Weber's Clarinet Concertina, as well as sophomore Anika Thomas on violin performing Sarasate's Zigeunerweisen. The concert will also feature several movements from Chamber Orchestra's award-winning Shostakovich quartet No. 8, Symphonic Orchestra's rendition of Mendelssohn's Ninth String Symphony, and the evening will conclude with Schubert's Symphony No. 8 (Unfinished).
Choir Concert, May 31, 7:30 p.m.
The Choir Concert will begin with all 145 Ballard Choir students joining together for Praise His Holy Name, a gospel song that the choirs recently performed at the Choirs of America Festival in Los Angeles. Following that will be a variety of music from different genres, including a Haitian voodoo song, a Shaker hymn, African American spirituals, and even Stevie Wonder! The performance will close with the Senior Song featuring the class of 2018, and the choir's traditional spring concert closer, Deep Peace. All alumni will be invited to join the choir onstage for the closing number!
Band Concert, June 7 
Come celebrate a very special year for the Ballard Band Program. The Wind Ensemble was the first Seattle High School Concert Band to perform at the WA State Music Educators Conference and they also received a Gold Award for their performance at the Con Brio Music Festival in Whistler, BC. They will be playing Danzon No, 2, one of the pieces from the festival, at this concert. Jazz Band 1 and 2 will reprise pieces they are set to perform at Seattle's prestigious Jazz Alley on May 29. Jazz 1 also had incredible performances at Monterey, the Paramount Theatre, and in New York for the Essentially Ellington festival. This concert will also include the Symphonic Band playing Danzas Cubanas and the Percussion Ensemble playing Excalibur.
Fiddle Showcase, June 8
If you enjoy an evening of fiddle music topped off with some audience square dancing, look no further than the Ballard Homestead on Friday, June 8 at 7 p.m. The Ballard High Fiddlers will take the stage with their bluegrass, old-time and Americana fiddle tunes to keep your toes tapping. Local bluegrass band The Warren G Hardings will follow up, and the night will conclude with a square dance played by the Ballard Fiddlers. No dance experience necessary, all dances taught that evening. See the group in action here: Ballard Fiddlers
Performance Location Details
The Orchestra, Choir, and Band performances will be held at the Earl Kelly Center for Performing Arts Center at Ballard High School, 1418 NW 65th Street, Seattle, Washington, 98117
Concerts begin at 7:30 P.M.
The Fiddle Showcase will be at the Ballard Homestead, 6541 Jones Ave NW, Seattle, WA, 98117. Concert begins at 7:00 P.M.
Ticket Information
Admission to the Orchestra,  Choir, and Band concerts is free. If you would like to make a donation to Ballard Performing Arts, you can reserve seats in these crowded concerts. Tickets for reserved seating may be purchased online at https://showtix4u.com.
Tickets to the Fiddle Showcase are $6 for students, $8 general advance, and $10 day of show. Purchase tickets at https://6-8-18-ballardfiddlers.eventbrite.com.
About Ballard Performing Arts
The award-winning Ballard High School Performing Arts Program has gained regional, national, and international acclaim for their dynamic and inspired performances. The Music Department includes two concert bands, three concert choirs, two concert orchestras, percussion ensemble, two jazz bands, one jazz choir, multiple chamber ensembles and a marching band of nearly 200 musicians. The Theatre Department offers classes in Technical Theatre and Theatre I and II, while the Ballard Playmakers produce two plays and one musical theatre production each year.  More than  450 students – approximately one fourth of the school – participate in these music and theatre opportunities. Ballard Performing Arts sets a high standard of excellence for all students, ensembles, and productions while developing individual artistry through the study of high quality repertoire and exceptional performance opportunities. For more information: ballardperformingarts.org