Ballard Police Blotter week of 6-4-18
Ballard Police Blotter week of 6-4-18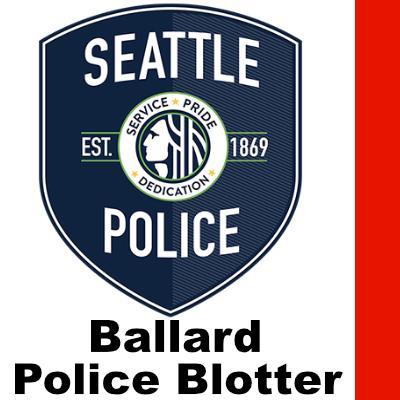 Mon, 06/04/2018
Robbery under the Ballard Bridge
Around 10 p.m. on Thursday, May 24, officers received a call about a robbery underneath the Ballard Bridge. Dispatchers said a man stole someone's backpack and threatened the victim with a hammer. When officers arrived on the scene, near the intersection of NW 46st and 15 Ave NW, the victim said that he was arguing with the suspect. Then, the suspect went to his tent and grabbed his hammer, threatening the victim with it. The victim moved away, and the suspect grabbed his backpack. Officers checked the area but were unable to find the suspect.
Burglary of restaurant
An alarm sounded in the 9700 block of 4 Ave NW around 2 a.m. on Thursday, May 24, and police responded to the scene. The business owner arrived as well. A suspect had forced entry in the front door of the restaurant. The owner said cash was stolen from the waiters' till boxes. Officers were not able to find fingerprints.
Business burglarized twice in two months
Around 10 a.m. on Thursday, May 24, an employee of a business located in the 5600 block of 22 Ave NW called police to report a burglary. He watched security footage and told officers that the suspects entered the building around 3:30 a.m., while the cleaning crew was still inside. They waited until the crew left the business to bring out the trash and then entered the building. The caller said at least two laptops were missing and is completing an inventory to determine what else was stolen. The man also said that the building was burglarized a month ago and suspects used the same door to enter the building then. He thought that the suspects were both women.
Threats made over loud music
At 6:20 p.m. on Wednesday, May 23, a caller reported threats in the 800 block of NW 95th St. The man said that he asked another resident to turn his music down, which was playing on a cell phone. The suspect then took out a knife and threatened him. The victim said that he was not afraid of the action.