Strawberries are in season at Anthony's locations in Des Moines and Ballard
Strawberries are in season at Anthony's locations in Des Moines and Ballard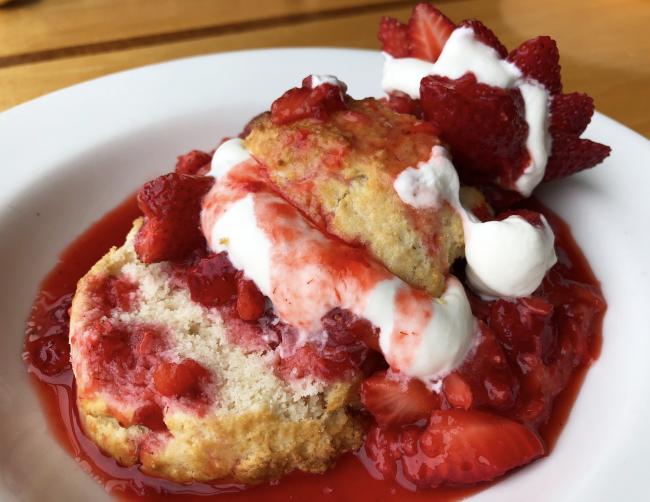 Photo courtesy of Anthony's
Fri, 06/15/2018
Strawberries are on the menu at Anthony's Seafood locations. Head to one of the two west side locations of the restaurant this month to see what's on the menu featuring the sweet seasonal berry. There's Anthony's HomePort, 421 South 227th Street, Des Moines, WA 98198, or Chinook's in Salmon Bay, 1900 W Nickerson St #103, Seattle, WA 98119, located right in the Fisherman's Terminal. 
Local farms provide the berries for the restaurants, including:
Schuh Farms in Mount Vernon
Steve Schuh and his family at Schuh Farms have been providing Anthony's with fresh strawberries for more than 20 years.
"We put a high premium on growing high quality fruit and that fits perfectly with their standard of providing high quality food. We love working with Anthony's not only because everyone is so pleasant to work with and so professional, but they are such a widely respected restaurant group with a strong reputation in the industry. They hold a high commitment to supporting local businesses and we see more publicity about our products from them than any other restaurant we work with.  It is truly such an honor to grow fruit for them year after year." ~ Steve Schuh
PIcha Farms in Puyallup
Dan and Russ Picha are third generation farmers carrying on the family business begun by their grandfather Mathias Picha in 1904 and continued by their father Ted Picha. The Picha family have been providing Anthony's with fresh strawberries for more than 20 years. 
The chefs at Anthony's are sharing this recipe with our readers to celebrate the season:
Anthony's Strawberry Shortcake
2 cups                        Flour
2 ½ Tbsp.                   Sugar
1/8 tsp.                      Salt
1 Tbsp.                       Baking powder
½ cup                         Unsalted butter, chilled
¾ cup                         Milk
2 cups                        Lightly sweetened, lightly whipped cream
3 baskets                   Washington strawberries, thickly sliced
Procedure:
Combine flour, sugar, salt & baking powder in a mixing bowl. Cut butter into small pieces and rub it into the dry ingredients to form a soft crumble.
Stir in the milk until a very soft dough is formed. Drop six equal portions onto a well-greased baking sheet. Lightly pat into rounds & brush tops of biscuits with a little cream.  Bake at 400 degrees for 12 minutes.
To serve:       
Split the shortcakes in two.  Place bottom half of shortcake on a plate and top with sliced berries and a spoonful of whipped cream.  Cover with top half of shortcake, more berries & whipped cream.  Serves 6
*Important:Washington berries give the most juice and the best sweet flavor.