"Liberation" opens Nov. 2 in Ballard presented by Ghostlight Theatricals
"Liberation" opens Nov. 2 in Ballard presented by Ghostlight Theatricals
New play by Cate Wiley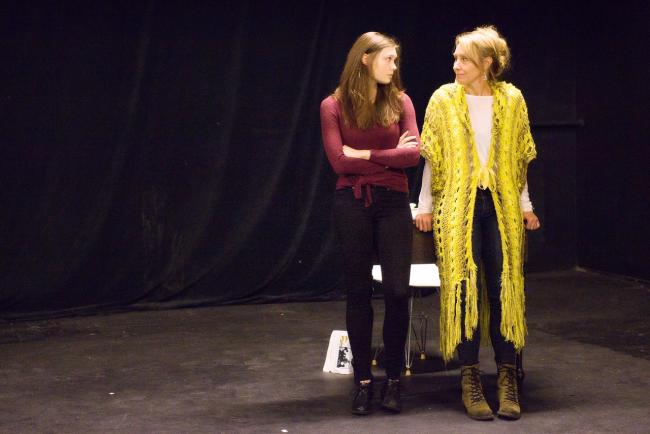 photo by Joe Iano
Mon, 10/29/2018
"The 14/48 Partner Projects, in collaboration with Ghost Light Theatricals, is thrilled to present the world premiere of Cate Wiley's brand new play The Liberation at the Ballard Underground November 2 - 17, 2018.
 It opens on November 2nd and runs for three weekends. Industry night is November 5th and our matinee is on Sunday the 11th. Evening shows are at 7:30 and the matinee is at 2 pm. 
Set against the background of terrorist attacks in Paris, The Liberation asks how far women have come from the sexual double standards of the past. After a scandal forces her out of her position as a history professor at a prestigious university, Marianne moves to Paris to reinvent herself. When a bright young assistant and the son of her lover from graduate school each appear, full of hope, on Marianne's doorstep, she's forced to wrestle with who she is and how she can move forward.
This production of The Liberation will be directed by Kathryn Stewart. Stewart says, "To be working on this play at this moment in time feels so right to me. The Liberation takes an honest look at what it means to be a woman in the world today, trying to thrive in your career and live a meaningful life despite constant pressures and double standards. Cate Wiley uses very flawed human characters to tell her story, and the stellar cast we have put together bring them to life in ways both endearing, vulnerable, and truly beautiful."
The play will also feature an original score by local composer Michael Owcharuk, transporting audiences to the streets of Paris as he plays live accordion music.
The cast features Jenny Hall (Marianne), Rebecca Erickson (Sunny), Keith Ordonez (Joel), and Steven Sterne (Bernie). Stewart is joined on the production team by Kasia Rozanska (Set and Props Design/Technical Director/Production Manager), Mary Heffernan (Light Design), Sadiqua Iman (Costume Designer), Gianna Gargulio (Dramaturgy), and Jaime Shure (Stage Manager)."
More info is available on the Facebook page. 
Here is a direct ticket link -
https://ghostlight.strangertickets.com/events/57695500/the-liberation