Four Ballard High School seniors find success at the state wrestling mat classic
Four Ballard High School seniors find success at the state wrestling mat classic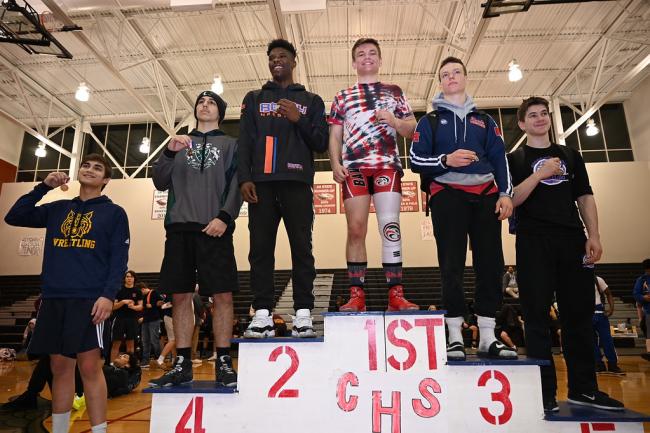 Bruce Miyake
Thu, 02/21/2019
Four Ballard High (BHS) seniors culminated something unprecedented for the school's wrestling team this past weekend; they earned their fourth consecutive trip to the State Mat Classic Wrestling Championship tournament at the Tacoma Dome.  
Under the tutelage of Coach Jared Daniels, this amazing feat started when as freshmen, Isaiah Larkin, Jeremy Miyake, Kayla Rogers and Alec Sigmar decided to try out for Ballard High School's fledgling wrestling team. 
Miyake and Sigmar had no previous wrestling experience, and Rogers had wrestled one year in middle school. Larkin had a few years in club.  It was also Coach Daniels' first year as head coach for the team. He had taken over a wrestling program which was struggling and had not had much success qualifying wrestlers for the state tournament.  
Despite their lack of experience Miyake, Rogers, and Sigmar qualified to compete at the state tournament their freshman year.  Though each of the wrestlers did not score a win, their mere qualification is a testament to their will, athletic ability, and drive.  They each had to best other more experienced wrestlers from the other metro schools to qualify.  
This year the team had extraordinary success at the District tournament with four first place champions in four weight classes:  Rogers – 100 pound female; Miyake – 120 pound male; Sigmar – 160 pound male; and Eli Nicholson at 170 pound male.  
Because regional tournaments across the state were cancelled due to "snowmageddon," an expanded bracket allowed all teams to bring more athletes. As a result seven other BHS wrestlers who qualified for the regional tournament were able to go to the state tournament. They include:  Brendan Day – 106 pounds;  Isaiah Larkin – 120 pounds;  Ava Olson – 120 pounds girls;  Hugo Swangstu -132 pounds;  Jacob Day – 145 pounds;  Hayden McPherson – 220 pounds; and Roland Shoeneman – 285 pounds.
Miyake, Sigmar, and Nicholson all finished in the top ten out of their 32 man bracket.  Sigmar also was crowned the State Tournament academic champion for his weight class.  
Rogers finished fourth, becoming the first female in BHS history to win a medal at the State Wrestling tournament.  She accomplished this amazing feat by winning four of six matches.  
Congratulations to the seniors on a job well done and a successful high school wrestling career.  All four are looking forward to college with Rogers considering a college wrestling career.