Zoo's female African lion passes away
Zoo's female African lion passes away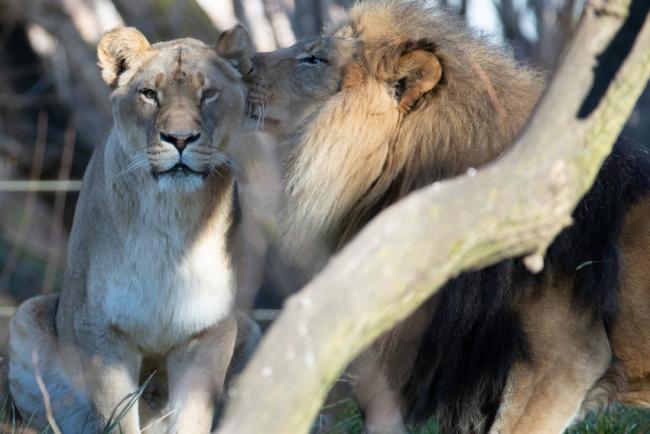 Sun, 05/26/2019
Adia (uh-DEE-uh), Woodland Park Zoo's sole female South African lion, passed away, May 21, at 9 years old from complications during surgery. The median life expectancy for lions in zoos is 16.9 years.
The lion had been anesthetized for a procedure recheck exam at the zoo's veterinary hospital due to slow healing after recent abdominal surgery. "During yesterday's procedure, we took radiographs of Adia and discovered complications that required emergency surgery. We were able to surgically resolve these problems but, unfortunately, she went into cardiac arrest just prior to anesthetic recovery. Despite exhaustive efforts to save her, we were unsuccessful," said Dr. Tim Storms, associate veterinarian at Woodland Park Zoo.
Following the procedure three weeks ago, Adia had been recovering off public view in the indoor dens in order to reduce her activity and allow her surgery site to heal. Storms explained she was prescribed antibiotics as a precautionary measure for potential infection as well as analgesics, and had remained under close observation indoors.
As a standard procedure, the zoo's animal health team performed a necropsy (an animal autopsy). Preliminary findings did not reveal a cause of death. The zoo will be notified in several weeks of a final cause of death and related findings pending complete results of pathology and other diagnostic testing, which is routine for all animal deaths at the zoo.
"This is a very sad time for our zoo family. Adia had given birth to two litters of seven amazing cubs with two different companions," said Martin Ramirez, mammal curator at Woodland Park Zoo. "The keepers who provided excellent day-to-day care fondly remember Adia as being energetic, playful and always excited to see her keepers every morning. Breakfast was her favorite time of the day. She was queen of the felines building at the zoo."
Adia leaves behind her mate of five years, 11-year-old Xerxes, also a South African lion and the father of her second litter of cubs. He is the only lion currently remaining at the zoo and can be seen in the African Savanna.
Adia arrived at Woodland Park Zoo in 2010 under a breeding recommendation by the African Lion Species Survival Plan, a conservation breeding program across accredited zoos to help ensure a healthy, self-sustaining population of lions. "Species Survival Plans are a complex system that matches animals in North American zoos based on genetic diversity and demographic stability. Pairings also take into consideration the behavior and personality of the animals," explained Ramirez.
Woodland Park Zoo participates in 111 Species Survival Plans, overseen by the Association of Zoos & Aquariums. Led by experts in husbandry, nutrition, veterinary care, behavior, and genetics, these plans also involve a variety of other collaborative conservation activities such as research, public education, reintroduction and field projects.
The South African lion subspecies, Panthera leo krugeri, is known as the Transvaal lion; it ranges in Southern Sahara to South Africa, excluding the Congo rain forest belt, in grassy plains, savanna and open woodlands. These lions range in weight from 260 to 400 pounds.
In 2015, two African lion subspecies were listed under the Endangered Species Act due to a dramatic 40% decline in the wild population over the last 20 years. As few as 32,000 African lions are estimated to remain in the wild and their future remains uncertain, particularly as the growth in human population continues to impact lion populations through loss of habitat. There also is retaliatory killing of lions because they pose a threat to humans and livestock.
Woodland Park Zoo partners with and supports the Ruaha Carnivore Project, which is protecting as much as 10% of the remaining population of wild lions in their landscape. To help support the project, adopt a lion through the zoo's ZooParent Adoption Program: www.zoo.org/zooparent.
Spring/summer zoo hours are 9:30 a.m. to 6:00 p.m. daily. For more information or to become a zoo member, visit www.zoo.org or call 206.548.2500.
Founded in 1899, Woodland Park Zoo engages more than a million visitors of all ages, backgrounds, abilities, and walks of life in extraordinary experiences with animals, inspiring them to make conservation a priority in their lives. The zoo is helping to save animals and their habitats in the wild through more than 35 wildlife conservation projects in the Pacific Northwest and around the world. Woodland Park Zoo is accredited by the Association of Zoos & Aquariums and certified by the rigorous American Humane Conservation program. The Humane Certified™ seal of approval is another important validation of the zoo's long-standing tradition of meeting the highest standards in animal welfare. Visit www.zoo.org and follow the zoo on Facebook, Twitter and Instagram.