Woodland Park Zoo: Mom and baby gorilla reach new heights as they explore the outdoors
Woodland Park Zoo: Mom and baby gorilla reach new heights as they explore the outdoors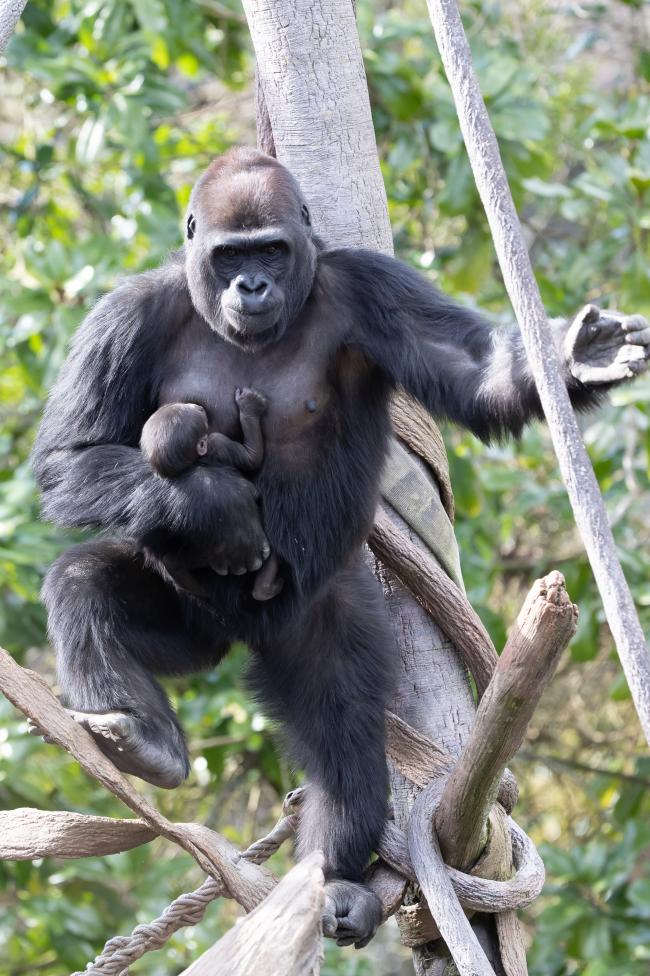 Tue, 03/17/2020
information from Woodland Park Zoo
Uzumma and her 8-day-old baby ventured outdoors for the better part of an hour  March 12. With temperatures warm enough and even a few sun breaks, it was the right time to let Uzumma soak up the outdoors with her baby.

Of course, there was no surprise when the new mom climbed up to the tiptop of the climbing structure with her baby secured safely under her arm. Keepers say that while it might look scary from below, the first-time-mom is a confident climber. 

Baby gorillas are expert grippers, holding onto mom's thick fur while she walks, climbs and forages for food. This essential skill keeps the baby close to mom while she goes about her business, and for Uzumma that means getting her climb on!

The zoo's dedicated gorilla keepers say Uzumma continues to show all the benchmarks of a wonderful first-time mother. She is nursing her baby and tending to all her baby's needs. She's very attentive and is relaxed and confident with her baby.

The baby seems to have inherited his mother's love of heights, and seems unfazed after descending with mom back to Earth. The tiny gorilla is very curious about his surroundings and seems to be enjoying the new views--in between snuggling and bonding with mom, naps in her soft fur and filling his belly.
Comments
THIS IS TRULY AN EXCEPTIONAL PICTURE. I HOPE YOU PLACE IT
SOMEWHERE WHERE VISITORS, WHEN THE TIME COMES AFTER THIS
HORRIBLE CORONA VIRUS DISAPPEARS. I AM SURE THIS PICTURE
WOULD SELL TO HELP FINANCE THE ZOO. HER YOUNG SON WILL
NO DOUBT BE QUITE THE CLIMBER AS WELL. LOVE THE PICTURE.
Add new comment