Commercial block in Ballard being proposed for removal from hazardous sites list
Commercial block in Ballard being proposed for removal from hazardous sites list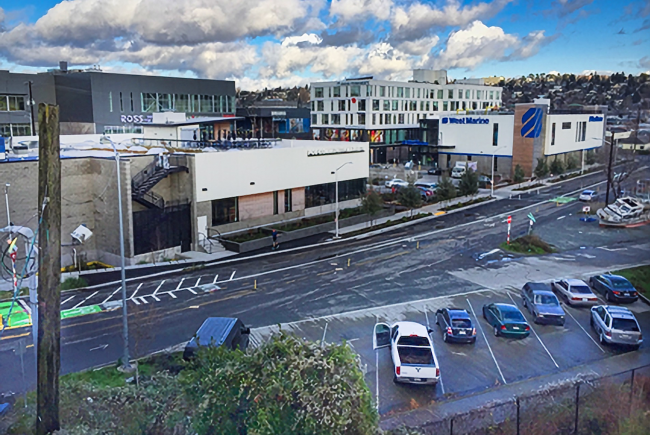 Fri, 02/12/2021
information from the Washington State Dept. of Ecology
The Department of Ecology proposes to remove a Ballard property from a statewide list of contaminated sites because it has been shown to meet state cleanup standards for commercial redevelopment.
Before doing so, Ecology invites public comment from Feb. 12 to March 13, 2021.
The former Wesmar Company, Inc. site – the full city block between NW 45th and 46th streets and 14th and 15th avenues NW – underwent cleanup in 2018 and 2019 in connection with commercial redevelopment. The current owner, Block at Ballard II, LLC, removed contaminated soil, wood waste debris and an unexpected abandoned heating oil tank. The company installed an underground sheet pile wall around the site's entire perimeter. The impervious wall, roof and paved surfaces will contain arsenic-contaminated groundwater at the site.
Block at Ballard II will conduct ongoing groundwater compliance monitoring under a legal agreement – called a consent decree – with Ecology. The property also will be subject to an environmental property covenant to: 
·Allow Ecology to review the site every five years.
·Obtain Ecology approval before making changes that could affect contaminated soil.
With these protections in place, Ecology has determined that the site does not pose a threat to human health or the environment and meets the requirements for removal from the department's Hazardous Sites List.
Former occupants of the property include Wesmar Co., Inc., a chemical product manufacturer and distributor, and Color Tech, Inc., a metal coating service. The site contained contaminants in soil and groundwater, including heavy metals and residues from petroleum products and solvents. 
For details and contact information on this cleanup, please see Ecology's fact sheet (PDF) and website.
People are invited to comment via Ecology's online comment portal. Or send comments or technical questions to John Guenther, Site Manager, Dept. of Ecology, 3190 160th Ave. SE, Bellevue WA 98008-5452; by email,John.Guenther@ecy.wa.gov; or by phone – for questions only – 360-255-4381.