Red panda headed to new home, come wish her farewell
Red panda headed to new home, come wish her farewell
Two-time mom Hazel headed to Memphis Zoo later this month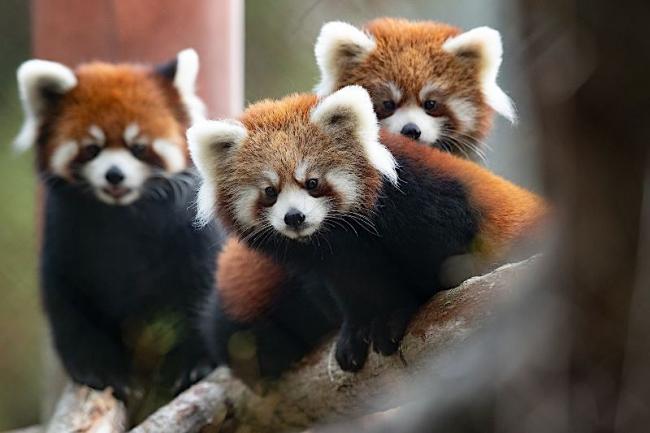 Wed, 03/10/2021
information from Woodland Park Zoo
Over the past year, you've been watching Hazel and her cubs Tián and Zan learn and grow. Now, the cubs are as big as mom and are ready to have some more time on their own! Hazel, who has delighted zoo guests for years, will be moving on to her new home at Memphis Zoo at the end of March. Make sure you come visit her before then! 
Hazel arrived at Woodland Park Zoo in 2017 to be paired with Yukiko under the Red Panda Species Survival Plan , a conservation breeding program across accredited zoos to help ensure a healthy, self-sustaining population of red pandas. When Hazel arrives at Memphis Zoo, she will be introduced to a new mate to breed with, under a recommendation from the Species Survival Plan. 
Hazel has had two pairs of cubs with Yukiko. The most recent cubs — Tián and Zan — were born last May. The cubs will both remain here at the zoo together until Fall 2021, when they will leave for their new homes as recommended by the Species Survival Plan. Until then, the almost-fully-grown cubs will remain on exhibit, where they are used to hanging out together.  
While it is always bittersweet to see any animal leave, Hazel's animal keepers are confident she will continue to be an absolutely fantastic red panda and quickly adapt to her new home, mate and keepers.  
"We'll miss how easy going and beautiful she is with her colors and markings," said animal keeper Shannon Sprayberry. "Also, how much joy she's brought to her keepers and our guests by raising two sets of cubs and being such a good mom." 
Meanwhile, both adult males, Carson and Yukiko, will remain off view to guests to allow Tián and Zan full exploration of their habitat. The two males are spending time in their separate behind-the-scenes outdoor yards with access to their cozy indoor spaces and dedicated keepers. 
How you can help red pandas 
Woodland Park Zoo supports the Red Panda Network, whose multi-prong approach aims to conserve this flagship species in Nepal. Help support the project by adopting a red panda through the zoo's ZooParent Adoption Program. 
Woodland Park Zoo is open to the public! Zoo hours through April 30: 9:30 a.m. to 4:00 p.m. daily.  
Accessibility admission: The zoo has reserved hours for those with a disability that prevents them from wearing a face covering. Learn more about these reserved hours and accessibility at the zoo.   
For more information or to become a zoo member, visit www.zoo.org or call 206.548.2500. 
VIDEO: Watch as Hazel is joined by her cubs Tián and Zan for an afternoon treat of fruit, biscuits and time with her dedicated keepers.
Woodland Park Zoo