Let the sunshine in: Outdoor session for baby gorilla Zuna who has her first tooth
Let the sunshine in: Outdoor session for baby gorilla Zuna who has her first tooth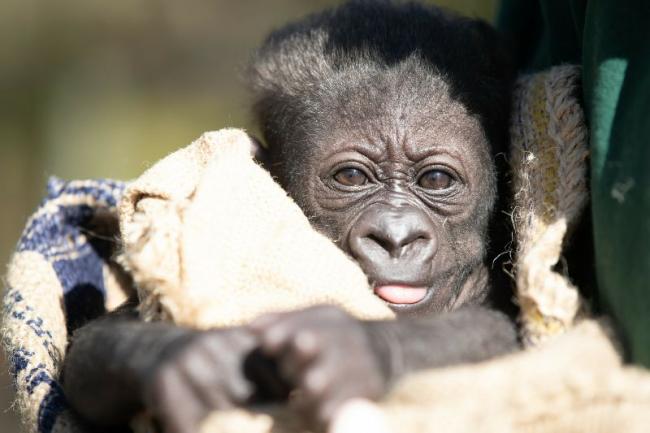 Tue, 03/23/2021
information from Woodland Park Zoo

Zuna means "sweet" in the African language, Lingala (lin-gah-lah). She is the second baby for 25-year-old mom Nadiri (naw-DEER-ee) and the first between her and dad, 21-year-old Kwame (KWA-may).
 
Woodland Park Zoo gorilla keeper Stephanie Payne said, "It's too early to really recognize any strong personality traits, but Zuna has the incredibly cute habit of sticking her tongue out, as evident in her photos! For now, she's pretty mellow, but that could change as she's more able to project her likes and dislikes."
 
The baby gorilla reached a new milestone last week: "Zuna's first tooth has emerged, a lower incisor," added Payne. "We can't wait for her to start walking and climbing, which should be in another couple of months."
                                        
In addition to dad Kwame and Zuna, the other members of Nadiri's family are: Nadiri's 5-year-old daughter, Yola, Akenji, Uzumma and her 1-year-old son, Kitoko. Another group lives separately at the zoo: Vip (father of Yola) and Jumoke.
 
Stay tuned to updates and milestones by visiting zoo.org/growingupgorilla and following the zoo's Facebook, Instagram and Twitter. #GrowingUpGorilla.
 
Help gorillas in their natural range
Every visit to Woodland Park Zoo supports conservation of animals in the wild. Join the zoo by recycling old cell phones and other used handheld electronics through ECO-CELL to help preserve gorilla habitat. Funds generated from ECO-CELL support the Mondika Gorilla Project and Dian Fossey Gorilla Fund.
 
Become a ZooParent in honor of Zuna!
ZooParent adoptions are the perfect way to pay tribute to the zoo's newest addition. ZooParent adoptions help the zoo provide exceptional care for all of Woodland Park Zoo's amazing animals and support conservation efforts in the Pacific Northwest and around the world. 
 
Zoo hours through April 30: 9:30 a.m.–4:00 p.m. daily. Save 30% off summer admission rates through March 31: www.zoo.org/visit.
 
Accessibility admission: The zoo has reserved hours for those with a disability that prevents them from wearing a face covering. Learn more about these reserved hours and accessibility at the zoo. 
 
For more information or to become a zoo member, visit www.zoo.org or call 206.548.2500.