Baby gorilla Zuna is a hit with zoo-goers
Baby gorilla Zuna is a hit with zoo-goers
The 11-week-old girl is outdoors on a limited schedule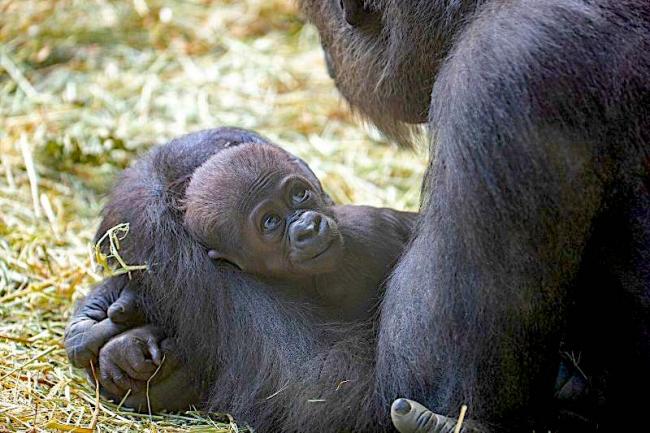 Mon, 04/12/2021
information from Woodland Park Zoo
Visitors to Woodland Park Zoo are oohing and aahing as they catch their first sightings of baby girl gorilla, Zuna (zoo-nah). The 11 week old is now with her mom and family in the public outdoor habitat on a limited schedule: 12:30-3:30 p.m. daily (weather dependent).
 
Zuna, which means "sweet" in the African language, Lingala (lin-gah-lah), is the second baby for 25-year-old mom Nadiri (naw-DEER-ee) and the first between her and the dad, 21-year-old Kwame (KWA-may).
 
"We continue to bottle feed Zuna for her nourishment while mom Nadiri provides maternal care. She's doing an excellent job. Once Zuna's feedings are reduced, we'll be able to extend her time outdoors," said Martin Ramirez, mammal curator at Woodland Park Zoo.
 
The baby gorilla is becoming more active and steadily becoming stronger and more observant. "Zuna's watching the other gorillas in her family with growing curiosity. Kitoko, our 1-year-old boy, is especially interested in her," said Ramirez. "Once Zuna becomes more mobile, our zoo visitors are going to be in for a real treat watching these youngsters romp and play. As symbols of hope for their cousins in the wild, our gorillas can inspire our community to care about and take action on behalf of these gentle giants and other wildlife."
 
The other members of Zuna's family are: Nadiri's 5-year-old daughter, Yola, Akenji and Uzumma, the mom of Kitoko.
 
Stay tuned to updates and milestones by visiting zoo.org/growingupgorilla and following the zoo's Facebook, Instagram and Twitter. #GrowingUpGorilla.
 
Help gorillas in their natural range
Every visit to Woodland Park Zoo supports conservation of animals in the wild. Join the zoo by recycling old cell phones and other used handheld electronics through ECO-CELL to help preserve gorilla habitat. Funds generated from ECO-CELL support the Mondika Gorilla Projectand Dian Fossey Gorilla Fund.
 
Become a ZooParent in honor of Zuna!
ZooParent adoptions are the perfect way to pay tribute to Zuna. ZooParent adoptions help Woodland Park Zoo provide exceptional care for all of its amazing animals and support wildlife conservation efforts in the Pacific Northwest and around the world. 
 
Zoo hours through April 30: 9:30 a.m.–4:00 p.m. daily. Go to www.zoo.org/visit to reserve timed entry tickets.
 
Accessibility admission: The zoo has reserved hours for those with a disability that prevents them from wearing a face covering. Learn more about these reserved hours and accessibility at the zoo. 
 
For more information or to become a zoo member, visit www.zoo.org or call 206.548.2500.