Zoo Tunes returns this summer; First three acts announced
Zoo Tunes returns this summer; First three acts announced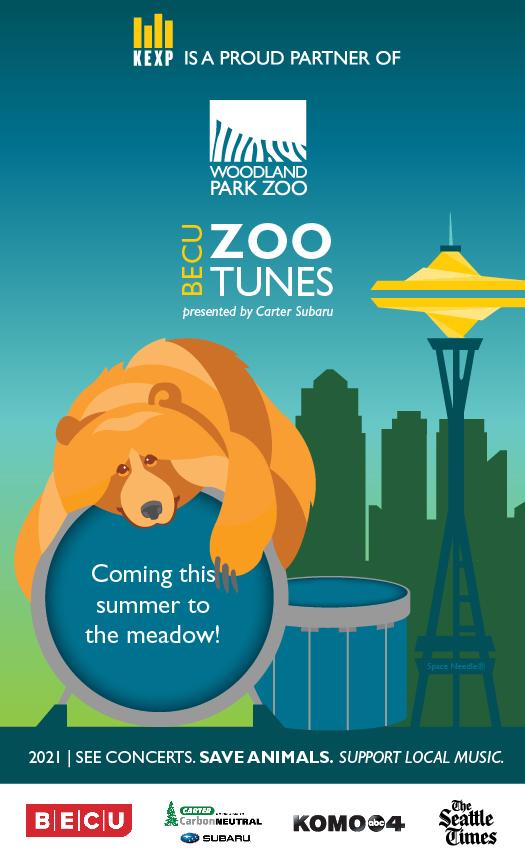 Mon, 05/10/2021
information from Woodland Park Zoo
ZooTunes is back! Woodland Park Zoo is welcoming guests back to the meadow this summer for the 37th annual BECU ZooTunes presented by Carter Subaru concert season! It will be a safe, socially-distanced way to make memories with your loved ones while supporting some of the best local talent the region has to offer. 
Woodland Park Zoo has partnered with legendary Seattle radio station KEXP for a very unique and extraordinary ZooTunes concert season. This year's line-up will be curated by KEXP and will focus solely on local musicians.  
"KEXP is honored to partner with Woodland Park Zoo to help create this year's ZooTunes, and grateful to be part of the reawakening of live music in our city," said Tom Mara, Executive Director of KEXP. "As a longtime partner of the zoo, KEXP is proud to deepen our partnership this year by working together to support the zoo and their conservation work, while also supporting the local music community. We look forward to summer evenings of amazing live music, healing, and community." 
Like the zoo, so many artists and musicians were hit hard during the pandemic. Woodland Park Zoo, along with KEXP, wanted to find a way to support the local communities and bring people together in music. 
"Our zoo community could not be more excited to welcome back ZooTunes concert-goers this summer," said Alejandro Grajal, President and CEO of Woodland Park Zoo. "We are so grateful to our partners at KEXP and King County government for their support to make ZooTunes possible this year. We have made some changes to ensure the safety and health of our guests and the artists so that we can fully celebrate the return of live, local music to our green oasis in the city. As always, ZooTunes will support wildlife conservation work to save species around the world." 
 
ZooTunes is a key fundraising event for Woodland Park Zoo with proceeds going to support the zoo's exemplary animal care, wildlife conservation projects in the Pacific Northwest and around the world, and extraordinary experiences that inspire and empower guests to stand up for wildlife.  
First ZooTunes artists announced! 

Woodland Park Zoo is thrilled to announce some of the amazing local artists joining the ZooTunes lineup this year:  
Sunday, July 18 
The Posies 
www.theposies.net 
Doors: 4:30 p.m. (Section 1), 5:00 p.m. (Section 2) 
Show: 5:30 p.m.  

Sunday, August 8 
Naked Giants 
www.nakedgiants.com 
Doors: 4:30 p.m. (Section 1), 5:00 p.m. (Section 2) 
Show: 5:30 p.m. 

Wednesday, August 25 
Polyrhythmics 
www.polyrhythmics.com 
Doors: 4:30 p.m. (Section 1), 5:00 p.m. (Section 2) 
Show: 5:30 p.m. 
Stay tuned, because even more incredible bands will be announced soon! 
Woodland Park Zoo makes it a priority to keep everyone safe, and it's no different at ZooTunes. This year, the zoo will be doing things a little differently to ensure a safe and fun environment for all ZooTunes guests this season in accordance with state and CDC safety guidelines:  
Tickets are only available online this year and will not be sold at zoo gates. 

Pod seating: Tickets must be sold in groups according to pod sizes, as all guests will need to be in their own pod for the duration of the concert. Pods will be available as two-person, four-person, six-person or 10-person. Pods will be safely spaced between each other with foot paths between pods to maintain social distancing. 

Children 3 years of age and older will require their own full-priced, paid ticket to enter ZooTunes and to help Woodland Park Zoo comply with its capacity allowance for its safety guidelines. Children 2 years of age and under will not require a ticket to attend ZooTunes, provided they sit on the lap of an accompanying adult. For safe entry for zoo visitors and ZooTunes ticket purchasers, concert entry will be temporarily relocated to the North gate entry. This is located inside the Bear parking lot off N. 59th St. & Phinney Ave. N. 
No outside food and beverage will be allowed at any ZooTunes concerts this year. Sealed water bottles are acceptable. All refreshments must be purchased on site; an excellent selection of craft beer, wine, soda products, water and choice off the grill will be available for purchase. 

Bag check: Clear bags that are 16" x 16" x 5" or smaller are allowed in the venue provided that they do not contain items on our prohibited items list. For the safety and enjoyment of all, personal possessions will be inspected prior to admittance into the venue. 
For more information about the changes made to this year's ZooTunes experience, please visit zoo.org/zootunes. 
Woodland Park Zoo offers a safe, outdoor experience for all. Zoo hours through September 6: 9:30 a.m.– 6:00 p.m. Go to www.zoo.org/visit to reserve timed entry tickets.  
Accessibility admission: The zoo has reserved hours for those with a disability that prevents them from wearing a face covering. Learn more about these reserved hours and accessibility at the zoo.   
For more information on Woodland Park Zoo, visit www.zoo.org and follow the zoo on Facebook, Twitter and Instagram.