The lemurs at the Woodland Park Zoo now have names
The lemurs at the Woodland Park Zoo now have names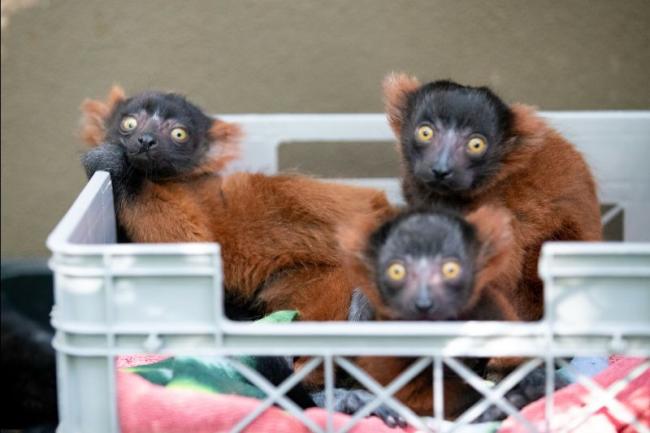 Fri, 05/28/2021
information from Woodland Park Zoo
This week, Woodland Park Zoo invited fans and the community to vote on a name for one of its three baby lemurs. And the top vote getter is….Lanitra! Pronounced law-NEE-truh, the name means "sky" in Malagasy, a tribute to the island country of Madagascar where red ruffed lemurs are from.
 
The other choices in the naming poll were:
Masoandro (mas-oh-AND-roh) – sun
Orana (oh-RAW-nuh) – rain
Ravina (ruh-VEE-nuh) – leaf
Special friends of Woodland Park Zoo named Orana's two siblings: Alina (uh-LEE-nuh) which means "night" and Kintana (kin-TAW-nuh) which means "star," both in Malagasy. The sexes of all three babies remain unknown at this time.
 
The baby red ruffed lemur and its two siblings were born in March to first-time mom Sally. A genetic test may be done later to determine paternity.
 
Mom and the triplets are not in the public exhibit yet, but will soon be. Behind the scenes, the babies are thriving and bouncing everywhere like Velcro! They're climbing, playing with each other and mom, sampling foods like blueberries and leaping distances of up to 2 feet. They currently weigh between 2 and 2.1 pounds.

About red ruffed lemurs
All lemur species are native to the African island nation of Madagascar; they appear nowhere else in the wild outside of the island country.
Red ruffed lemurs live in Northeast Madagascar on the Masaola Peninsula. Their long tails, around 23 inches, help them balance as they move with dexterity through the canopies of the rain forest.
Red ruffed lemurs are very social and highly vocal. They communicate with each other through their voices and smells.
In their habitat range, red ruffed lemurs forage for fruits, nectar and pollen, and leaves and seeds in the dry season when fruit is scarce. At the zoo, the red ruffed lemurs enjoy a variety of fruits and veggies plus fresh leafy branches and leaf eater biscuits.
How to help lemurs
Every visit to the zoo supports conservation of animals in the wild, including the Madagascar Fauna and Floral Group to protect the rich biodiversity of Madagascar. Red ruffed lemurs are critically endangered, largely due to deforestation. Buy wisely: Choose Forest Stewardship Council (FSC) certified paper and wood products to protect forest habitat and wildlife. By purchasing FSC-certified forest products, consumers help to protect lemur habitat by encouraging sustainable forestry and limiting overharvest of forest products (timber, fuelwood, fruits and honey). Without the FSC label, timber may come from illegal logging and forests that are not responsibly managed.
 
Most exhibits at the zoo are now open! Exhibits that have reopened are Conservation Aviary, Temperate Wetlands and Family Farm (Contact Area remains closed).
 
Woodland Park Zoo offers a safe, outdoor experience for all. Zoo hours through September 6: 9:30 a.m.–6:00 p.m. Go to www.zoo.org/visit to reserve timed entry tickets.
 
For more information on Woodland Park Zoo, visit www.zoo.org and follow the zoo on Facebook, Twitter and Instagram. 
VIDEO: Baby Lemurs at Woodland Park Zoo
Woodland Park Zoo