No vaccine? No entry
No vaccine? No entry
Ballard Station Public House among first bars and restaurants to require proof of COVID-19 vaccination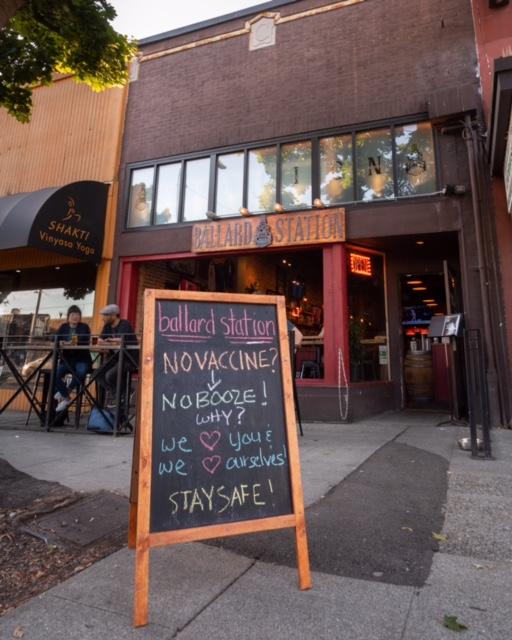 Mason Reister Morris
Fri, 08/13/2021
By Olivia Palmer
For those looking to grab a drink, the Ballard Station Public House has a simple message: no vaccine, no entry.
The bar, located on Northwest Market Street in Ballard, was one of the first in the city to decide to mandate vaccines in late July. Now all patrons, including those seated outdoors, are required to provide proof of vaccination with either a physical vaccine card or a photo of one, along with identification. 
Jesse Young, the bar's owner, said the main motivation behind the decision was a concern for safety.
"At [this] point, we feel like the best way to be safe is by eliminating the possibility of the spread of the disease within the bar," Young said. "The goal is to get through this and keep people employed, and have no one get sick, have no patrons get sick, have no staff members get sick."
The decision comes as King County experiences a surge in COVID-19 cases, driven by the Delta variant of the virus. In an August 5 media briefing, King County Health Official Dr. Jeff Duchin reported an average of 344 cases of COVID-19 per day over the previous week- roughly twice what was seen during last summer's peak. 
Duchin said those infected with the Delta variant are significantly more contagious, and for a longer amount of time. With unvaccinated people five times more likely to catch the virus, 11 times more likely to be hospitalized and 11 times more likely to die of COVID-19, Duchin said the best way for people to protect themselves and others is to get fully vaccinated. According to a statement by King County Public Health:
Vaccines are our most potent weapon to protect against serious illness, hospitalization and death from COVID-19. Policies by private sector businesses that encourage and incentivize vaccination among their patrons help protect the health of their staff, customers and communities. It is heartening to see so many food-and-beverage businesses in King County taking a proactive stance to make sure their establishments are as safe as possible, and helping to promote social norms around getting vaccinated. 
Despite being back in business, Young said Ballard Station Public House's navigation of the pandemic hasn't been easy. 
Starting in March of 2020, the bar was closed for roughly a year. While Young was able to continue paying for his staff's health insurance and stay afloat financially with the help of the community, reopening was still a challenging process.
"I was there five days a week," Young said. "I literally told them [my staff], all the hard work is going to start now that we're opening back up."
When it came to deciding whether or not to require proof of vaccination, Young said safety was his number one priority. He first spoke with his family, then with his employees.
"Ideally, the whole team is going to make that decision," Young said. "We had a brief conversation: … Will you feel safer as staff having just vaccinated people in the bar, especially doing bar service? And everyone said yes. So they rule the ship, we rule the ship, it's our decision on this one."
Young said the response from the community has been mostly pleasant.
Jonathan Cats, a community member from the Green Lake neighborhood, has visited the bar a handful of times. As a fellow businessperson who does music for clubs and parties, he said he supports Ballard Station Public House's decision to require vaccines. 
"I think ultimately, that's what would make me feel the safest," Cats said. "And Seattle is a very highly vaccinated area, so I already feel an increased level of safety, just living here. But I think having those restrictions makes it a little bit easier, and they send that messaging: we're going to do whatever we can to keep our community safe, as well as to stay open, and those people are enough to keep us afloat and keep our business thriving."
As Washington reopens and government-mandated restrictions ease, businesses are beginning to take public safety measures into their own hands. While businesses have different approaches to COVID-19 precautions -- some opting to require masks and others requiring vaccines -- Young said the most important thing to him is that they choose something.
"We've been guided this long, and we all wanted to finally make our own decision, and we got that," Young said. "In a positive way, we all get to step up and make our own decisions to keep our staff safe and keep our patrons safe. If people barhop and people do all these things and there's nothing in place anywhere, that hurts us. That hurts us as a bar community, or just as a restaurant community. People need to do something; they need to make the choice to go one way or the other."
Young said this new autonomy comes with tough decisions: as a 1,450 square-foot space with limit patio area, the bar can't make accommodations for people who are unable to get vaccinated for medical reasons.
While Young said this aspect of the decision weighs on him, he also said he feels it's important to enforce the vaccine policy, especially because some patrons come to the bar specifically because of the vaccine requirement. Recently, he said, the bar has seen several patrons who are parents from areas just outside the city, like Kirkland.
"[They] come for a date night and to get away from the kids for a little bit, enjoy themselves," Young said. "They come into Ballard just because they know that they have kids that are unvaccinated and don't have the chance to get vaccinated yet. And it makes them feel comfortable knowing that they can go have a night out, be around people that are also vaccinated, go home and feel safer."
Looking to the future, Young said continuing to listen to experts and being able to adapt will be key.
"You look and you listen and ask the experts. That's all I do. I'm not making the decision at the end of the day," Young said. "If this doesn't work, I've got to revisit it, I've got to figure out what is working, look around the community. All right, are masks working? Maybe we both do both, maybe we shut down for a while, right? Safety, at the end of the day, is going to be number one."
While Young sees a day in the future where a vaccine mandate isn't needed, that day isn't today. Until COVID-19 is no longer a threat, he said it only makes sense to him to keep taking precautions. 
Duchin had a similar message.
"This is not a normal year, this is not close to a normal year, and everybody needs to understand that vaccinated or not … there's a lot of COVID everywhere right now," Duchin said. "I know this is such a marathon. We've been at this so long. This pandemic is continuing to challenge us. But for now, our outbreak continues to evolve. Our understanding is evolving, and our actions need to evolve as well to reflect the reality of our pandemic."
Duchin said community members can reduce the spread of the virus not only by getting vaccinated, but by being aware of their own risk and exposure levels, and adding additional safety measures like wearing masks in indoor public spaces.
If there's one message Young has for the community, it's to be kind, especially to staff who have been asked to enforce COVID-19 precautions.  
"It's a lot more than the job requirement and the job duties that have been asked for," Young said. "We're asking them to adapt and spread themselves out more and have interesting conversations that would never ever in their wildest dreams have to be had." 
As Ballard Station Public House and a growing list of other businesses in Ballard and throughout Seattle require vaccines, Young said he hopes to be an example as the community pulls itself out of the pandemic.
"Our community, our area, it's been great. It's been awesome," Young said. "I just know that that's not the case everywhere. So I just hope people are safe and feel like they can speak up and make a difference."