Woodland Park Zoo's tiny pudu has a name
Woodland Park Zoo's tiny pudu has a name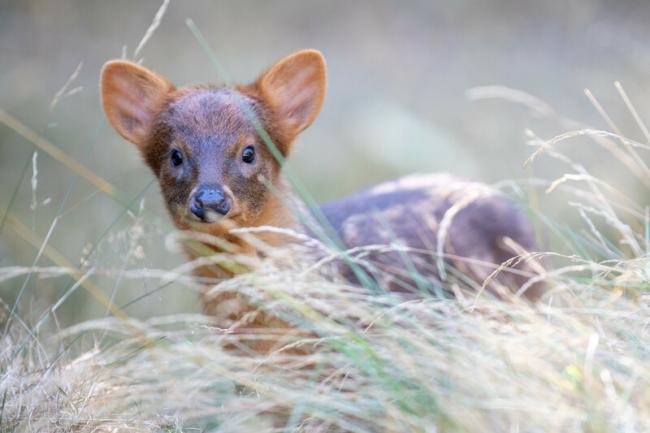 Tue, 09/14/2021
World, meet Ande! Woodland Park Zoo's 2-month-old Southern pudu, a male, officially has a name. While Ande may be one of the world's smallest deer, he's actually named after the second-highest mountain range in the world — the Andes Mountains! It's also where pudu like Ande are native to.  
Ande is growing very quickly! At about 2 months old, he's already half as big as his parents. But even fully grown, pudu are only about 15 inches tall. Some of his favorite snacks are romaine lettuce, banana peels and nutritional grain. The spots on his coat have already started to fade and will continue to fade as he grows and matures into his adult coat.  
Ande was named by Ellie Woodall, a budding animal lover from Richland, Wash., whose grandparents have been great zoo supporters for many years.  
If you want to catch a glimpse of Ande and his family, head to the zoo's Temperate Forest habitat, right next to the flamingos.   
Woodland Park Zoo offers a safe, outdoor experience for all. Zoo hours through September 30: 9:30 a.m.– 4:00 p.m. daily. Go to www.zoo.org/visit to reserve timed entry tickets.  
For more information on Woodland Park Zoo, visit www.zoo.org and follow the zoo on Facebook, Twitter and Instagram.  
_____________________________
VIDEO: Meet Ande, the zoo's 2- month old Southern Pudu
Video : Jeremy Dwyer-Lindgren/Woodland Park Zoo