This is how you zoo: Fall and winter happenings at Woodland Park Zoo
This is how you zoo: Fall and winter happenings at Woodland Park Zoo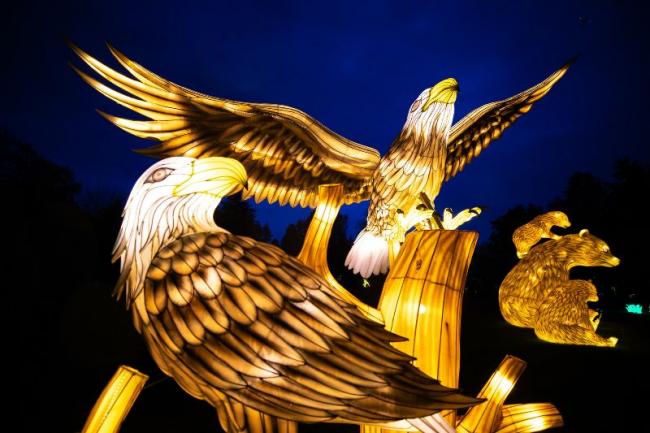 Thu, 10/07/2021
#IAmLivingNorthwest: Discover, recover and coexist
 
"We Are Living Northwest" is a local movement to create a Northwest where people and animals thrive together. Woodland Park Zoo seeks to unite individuals, communities, partners, and policy makers to achieve this vision collectively by committing to discovery, recovery and coexistence. From educational programs about coexisting with carnivores, to repopulation of native western pond turtles and Oregon silverspot butterflies, the zoo is dedicated to working with its partners to preserve and protect the beautiful Pacific Northwest.  
 
To learn more about what it means to be Living Northwest, visit the zoo's Living Northwest Trail—now open—and visit www.WeAreLivingNorthwest.org for inspiration and tools to take action. Share your favorite photos of regional nature and tag #IAmLivingNorthwest.  
 
Animal keeper talks and guest experiences
The animal keepers provide exceptional care to all the animals at the zoo, making sure they have everything they need to be healthy and happy. They also help save animals in the wild in the Pacific Northwest and around the world. Enjoy the talks and be inspired to save wildlife and their wild places. Programs are offered through April 30 and are free with zoo admission except as noted. Locations of programs are posted at the zoo's South and West Entrances. All programs are subject to cancellation due to weather or animal availability.
 
Sundays
11:00–2:00       Penguin Feeding (additional fee)
1:30                  Hippo Keeper Talk
2:30                  Sea Eagle Keeper Talk
 
Mondays
11:00–2:00       Penguin Feeding (additional fee)
11:00                Ambassador Animal Enrichment and Keeper Talk
 
Tuesdays
11:00–2:00       Penguin Feeding (additional fee)
 
Wednesdays
11:00–2:00       Penguin Feeding (additional fee)
 
Thursdays
11:00–2:00       Penguin Feeding (additional fee)
11:00                Ambassador Animal Enrichment and Keeper Talk
 
Fridays
11:00–2:00       Penguin Feeding (additional fee)
11:00                Ambassador Animal Enrichment and Keeper Talk
1:30                  Gorilla Keeper Talk
 
Saturdays
11:00–2:00       Penguin Feeding (additional fee)
1:00                  Penguin Keeper Talk
3:00                  Rhino Keeper Talk
 
Fun for all this season
 
Pumpkin Bash presented by T-Mobile: Saturday and Sunday, October 30–31, 9:30 a.m.–3:00 p.m.
Kiddies, wear a spooktacular costume and get free admission to Woodland Park Zoo's Pumpkin Bash presented by T-Mobile. Enjoy a weekend of Halloween fun for kids and animals! Hippos, otters, bears, penguins, and other animals will gobble, smash, and play with pumpkins and autumn-themed treats while little goblins and ghosts trick-or-treat at the zoo. During Pumpkin Bash, one child 12 years and under in costume is admitted to the zoo FREE with a paid adult. Pumpkin Bash is free with zoo admission or membership.
 
WildLanterns presented by BECU: November 12, 2021–January 30, 2022, 4:00–8:30 p.m. Closed Mondays (except December 20 and 27), Thanksgiving, Christmas Eve and Christmas Day
It's back and better than ever: WildLanterns presented by BECU will return this winter with brand-new lanterns and themed zones, along with some returning fan favorites that will "wow" anyone of all ages! Get your tickets now to illuminate your holidays with an immersive, interactive, larger-than-life experience unlike any in the Pacific Northwest! All WildLanterns guests (ages 12+) are required to show vaccine verification or negative PCR test. Masks are required at WildLanterns both outdoors and indoors (ages 5+). For details and ticket prices, visit zoo.org/wildlanterns.

Temporary closures
 Some indoor buildings and high-touch areas remain temporarily closed: Historic Carousel, Zoomazium, Molbak's Butterfly Garden (reopens summer 2022), Tropical Rain Forest building, South ZooStore, Willawong Station, Bug World, all playgrounds, mother's/nursing room, face painting and kiosks.
 
General information
 Woodland Park Zoo offers a safe, outdoor experience for all. Visit zoo.org for the latest information on the zoo's face covering policy. Zoo hours: 9:30 a.m.–4:00 p.m. daily.

Woodland Park Zoo is free of most physical barriers and obstacles. For complete details on sensory considerations, bathrooms, getting involved at the zoo and more, download the Accessibility Guide.

Enter Woodland Park Zoo through the West Entrance at Phinney Ave. N. between N. 55th & N. 56th Sts. or South Entrance at N. 50th St. & Fremont Ave. N.
 
Admission: Adult (13-64) $17.00; Senior (65+) $15.00; Child (3-12) $11.50; Toddler (0-2) Free; Persons with disabilities $2 off regular admission, 1:1 aides Free. Zoo members receive free zoo admission year round. Active, retired, and veteran U.S. military and their families receive an admission discount. Parking: $6 first two hours, $2 each additional hour plus applicable state and local taxes.
 
For more information, visit www.zoo.org and follow the zoo on Facebook, Twitter and Instagram. Or call 206.548.2500.