Kohl-Welles awards Martin Luther King Medal of Distinguished Service to Carlye Teel
Kohl-Welles awards Martin Luther King Medal of Distinguished Service to Carlye Teel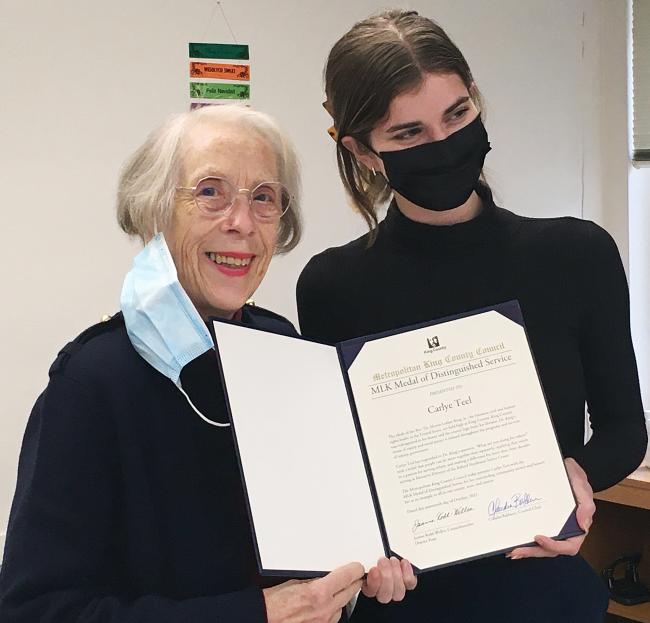 Fri, 11/19/2021
King County Council member Jeanne Kohl-Welles recently awarded Carlye Teel with the Martin Luther King Medal of Distinguished Service, an annual award that recognizes individuals whose work has answered the question asked by Dr. Martin Luther King, Jr. "What are you doing for others?"
For the past 32 years, Carlye Teel has served as the Executive Director at Ballard NW Senior Center as well as managing the Greenwood Senior Center for 10 years during that time. Teel has dedicated her life to serving others, in particular those over 50, working to help them be their best selves.
"Carlye has been providing enormously important and essential services with the Ballard Northwest Senior Center for more than three decades," Kohl-Welles said. "As a staunch advocate for the seniors served by the center, Carlye has dedicated herself to ensuring that there is strong programming available and that the center is deeply involved in the larger Ballard community. Over the past several years and during the pandemic especially, there has been an increased need for services and a widening diversity among the clients served, and Carlye has gracefully led the Ballard Northwest Senior Center through those changes. Thank you, Carlye, for your incredible service. The impact that you have had on the people of District Four is immeasurable."
Teel has also volunteered with the Junior League and helped found the Senior Rights Assistance Program. She worked with the Seattle Police Department to help establish the Victim Witness program and has served on the Ballard Chamber Board and the Ballard Hospital Board.  She is a past President and current member of Ballard Rotary. 
"Thank you, Council member Kohl-Welles, for all your help and support of seniors, veterans and the disabled and to King County for your support, for this award," Teel said. "I'm honored, especially because the award is inspired by Dr. Martin Luther King who believed that anyone can serve and make things better for others. Senior Centers support all seniors and help each person be their best selves wherever they are on their aging journey. I accept this award on behalf of all the senior centers, their staff and volunteers who do so much, for so many every day, even during a pandemic. Thank you, King County, Jeanne, and Dr. King, for your inspiration."
This marks the sixth year that council members have each selected someone from their district whose work embodies the spirit of King's question.