Wild Lanterns is back at Woodland Park Zoo and more accessible than ever
Wild Lanterns is back at Woodland Park Zoo and more accessible than ever
Opens November 11 through January 22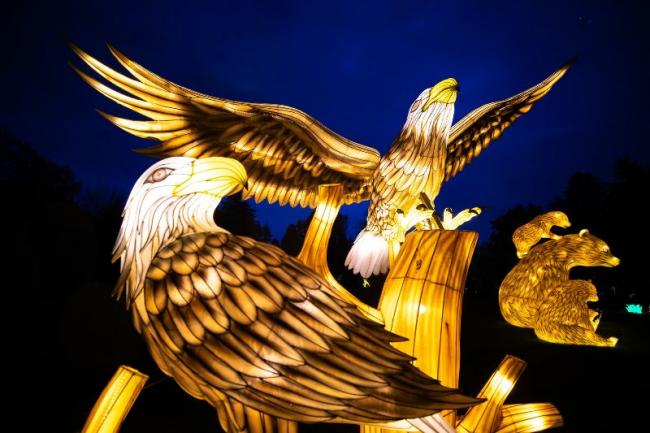 Tue, 10/11/2022
Information from Woodland Park Zoo
Illuminate your holidays! Woodland Park Zoo's spectacular WildLanterns festival is becoming more accessible to people of all abilities. During this year's festival, one night per month will be dedicated to making the entire WildLanterns program sensory friendly, providing a welcoming landscape for all to enjoy the beauty and magic of the holiday season at Woodland Park Zoo.
 
The Sensory Friendly Nights will feature low sensory experiences, activities and other resources to provide a comfortable holiday adventure for all. Zoomazium will transform into Zoomazium NightLights, a designated sensory friendly space with dimmed lighting and owls and wind hooting and howling softly in the background. Families and guests will find a giant light-bright set up in the back next to the tree and some shadowboxes where they can create their own scenes. There will also be mini-flashlights for exploring and doing shadow puppets. Guests can check out other sensory items from Guest Services. Specialized docent carts and closed captioning will also be available.

 
WHEN:
WildLanterns runs November 11, 2022, through January 22, 2023
Closed Mondays (except 12/19 and 12/26), Thanksgiving, Christmas Eve and Christmas Day. Beginning January 1, WildLanterns will be closed Mondays through Wednesdays.
 
Sensory Friendly Nights:

Wednesday, November 16
Tuesday, December 13
Thursday, January 12

Hours: 4:00 to 9:00 p.m.
 
WHERE:
Enter WildLanterns through Woodland Park Zoo's West or South Entrance:
 
West Entrance: 5500 Phinney Ave. N., Seattle, WA 98103
Cross streets: Phinney Ave. N. between N. 55th and N. 56th Sts.
 
South Entrance: 750 N. 50th St., Seattle, WA 98103
Located on N. 50th St. & Fremont Ave. N. and accessed by the Hippo parking lot.
 
TICKETS:
Visit www.zoo.org/wildlanterns to purchase.
 
Tickets will be sold with a specific entrance time.

All Sensory Friendly Nights are Nonpeak Weekday Pricing:

Adult:  $29.95 (ages 13+)
Child:  $25.95 (ages 3 to 12 years old)
Ages 2 and under are free

Members receive 20% off General Admission ticket prices.

WildLanterns will be a rain or shine event and there will be no ticket refunds.
 
Parking: $6 flat rate.
 
 
This year's WildLanterns features all new lanterns, themed zones and some returning fan favorites that will "wow" anyone, no matter their age! Get your tickets now to illuminate your holidays with an immersive, interactive, larger-than-life experience unlike any in the Pacific Northwest!

Start your journey by seeing the world from a smaller perspective at All About Bugs, where colorful dragonflies swarm from the trees and bouncing bunnies welcome you to their burrow. Your journey then takes you through the glowing Garden Delights all the way to A Walk Among African Animals, where beautiful flora and fauna abound, before experiencing an Asian Safari where stunning tigers, adorable red pandas and a brilliant family of orangutans await your arrival. Next, wander through the Oceania Animal Odyssey where you'll find lanterns of some of the cutest creatures from the Southern Hemisphere such as koalas, parrots and adorable tree kangaroos. Finally, stop by the Magical Memories Marketplace and pick up a memento to gift your loved ones this holiday season!
 
As if it could get any better, each and every ticket sold directly will support excellent care for the hundreds of animals who call the zoo home, as well as more than 35 wildlife conservation projects in the Pacific Northwest and around the world.

Woodland Park Zoo offers a safe, outdoor experience for all. Visit www.zoo.org for information. Zoo hours: 9:30 a.m.–4:00 p.m. daily.
 
Accessibility: Information about accessibility and resources, one-to-one aides, sighted guides, mobility equipment rentals, and a sensory map and tools can be found at www.zoo.org/access. For questions or to request disability accommodations for zoo programs or events, contact zooinfo@zoo.org.
 
For more information or to become a zoo member, visit www.zoo.org or call 206.548.2500. Follow the zoo on Facebook, Twitter and Instagram.