West Seattle philanthropist Adah Cruzen celebrated her 95th birthday
West Seattle philanthropist Adah Cruzen celebrated her 95th birthday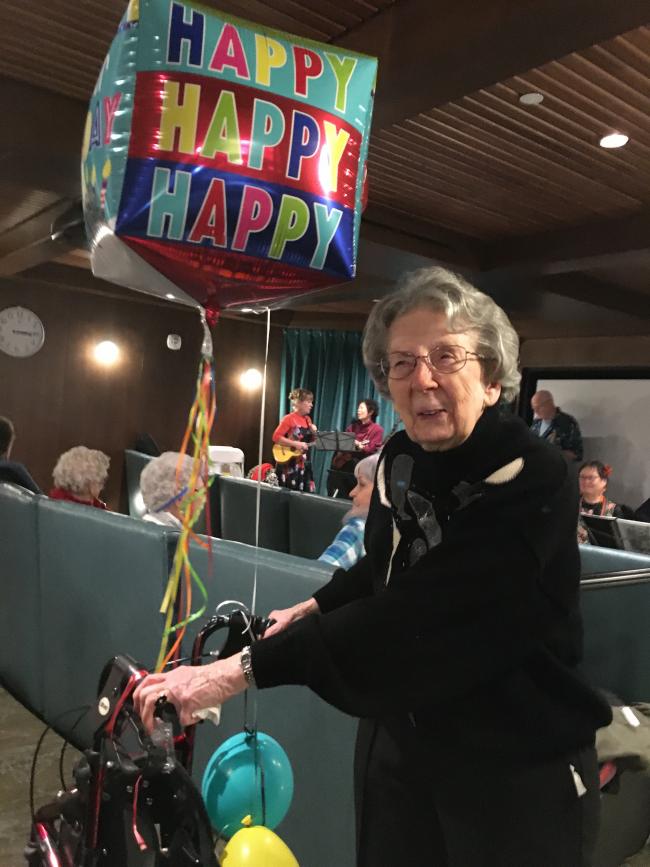 Sat, 01/11/2020
West Seattle philanthropist Adah Cruzen said she plans to live "to 104" at her 95th birthday party Jan.11.
Cruzen, whose efforts to support a variety of West Seattle institutions have drawn universal praise and recognition was celebrated at her home at Aegis Living in the Admiral District.
The event was highlighted by a performance by The Ukes. At the close, the West Seattle ukeuele group performed Adah's favorite musical medley: "Over the Rainbow" / "What a Wonderful World."
The video is below.
VIDEO: Adah Cruzen Ice Cream Social 95th Birthday celebration
Clay Eals
Comments
Happy 95th birthday, Adah! God bless you!!!
The Ukes are grateful for Ada's interest in our ukulele band. She an inspiration to all of our players, and regularly joins our weekly practice. One of our band mates created a "Golden Clapper" for bringing many of her friends to our weekly practice.