Love looks greener on the other side -- Burien Actors Theatre shines with "Rapture, Blister, Burn" 
Love looks greener on the other side -- Burien Actors Theatre shines with "Rapture, Blister, Burn"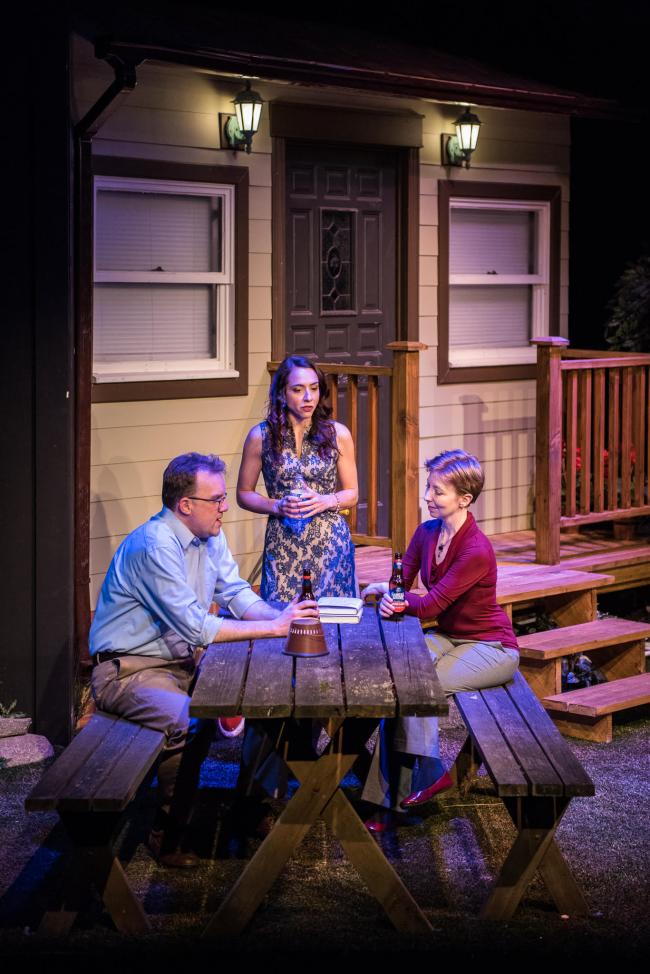 Mon, 02/19/2018
By Lindsay Peyton
Why did Catherine actually come back? That's the question that lingers through the first act of Gina Gionfriddo's "Rapture, Blister, Burn."
The play, now showing at Burien Actors Theatre, opens in married couple Gwen and Don's backyard, as they welcome Catherine back to their hometown. All three realize from the get-go that the circumstances are kind of "weird," even if Gwen tries to deny it.
Catherine, a prominent feminist speaker, author and teacher, epxlains that she retunred to take care of her aging mother Alice, who recently survived a heart attack. 
It soon becomes clear, however, that other motives might be involved. There's something between Catherine and Don, a spark that becomes apparent from their first prolonged hug.
In the midst of the drama, Gwen, Catherine, Alice and college student Avery discuss feminist philosophy over martinis. The audience can consider all four women's choices in life and love, while they contrast Betty Friedan and Phyllis Schlafly. 
The Pulitzer Prize finalist takes a look at unrequited love, fizzled out marriage, career aspirations and stilted academia, as well as the various things at stake with family and friendship. 
Gwen, played by Alissa Cattabriga, put her dreams on hold to be a mother and wife. Don, played by Wade Hicks, pretends to hold onto his high aspirations from grad school, while prefering the distractions of porn and pot. 
At times, Gwen jokes that she wants to simply hand Don over to Catherine, played by Kris Pepper Hambrick. Catherine, on the other hand, thinks being married to an unambitious man would be better than spending the rest of her life alone.
Avery, played by Caitlin Colman, delivers a lot of laughs throughout the play. She has a calm wisdom to offer Catherine, despite her young age, and is often in agreement with Alice, played by scene-stealing Trish Cosgrove. 
Barbara Cawley and Beau M.K. Prichard direct the talented cast. Natalie H. Berg serves as the show's stage manager.
Designers include Albie Clementi for the set, Zanna King on lighting, Cyndi Baumgardner for props, Barbara Cawley and Maggie Larrick for costumes and Eric Dickman for sound.
The nonprofit Burien Actors Theatre, which promises unusual productions and invigorating experiences, was successful on all counts with "Rapture, Blister, Burn."
This is a play that is intellectually stimulating, without being heavy-handed. It's funny, and it's poignant. And ends with a powerful message. 
Audience members might question Catherine's choices, wondering why she may be willing to settle, why she is second guessing her career or why she is able to analyze motives for everyone's actions except her own. 
It would be a challenge to walk away and not consider our own, complicated lives. Haven't we all dated someone not worthy of our time or mistakenly prioritized a lover over a friend? 
"Rapture, Blister, Burn" is playing through March11 at Burien Actors Theatre, 14501 4th Ave. SW. Performances are at 8 p.m. on Fridays and Saturdays and 2 p.m. for Sunday matinees. Ticket prices range from $7 to $20. Student tickets are $10. 
The company's artistic director Eric Dickman creates specialty drinks themed to match the show. With free parking and an eclectic range of nearby choices for a pre- or post-show dinner, it's worth heading to Burien to catch a performance.  
For tickets and information, visit www.burienactorstheatre.org or call 206-242-5180.