Area tennis stars do well in Vancouver
Area tennis stars do well in Vancouver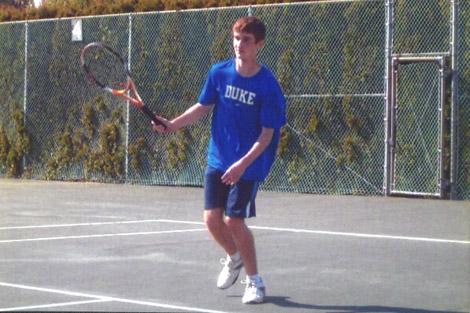 Photo by Gerardo Bolong
Mon, 05/30/2011
SPANAWAY - Completely overpowering? No. Absolutely effective? Yes
Confidence and communication mixed with harder hitting enabled senior Shannon Wong and junior Alexis Gregerson of Mount Rainier High School in Des Moines to lift themselves to a Class 4A girls tennis doubles spot at the Vancouver Tennis Center.
After opening the round of 16 on Thursday, May 19, with a 7-5, 6-3, defeat of SPSL No. 4 seeded Tracy Tran and Katie Ly of Kentridge at the Sprinker Recreation Center, the sixth-seeded SPSL Ram dynamic duo fought off the No. 1 Narrows seed Annie Sing and Bailey Kilmer of Olympia in two sets to clinch a state berth from the West Central/Southwest Bi- District tournament.
In the first set, the Bear duo gave Wong and Gregerson all they could handle before Mount Rainier prevailed, 7-5. The second set was even tougher as both squads rallied back-and-forth until the Ram tandem emerged with a 7-6 (7-2) victory.
"We hit too many lobs and were hitting long in the first set," observed a bubbly Wong. "We trailed 4-1 in the first on my serve and I thought 'Oh, my!' we need to start talking to each other more and try for the shots we usually play. We got the lead at 6-5 before we won. In the second set we tried hitting harder right at them. I'm so happy we're going to state!"
Even with the adjustments, Sing and Bailey forced a tiebreaker in the second set. The Rams quickly took control for a 7-2 tie-breaking win.
"After the comeback in the first set, we knew we could win," added Gregerson. "We just had to focus on positioning ourselves better and focusing on our game. Hitting harder was really important."
Eventual champions, SPSL No. 2 Tess Manthou and Eliana Spero, dropped the Rams into the consolation round by virtue of a 6-1, 6-2, semifinal triumph on Friday. Wong and Gregerson closed out the tournament on a positive plane after stroking past Greater St. Helens League No. 1 Tara Carrie and Kristina Metz of Skyview, 6-3, 6-3, for the WCD third seed.
 
Mount Rainier's other district entry, SPSL No. 7 Jim Leeds, opened his round of 16 with a 6-3, 6-2, win against Narrows No. 2 Blake Staudenraus of South Kitsap before SPSL No. 3 David Mardakov of Kent Meridian stopped Leeds 6-0, 6-0, in concluding Thursday play.
SPSL No. 8 Jarad Schraeder of Auburn Riverside eliminated Leeds the next morning, 6-2, 6-0.
Mitch Stewart of Federal Way won boys singles while Hunter Wood and John Stormans of Olympia claimed the No. 1 doubles seed.
Girls singles No. 1 went to Kylee Tyler of Battle Ground.
Bellarmine Prep took the boys team title with 20 points as Olympia edged out Skyview 14-13 for the girls district team championship. Mount Rainier claimed eight points for eighth out of 14 teams.