SLIDESHOW: Elite baseball growing
SLIDESHOW: Elite baseball growing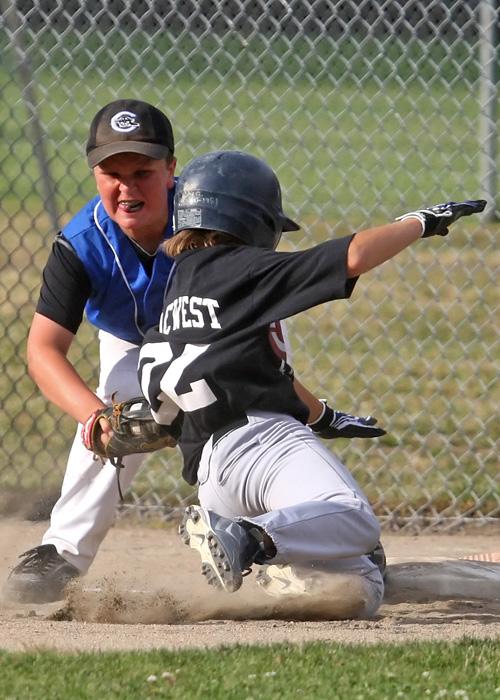 Photos by Kurt Howard
Fri, 07/29/2011
SLIDESHOW: Click the above image to see more young athletes playing their hardest by Kurt Howard.
Top level U12 baseball was put on display on Tuesday, July 12, at the Pac West Fields in SeaTac. The best players filling the Highline area's only elite baseball teams got together to play a game in season of January through August match ups that involving these teams and other teams in Washington state. Des Moines/Normandy Park and the Pac West Baseball Club(representing mainly Burien) play often.
According to Jeff Gibbs, these 11-12 year old squads will travel mainly through Western Washington with a few excursions east of the mountains. Tournaments are being planned for the future. The teams are included in two associations: BPA and USSA.
Mitch Bleitz, who has a long association with Little League baseball and has sons who play both Little League and Elite baseball expects the Elite prgrams to grow.
"The kids get to play a lot more baseball as well as see and play against the best kids. It elevates everyone by raising the bar. Until this, you make the Little League baseball playoffs and All-Stars and then its over. In the Winter, we have inside practice, including baseball camps. It's a whole movement that's gaining speed. As far as costs, it used to be $4,000 for the season, but now it's down to a couple hundred per player. Quite a few payers play Little league and Elite."
PWBC manager Luke Hagler, who also coaches Little League, appreciates the opportunities this program offers.
"We're trying to get as many games as possible for the kids to work on year round," he stated. "It's friendly. That's why we made so many changes at pitcher. The main idea is to make the kids better, although you still try to win."
Tuesday's game was finally decided in the bottom of the sixth inning after the squads had battled to a 4-4 deadlock.
Pac West's Tony Brookbank drew a leadoff walk. On the first pitch to the next batter, Nicolas Hovland, the runner swiped second base. Hovland then dumped a perfect sacrifice bunt down the first base line to advance the runner to third base. Following a walk to David Perkins, Jalen Rose bombed a first pitch fastball deep to left field for a double and the game winning RBI.
"It felt great," he said. "I got a perfect swing with the bat. Playing in this type of baseball gives me more time to get better."
Rose batted 2-for-3 in the game.
The Des Moines/Normandy Park Cannons fired their scoring guns first in the top of the second inning when Jake Gibbs blasted a run-scoring single through the middle.
Shooting back immediately in the bottom of the same frame, the Pac West Baseball Club returned fire. Leadoff batter Rose tomahawk chopped a single down the third base line. After moving up to second base on an infield ground out, Rose scored on Chase Bowen's run-scoring single. Shane Merritt responded with an RBI single to put Pac West ahead 2-1.
Pac West increased its margin to 3-1 on Tony Brookbank's single and subsequent outfield throwing error in the same sequence of plays.
It was the Cannons' turn to bomb away in the fourth inning. Ryan Kephart's one-out single set up Austin Tindall for a single that scored a run. On the play, an infield throwing error moved Tindall to second base. JoJo Connor then dashed quickly for an infield single.
Up stepped Gibbs to deliver the goods again with a rocketing two-run single up the middle as De Moines/Normandy Park regained the lead at 4-3.
With two outs in the bottom of the fourth, Pac West used an infield single, a walk and wild pitches to tie the game at 4-4.
Pac West dodged excellent Cannon scoring chances in the fifth and sixth innings to remain tied until Rose's heroics.
Austin Tindall batted 3-for-3 for D/NP.
In the final analysis, the reason for playing transcended the Tuesday night result.
"I like to play baseball with my friends," said the Cannons' Jake Gibbs, who batted 3-for-3 with two RBI. "I look forward to the challenge, which is to get better as a player. As I get older, the pitchers throw harder and things get harder."
The total player roster for the PacWest Baseball Club includes Spencer Watson, Travis Boyd, Jacob Whitman, Austin Fujita, Tony Brookbank, Nicolas Hovland, David Perkins, Jalen Rose, Ryan Moormeier, Chase Bowen, Shane Merritt, Tyler Terlauw, Christian Hagler and Christian Coyle.
Assisting manager Hagler are coaches Jim Hovland and Jon Moormeier.
Players for the Des Moines/Normandy Park team are Lucas Thomson, Colin Meyers, Ryan Kephart, Austin Tindall, Jo Jo Connor, Jake Gibbs, Nathan Vasquez, Tyler Vicars, Ryan Lafrombois, Casey Hillyard, Jacob Bleitz, Cooper King and Trey Hunt.
Assisting manager Lance King are coaches Jeff Gibbs, Naldo Vasquez and Walt Hunt.