SeaTac City Council passes diversity resolution, higher tax for developers and is puzzled about Puget Sound Energy claim
SeaTac City Council passes diversity resolution, higher tax for developers and is puzzled about Puget Sound Energy claim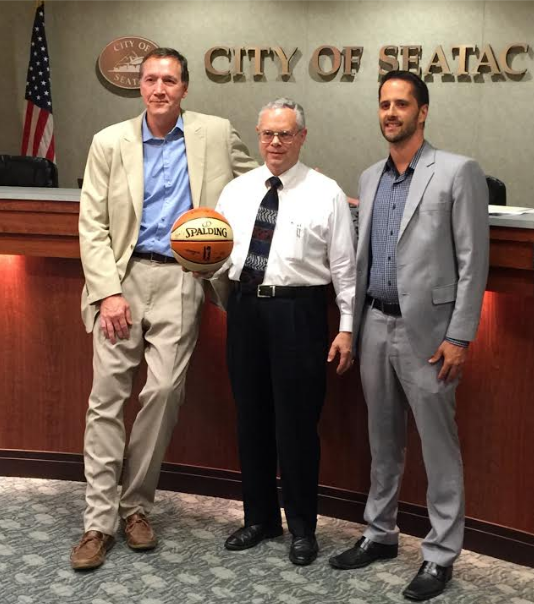 Gwen Davis
Wed, 08/10/2016
By Gwen Davis
The city council meeting Tuesday evening was packed with material.
Diversity resolution
Councilmember Peter Kwon briefed the council on his proposal from two weeks ago.
"This came about about because of a citizen's request," he said. "This is very simple, very concise, very easy to understand and is something the city should have."
Campbell again asked if this resolution would cover ages, disabilities and non-ethnic related issues.
"This does not exclude anybody," Kwon said.
Fernald said that she'd vote for it, but expressed again that the council represented everyone. But there needs to be more, she said. There should be deliberate, intentional action from the council.
Citycouncil Tony Anderson: "Words don't mean actions but words are a start. This should be a summer school assignment," he said. "We should take this home and figure something out."
Fernald said she wanted to hold a joint session with the community building committee.
The mayor said such committees were "defunct" but Fernald said she disagreed. The committee they were talking about never had a clear role in the beginning.
"They had great stated goals," she said. "Everything they were working on fits right into the resolution."
Kwon said this was good timing. He had recently wondered about $6,000 the city is paying to a peace-oriented nonprofit.
"Why don't we have these folks come into our committee?"
Campbell said, "in the wake of the last seven or eight months, I think we should have this."
"To me, it makes sense that the committee works with us on the resolution," Fernald said.
The motion to set up the meeting was passed.
Transportation impact fee update
"The transportation management plan is now done," the presenter said. "The TIF is put into place for impacts caused by development," he said, to introduce the concept.
"We recommend $3,500 per p.m. peak hour trip," he said. It should be put in place by Sept. 1, he said. It's to last for 20 years.
Sitterley said she sympathizes both with the home owners and the developers.
Anderson said the "whole thing should be put into service" to save potential tax payers of unfair loses.
"Thank you for finding and fixing this big fat financial pothole," Campbell said.
However Forschler expressed concern for the developers, saying this TIF is a little steep.
"My preference would be to stage this, instead of going to $3,500," he said.
But Acting City Manager Joseph Scorcio said that this is a one-time fee and does give time to the developers.
"The challenge with stair-stepping it, is you still need to recover the same amount of money," he said.
An amendment would need to be passed to defer the fee.
"I proposed at a meeting, why not just go to $2,500 on January 1st, to at least provide an incremental step..." Kwon said.
But Siefkes said that not raising the rates is like having a vending machine, and every candy bar in the vending machine raising rates to a dollar, but we're only raising our candy to 60 cents. It doesn't make sense. There are new rates now.
The motion passed.
Other business
The city is still ironing out creases with Puget Sound Energy. The company had claimed it was not properly paid, but that was not the case, Scorcio said.
Kwon: "We have a lot of residents who have been paying the tax since March. Are they going to get a refund?" he asked.
"We'll try to work with PSE," Scorcio said.
Public Testimony
"I'm a 16-year resident of the City of SeaTac," one testifier introduced himself.
The city's insurance company is looking to sue the City of SeaTac, he said. "Do you have 18.3 million dollars laying around for the judgment? What's your plan?" He asked council members. "What are you folks going to do to pay this debt?"
But residents brought up a variety of issues.
"I'm a visitor of SeaTac and am interested in noise pollution from vehicles," he started. The resident said that essentially the city has too much noise and it essentially detracts from quality of life.
"I'm here to thank you all for the raise the city has given us," another testifier said, regarding the wage increase he enjoyed from the minimum wage initiative some time ago. However, the resident said more work needs to be done to continue making wages competitive.
"I want to thank you guys because I get a real sense that change is occurring," another testifier said. "I see what's going on and I"m impressed. Thanks for doing a good job."
Storm youth event presentation
Nate Silverman, who partners with various organizations in support of youth, showed a video about a Storm practice event on July 13 in SeaTac, and how the team impacted local youth.
"We are blessed to have this program," Councilmember Tony Anderson said in response.
A basketball was then presented to council members and pictures were taken.
Sustainable airport master plan
Another presentation was given regarding creating a sustainable airport master plan. The presenter's PowerPoint to the council was detailed. "We have some challenges we still need to work out, but we're working with the stakeholders that are most important to you... and we will continue to work with them and with the City of SeaTac staff," she said.
The presenter said her group has considered the feedback they have received from the council over the past few months.
She explained that some of the scenarios in her presentation were more viable than others.
"When I come back next time, I want to show you some three-dimensional images," regarding one of the possibilities. "We got more work to do, with more commission meetings" and in Sept., a draft will be decided upon.
She spoke about the environmental footprint the airport will have, and will talk with the public, and to local businesses to try to attract the right development.
But Councilmember Kathryn Campbell said it would be "politically correct" for the presenter to put more consideration on the environment, especially considering the removal of 1,800 trees.
"Can you please give some serious concern to the two-leggeds and four-leggeds around the airport?"
Councilmember Rick Forschler talked about noise levels.
However, the presenter said to him that noise and other environmental factors will be well considered in the proposal.
Councilmember Peter Kwon: "What pedestrian, street-level access will be given?" regarding a northern terminal. "Now's a good time to start thinking about that."
"I'll take your feedback back to the team," the presenter responded.
Councilmember Erin Sitterley asked about cargo, however Anderson queried about the advantageousness of various space considerations. Deputy Mayor Pam Fernald asked for more clarification regarding the presentation's terminology especially about access.
"We are still in early stages, so I don't want to give you the impression that I'm giving you a final answer," the presenter responded.
Mayor Michael Siefkes: "Which key stakeholders have seen this?" he asked.
SDOT, Sound Transit and other key agencies have seen this plan, the presenter replied back.
​
Kent Regional Fire Authority annual report presentation
The report presented items that were highlighted in 2015, such as routine debriefings done after fires.
The organization will change its name, the presenter said. "Puget Sound Regional Fire Authority" will become effective in January 2016.
Stats were displayed, indicating that the station has a "very good" response time, according to the presenter. "We are exceeding our goal," he said.
"Eight minutes response time, is a really good time," he said.
Fernald asked what the national response rates are. Eight minutes, he replied.
Forschler asked about equipment use. Kwon asked about the length of the accreditation processes.