West Seattle's Michael Kleven sounds off behind-the-scenes at "THE SCOTTISH PLAY" 
West Seattle's Michael Kleven sounds off behind-the-scenes at "THE SCOTTISH PLAY"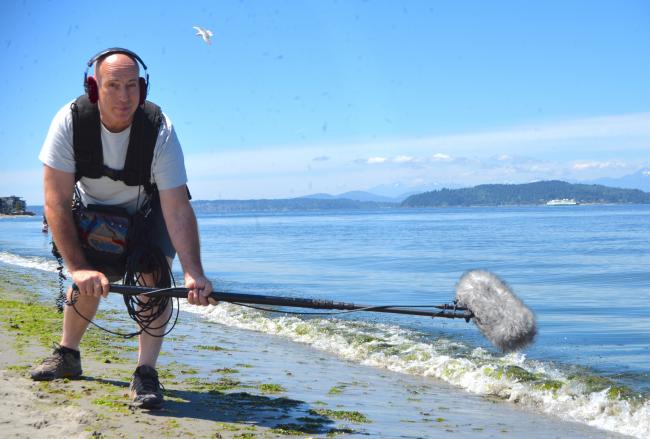 Mon, 08/07/2017
By Lindsay Peyton 
Drama behind the curtain – and event during rehearsals – takes center stage in "THE SCOTTISH PLAY," an episodic series recently released on Amazon.
The show shines a light backstage during a production of "MacBeth" – encapsulating the aspiring actors, director's process and even relationships with the stagehands. 
Behind the scenes of the series is West Seattle resident Michael Kleven, the man with the microphone. 
Kleven, who served as sound mixer for the production, is no stranger to the theatre world, which is both mocked and celebrated during the show. 
He earned his first degree in theatre from Western Washington University and had stints as an actor, playwright, director and modern dancer – before he moved to Bremerton and took a job as a social worker. 
"It was amazing, because with some of the patients, you see a quick turnaround," he said. "But it was heartbreaking, because you also have a lot of patients who can't change."
Kleven decided to make another career move – and took an opportunity to go to film school at Seattle Central College. 
"It was honestly like a two-year boot camp," he said. "We had a rigorous program."
During internships, he directed and produced shows. On his last project, he assisted the sound director. 
"It was one of those things that came easy to me," Kleven said. 
He jumped into the business of making movies sound good. One gig lead to another – and he has been in sound and video production with his business Kleven Creative Services ever since. 
Kleven also co-founded Heartstone Studios, which focuses on creating videos for nonprofits and the arts. 
Kleven keeps his ear to the ground to find local film projects where he can lend a hand with his sound skills. 
That's how he learned about "THE SCOTTISH PLAY."
"We shot the first two episodes last year," Kleven said. "Overall, 'THE SCOTTISH PLAY' has been my favorite narrative project, just because of the actors and crew. It's got the kind of producer and director team that get you to do your best to bring home what they need."
The show's writer and director Weetus Cren brought in a lot of local talent both on and off screen. 
"I love the fact that I get to use these incredibly talented Pacific Northwest actors," he said. 
Cren grew up in Redmond and "moved to Seattle the second I was old enough to do so."
Now, he splits his time between two homes – L.A. and Mercer Island. 
Cren lived in the U.K. and studied Shakespearean acting for a while – and that's where much of the inspiration for the series originated. 
"I have a love/hate relationship with theatre," Cren admitted with a laugh. "I had all this Shakespearean training, and I needed to do something with it." 
He wanted to poke a little fun at the theatre world – and was interested in the superstition that "Macbeth" is a cursed play. The notion is one reason most directors refer to the production as "the Scottish play" instead of referring to it by name. 
"I thought that it was a really fascinating – and ridiculous – myth," Cren said. "And I'm living proof that you can say 'Macbeth' in a theatre."
He had been formulating the plot for a couple of years – and is excited to see the production now available for purchase on Amazon. 
"The nice thing about a series is you get the time to develop strong characters," Cren said. 
And the characters he has been able to create for this dark comedy is his favorite part of the project. 
"They're misfits – but they have potential," he said. 
For more information about the show visit, www.facebook.com/thescottishplay.
For more information about Kleven and his local businesses, visit www.michaelkleven.com and www.heartstonestudios.com.