Evergreen High School will celebrate its reunification on the first day of school Sept. 6
Evergreen High School will celebrate its reunification on the first day of school Sept. 6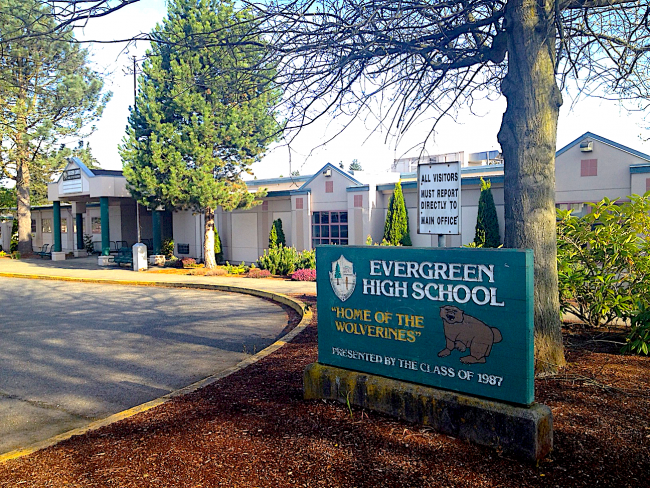 Sun, 08/27/2017
In 2007, Highline Public Schools made the decision to convert Evergreen High School near White Center into three autonomous schools sharing the same campus ("small schools") each with a particular educational focus. The idea was that a reduction in the principal-to-student ratio would improve graduation rates. The plan was originally funded by the Bill and Melinda Gates Foundation).The three small schools were named: Technology, Engineering & Communications School (TEC), Health Sciences & Human Services High School (HS3), and Arts & Academics Academy (AAA).
That 9 year experiment ends with the Grand (re) Opening of Evergreen as a unified campus and school on Sept. 6. 
In an invitation sent out by the "Friends of Evergreen" they announced the opening day events.
Help welcome our students back to campus at a morning rally in the front of the school with the Evergreen band, cheerleaders, and Wolverine mascot!  Meet school leaders at a community reception in the Library and learn more about exciting plans for Evergreen and ways to help. Join students at an all-school assembly in the Main Gym to kick off the school year and help us hand out EHS sweatshirts. Finally, tour campus to see improvements for this school year but also the need for updated facilities because our students deserve a high-quality learning environment.
Tentative schedule:
Check-in begins at 6:30am in the Main Office
6:45am - Welcome Rally - Front of School
7:30am - Community Reception - Library
8:00am - Back to School Assembly and hand out sweatshirts - Main Gym
Campus tour to follow
Questions? Email us at friends@evergreensuccess.org
Date: Wednesday, September 6, 2017
Time: 6:45am - 9:30am
Address: 830 SW 116th St, Seattle, WA 98146