Good for You: We Be Jammin
Good for You: We Be Jammin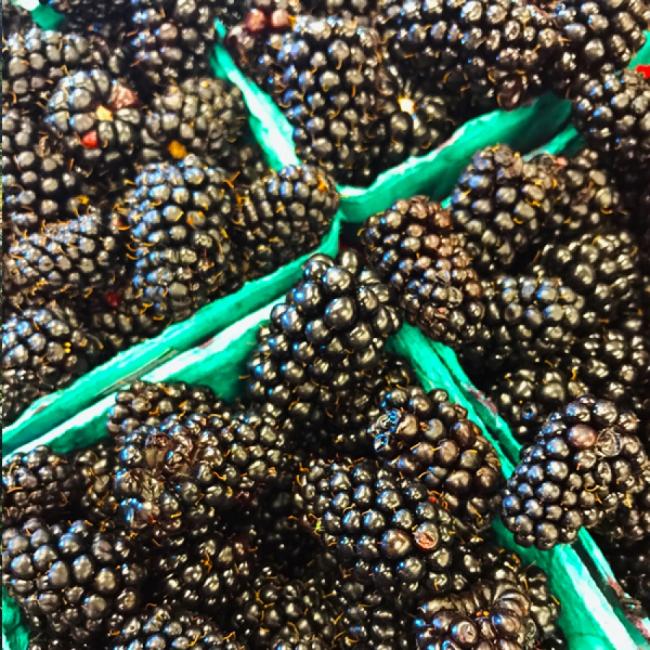 Tue, 08/29/2017
By Kathryn Kingen
We're getting that hot, hot August sun and the wild berries are getting plump and juicy.
Blackberries are growing nearly everywhere, just find an untended corner and those stickery vines will be there. They're a pain most of the year but come harvest, all the menacing is forgiven. So, grab your buckets, find your favorite berry patch, and get to work.
A good rule of thumb, yes, it's a discipline, is to put at least one berry in the bucket for every one that goes in your mouth. (Well excuse me but for good nutrition you need 2 cups of fruit daily, right?!) 
I just had the pleasure of feasting on my friends' backyard boysenberries picked right off her vines, OMG. Later she served them in a deep dense homemade ice cream paired with a delicious galette. It was a summer frugivores' ecstacy, and I'm not over it.
How do you hold onto that kind of delicious summer flavor long after these sunny days have passed? Preservation my friend! There are lots of ways to preserve, and the first and easiest is to quick freeze your favorite summer fruit on a cookie sheet, then store in freezer bags, they'll last from six months to a year this way. You can use them to make smoothies, pies, or just stir into your morning yogurt. Another idea is to puree and freeze them in ice cube trays for later use in a whole host of ways, including fruity, savory sauces. After that it's time to start jammin'. (You could add a little Bob Marley jam to your kitchen too, just to get your groove on.)
Jams are great fun to make and relatively easy too. The process varies from easy freezer jams, that do not require cooking, to cooking the fruit and using the reliable "canning method".
Whichever way is your fancy, hurry and you can proudly make some of the best jams of the season. My personal favorite was my Mom's freezer apricot jam, (pssst, it's the recipe on the back of the SureJell pectin box). There is also a newer alternative thickener called Pomona's Universal Pectin, made from citrus peels. It's a way to get that hearty fruit flavored jam without any sugar content.
Preserving fruit is one way to enjoy the local harvest all year long. Remember it's probably not a whole fruit serving if its jam on toast but truly ripe and local preserves count as a great mental health boost all year long. As far as I'm concerned, that kind of jammin is good for you. For some cool ideas check out Chef Jeremy's summer jam session right here, My SLOW JAM.
https://www.choosemyplate.gov/fruit
http://www.kraftrecipes.com/recipes/30-minutes-homemade-surejell-aprico…-
60262.aspx
http://www.pomonapectin.com
https://www.youtube.com/watch?v=oFRbZJXjWIA - Bob Marley's jam recipe
Award-winning food blogger, Kathryn Hilger Kingen is Salty's co-owner along with husband Gerald Robert Kingen who founded this seafood restaurant group. Seattle's Eastside magazine readers voted Kathryn Food Blogger of the Year 2015 and 2014!
(Read more on 425 Magazine.com). Kathryn has a degree in Nutrition from the University of Washington.
Kathryn Kingen has been blogging about nutrition since the early days of Red Robin - see her first "blog" (they weren't called blogs back then) on "What's the Stuff on Roughage?" You'll want to read it for the recipe Oat Bran Muffins.