Kitchen Talk: My SLOW JAM
Kitchen Talk: My SLOW JAM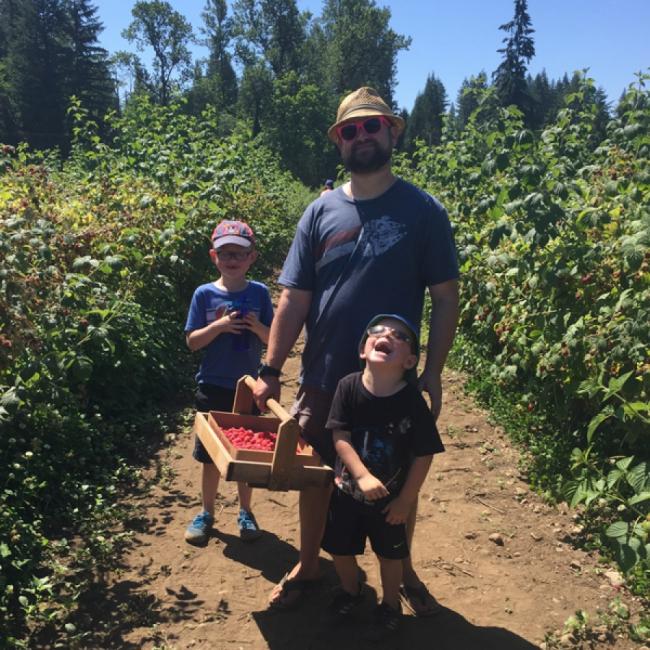 Tue, 08/29/2017
by Chef Jeremy McLachlan
I have been known to be a little fruity sometimes! I love a great snarky joke or the fashionably sensed individual wearing really fantastic shoes. This month I want to talk about the sweetest things in the world, ripe fruit. It seems that every year we get a very short window to enjoy this fruit at it's best. The other week I went raspberry picking with my boys and we pulled some amazing fruit off the vines and I returned home to make a great Jam. 
In this recipe we will discuss about what you can add to your jam to really make it sing. A really good jam needs to have balance of sweet with acidity and maybe even a little hint of savor. For more on the benefits of consuming these seasonal treat, check out Kathy's blog, We Be Jammin
Slow Jam
Makes 5-8oz jars of jam
2lb Fresh Fruit, washed and air dried on a paper towel
3 cups sugar
1 peel lemon rind
1 thyme stalk
1 teaspoon ginger, minced fine
1/2 lemon juiced
Pinch cinnamon
Pinch Chili Powder
Pinch salt kosher
1pkg pectin (optional depending on fruit selection see side note below)
Heat fruit and sugar in large saucepot with lemon peel, thyme and ginger.
Bring to a boil while mashing with a potato masher. (mash less or more considering how chunky you want your jam.
Remove lemon peel and thyme stalk with tongs and discard. Bring jam up to 220 degrees Fahrenheit.
Remove pan from heat and add lemon juice, cinnamon, chili powder and salt and bring back to a boil.(Add pectin if your fruit does not have a lot of seeds. Fruits that do not need pectin are raspberries, blackberries and strawberries.)
Place your jam in sterilized jars and seal tight. Place in refrigerator or boil for longer preservation.
Fridge jam can store for 30-45 days
Shelf Jam can store for 1 year
Chef Jeremy McLachlan
"My love is to create great dishes with fresh seafood, as we are a seafood restaurant, but not forget the meat lovers. My goal is to match exceptional food with our incredible view," says McLachlan. "Living in the Pacific Northwest, we are fortunate to have an abundance of regional treasures. The use of these fresh ingredients is key to Salty's Northwest cuisine," says McLachlan. Don't miss Chef Jeremy's monthly blog, Kitchen Talk.
 
If you have any questions about cooking, feel free to e-mail me at chef@saltys.com. Follow my daily tips and treasures at Facebook@Cheftalkwithjeremy.