Burien Town Square vision now complete – a project decades in the making
Burien Town Square vision now complete – a project decades in the making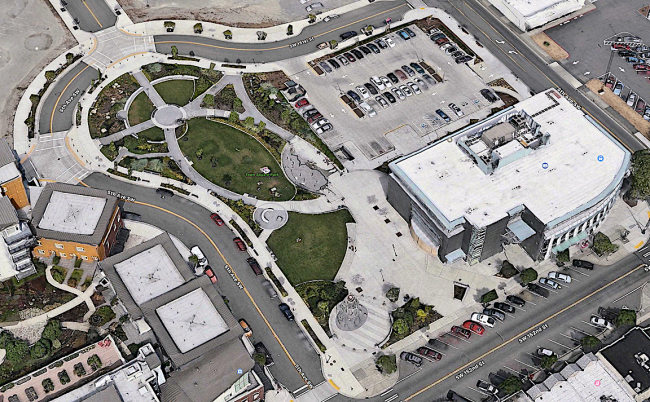 Mon, 09/11/2017
By Lindsay Peyton
There wasn't any pomp and circumstance – or big parade planned – to celebrate the completion of Burien's Town Square. 
The very last step of two-decade long urban planning project was completed on Saturday, Sept. 2 without any fanfare. 
The event most likely went unnoticed by residents, except for the youngest ones – as the reopening of the Town Square Spray Park gave kids plenty of opportunity to play in the water for Labor Day weekend. 
For city officials the opening of the splash pad was more significant than just making needed plumbing system repairs. It signaled a major milestone for the city.  
There are only a few city employees who can trace the whole history of the Town Square project – a visionary plan that remained, even as leadership in the city changed.
David Johanson, Burien's senior planner, started working with the city as an intern, just after it was incorporated in 1993.  "It was kind of the wild west then," he said. 
He remembers the very beginning of Town Square – and how its roots were formed when the state required newly formed Burien to create a comprehensive plan, a look 20 years into its future. One main issue became immediately evident. 
"We needed a Town Square to be the focal point of the community, because there really wasn't one," Johanson said. "There wasn't one central place."
Burien hired HyettPalma, a consulting firm specializing in enhancing downtowns and commercial districts, to create a strategic study.
"That was the genesis for a lot of things," Johanson said. "It set the wheels in motion for our downtown."
By 1999, Burien also completed a streetscape design plan. One of the main issues was that traffic needed to slow down in the town's main hub. 
Burien residents also wanted a gathering place, one that included commercial space and parks. 
In 2000, Johanson said Burien completed its "Town Square Study." "That really took it to the next level," he said. "You start in one direction and you have to be flexible, because you may end up somewhere else."
There were a number of design options developed for the plan. 
"Which one was selected? None of these," Johanson said. In 2002, Burien began working on its master plan, which included more outreach for the community.  "We looked at all these different concepts – and then came back with more options," Johanson said. 
Burien received the Puget Sound Regional Council's "Vision 2020" Award in 2001 for the design work. 
"It was a big deal, recognizing all of the work on the planning side," Johanson said. 
While the city had honed in on its vision for the Town Square, it still had not acquired the property to make the dream a reality.  The next four to five years were spent making integral real estate deals.
"You had all these hurdles to jump over to make this happen," Johanson said. "You had to overcome all of the financial issues and purchase the land." In addition, King County Library System got involved. 
"Then we had a real partner to buy land," Johanson said. "Things were falling into place."In 2009, the new Burien Library opened as an anchor to the Town Square – and a new home for the City Hall. 
Burien had joined with developers Urban Partners in 2004 – and work began on the new street grid. 
By 2007, the company started building condos with retail space on the ground floor. 
Everything was moving along. "Then the recession hit," Johanson said. For a while, all of the momentum came grinding to a halt. 
"Then things started to come back – but there were different people in the city and different people in the development firm," Johanson said. "The city decided to go in a different direction."
In 2013, Burien joined with Legacy Partners – a different development company – to finish the project. 
Legacy partnered with Pillar Properties to build "the Maverick" – a multi-family complex in the Town Square in 2015. The apartments are now 75 percent rented. 
Senior living facility Merrill Gardens was added to the plan around the same time – and opened its doors about two months ago. 
Johanson said the only thing that remains is rent retail spaces in the Town Square. All of the construction is complete. 
"That's the biggest message – if you can get momentum and buy-in, stick with it," he said. "Stay the course. It took 20 years. Big things don't happen overnight."
Now Johanson hopes the Town Square will spark further economic development in Burien. 
"There's a lot of opportunity," he said. "What this project shows is there's a market for it – and it can be done."
Burien's economic development manager Andrea Snyder said that the Town Square project was part of the reason she accepted her post. 
"One of the things that impressed me about Burien was that they had this vision so long ago and stuck to it – even through different city councils and leadership," she said. 
Snyder believes the project will serve as a catalyst for other development around downtown Burien. 
"We've already seen more interest," she said. "They see this as a place where their businesses could be successful. The increased density in the downtown also supports existing businesses. They're already noticing more foot traffic." 
Snyder said the multi-use Town Square development ultimately contributes to a higher quality of life in Burien.  She said events in the space like the weekly farmer's market attract new residents to the area. 
"There are all these resources right here – and that's what really builds a community," she said. Johanson said the city will continue to look for ways to accommodate growth, add housing and expand commercial spaces.
"We're hoping to keep the momentum going," he said. "Now hopefully, we'll have similar projects."