Rat City Recon will feature metal band Whores in White Center music fest Sept. 16
Rat City Recon will feature metal band Whores in White Center music fest Sept. 16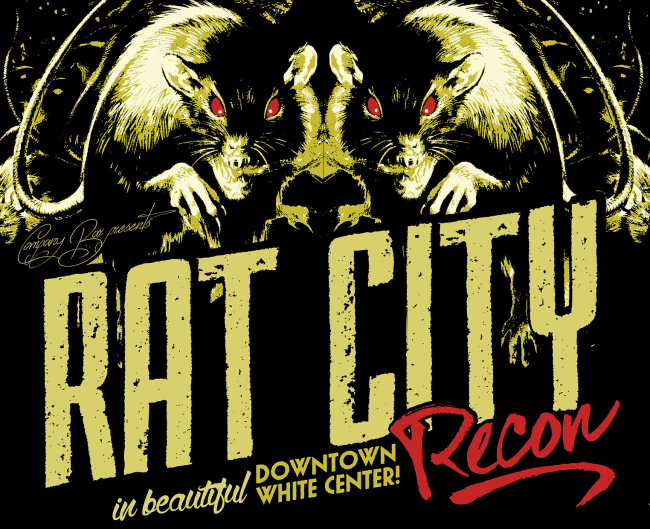 Thu, 09/14/2017
Rat City Recon, the annual music and art festival with a distinctively rodentia themed identity will rock the walls of White Center Sept. 16 with a line up of bands the organizers claim is the best in the event's 5 year history. Led by metal band Whores who they say  "pack a noise rock wallop with screeching guitars, gargantuan drums, sonic-fuzz bass, and compelling vocals."
The event's press release says, "The band's explosive sounds have led them out on the road with the likes of Red Fang, Melvins, Deafheaven, Kylesa, and The Sword. Since the release of 2016's 'Gold', the band has seen a firestorm of media attention, including Rolling Stone ranking 'Gold' as one of the top 20 metal albums of 2016, and also declaring Whores a must see band."
Beyond the music the event will offer plenty of food and drink, lots of swag merchandise and more. 
Advance tickets for all venues are available now here.
EVENT INFO
Saturday, September 16, 2017 - 4pm-1:30am
Southgate Roller Rink | 9646 17th Ave SW, Seattle, WA 98106 | www.southgaterollerrink.com
Drunky Two Shoes BBQ | 9655 16th Ave SW, Seattle, WA 98106 | www.facebook.com/drunkysempire
· $20 advance tickets and $30 ticket/t-shirt packages available at: squareup.com/store/rat-city-recon; $25 at the door
· 21+, valid I.D. required
RAT CITY RECON BANDS
(in alphabetical order)