2 Fingers Social plans a family friendly "Classy dive bar" on Delridge Way
2 Fingers Social plans a family friendly "Classy dive bar" on Delridge Way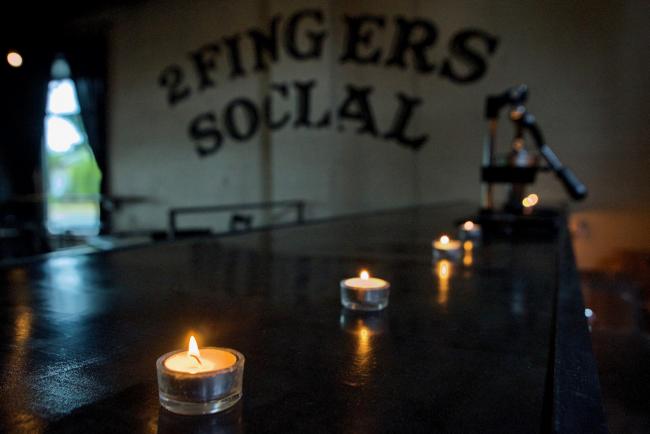 Patrick Robinson
Tue, 10/10/2017
2 Fingers Social, West Seattle's newest bar/restaurant aims to be something very different than most people have seen before in the area. They will be family friendly from 4pm on and then at 8pm, go full 21+ till midnight (seven days a week). That's some of the explanation for the "Social" part of the name, with "2 Fingers" representing the "pour" for the cocktails they serve, literally 2 full ounces measured by fingers against a shot glass. No sports will be shown on the big screen behind the bar. Instead old classic movies will be played with subtitles, again, to promote conversation and social interaction. Music "From Patsy Cline to Mastodon" will play as background.
It's in keeping with the trend for the White Center area as new business owners come in and build out spaces in their own unique vision, joining Beer Star, Drunky Two Shoes, Zanzibar and The Lumberyard as new places in the area.
The two partners in 2 Fingers Social located at 9211 Delridge Way SW, Andrew Spence and Ed Wheeler are both experienced bar tenders. Spence and Wheeler both did stints at Chupacabra on Alki, and the original Whiskey Bar on 2nd Ave and elsewhere. Spence said they could easily make "craft cocktails" the both chose to make their joint venture something more appropriate for the neighborhood. "There are a million bars out there that are like that," said Spence, "I don't need a 15 ingredient drink that takes 20 minutes to make, 'here's your smoke infused blah, blah, blah. It's fine, it's good but every bar tender I know just wants a craft beer with a shot of whiskey on the side. They don't want to sit through the wait."
They said they are launching "an old traditional bar" in the sense that it's place to go relax with friends and family and have a quality drink and good food. Speaking of food 2 Fingers Social will be serving house made sandwiches. "They will be authentic sandwiches from the city they come from," explained Spence. "We are doing a Chicago style sandwich with Jardiniere cheese, spicy Italian roast beef with the au Jus dip, another one will be a Bahn Mi, more custom to the Vietnamese style so it will have the Pate' on there. I'm going to have a 'Seattle Dog' since there's nowhere in West Seattle right now that serves the 'Street Dogs'. In addition to sandwiches they will offer nachos and a charcuterie board of meats and cheeses. 
Six draft beers will be available with pale, stout, IPA and a regular beer of some kind. Local breweries might make it into the rotation at some point in the future since as bartenders they know all the local breweries. Four wines, "Two reds and two whites and one sparkling." 
There will be an emphasis on whiskey and bourbon and the brands in the well, "are basically premium brands." Other liquors will be well represented said Spence. 
"We will offer a full 16 ounce pour on beer, I made sure of that," Spence said.
Outdoor seating will be added in the spring or summer as they can since there's a generous area outside for that purpose. Parking is found in the area streets near the bar.
2 Fingers Social will have a soft open after Oct.  13 to help them get going, then be fully open the week following.
"We wanted to build a bar we'd like to go to," said Spence. Based on the warm atmosphere, ample drinks, simple menu and comfortable space it looks like Spence and Wheeler will have a lot of company.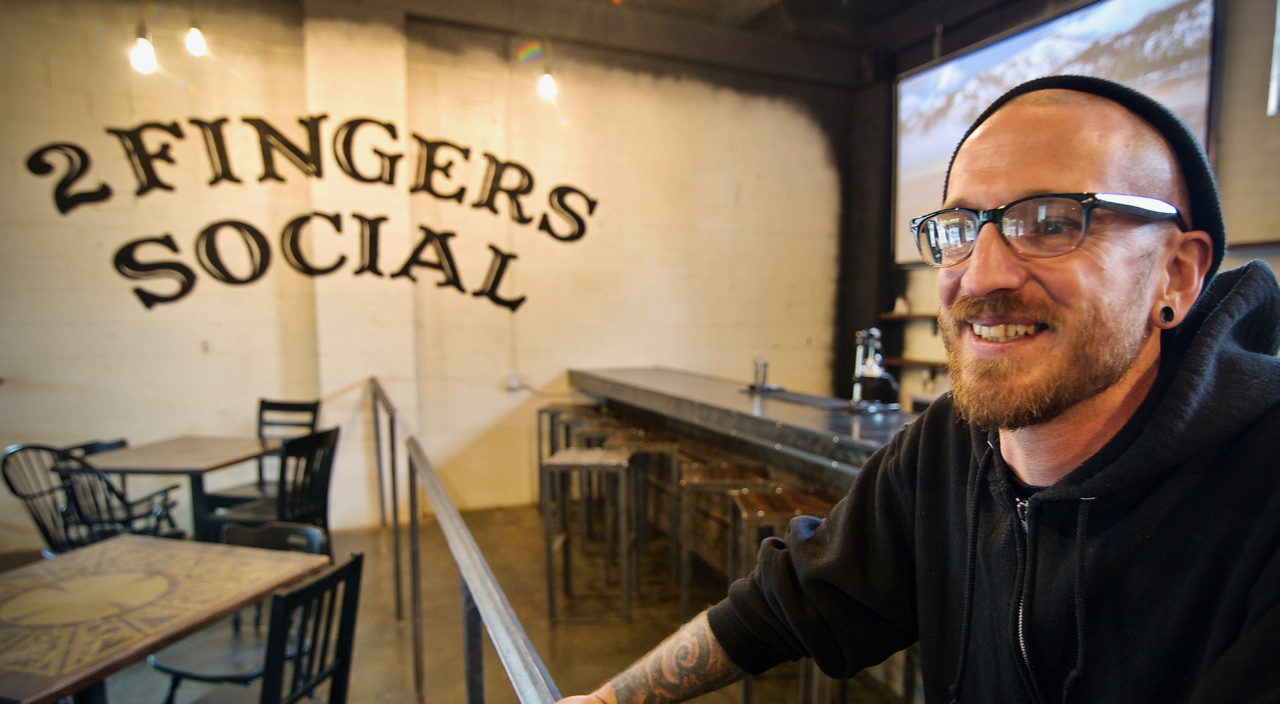 Comments
Two Fingers Social is a great place to have delish food and drink and be with community family. Fun atmosphere with the old movies and decoration and check out the original art in the bathrooms...
Add new comment