Highlne Community Calendar Week of 12-4-17
Highlne Community Calendar Week of 12-4-17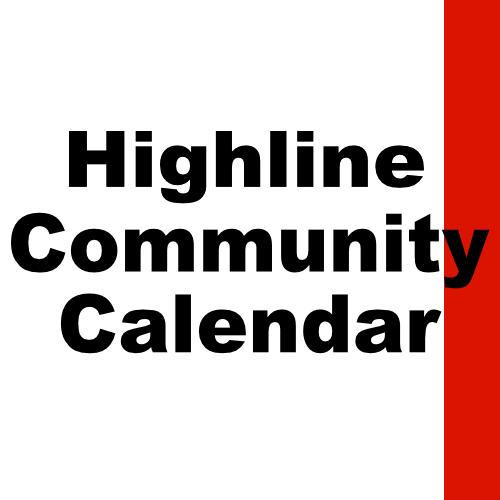 Wed, 12/06/2017
Seattle Professional Career Event—Sales & MGMT. Specific
DoubleTree Suites
16500 Southcenter Parkway
Thurs., Dec. 7, 9 a.m.–12:30 p.m. HireLive is a national career service company specializing in Sales, Retail and Management Career Fairs, and has more than a decade of experience in connecting job seekers with industry leading companies that are currently hiring. This is your opportunity to interview face to face with 15+ Fortune 500 and Industry Leading companies seeking talented, experienced and enthusiastic sales, retail and management candidates. Bring 10-15 Resumes and dress business professional. This is a free event for job seekers. Complimentary parking. Job Opportunities include: Inside Sales Reps, Outside Sales Reps, Account Executives, Retail Managers, Account Managers, Insurance Sales, Customer Service, Technical Sales, Sales Managers, Pharmaceutical Sales, Telesales, Sales Trainer, Merchandiser, Mortgage Brokers, Financial Planner, Route Sales, Retail Sales, Retail Management, Human Resources and much more! 
Miller-Walker Community 
Stewardship Event: Ivy removal
Walker Preserve Park, Normandy Park
S.W. 168th St. and 2nd Ave. S.W.
Sat., Dec. 9, 9:30 a.m.—Noon. Join your neighbors and make new friends while helping improve your local park and fish and wildlife habitat! We are removing English Ivy from where it has invaded Walker Preserve. Ivy kills native trees and other plants by taking up all the water from the soil. It also prevents young trees from getting established. If left unchecked, ivy will destroy the urban forest along Walker Creek. Volunteers of all ages are welcome; children need to be accompanied by a parent or an adult. We provide tools, gloves, and snacks! Please RSVP! It helps us plan enough tools and refreshments. Contact Matt Goehring, Miller/Walker Creek Basin Steward at mgoehring@kingcounty.gov or 206.263.6826 to RSVP or for more info.
Mount Rainier Basketball Camp
Mount Rainier High School
22450 19th Ave. S.
Dec. 18 and 19, 9 a.m.–Noon. Mount Rainier High School basketball coaches Brandon Horstman, Head Boys' Coach and Keith Wasberg, Head Girls' Coach, are hosting a winter break basketball skills camp for students entering grades 3-8. Coaches Horstman and Wasberg will be joined by members of their coaching staffs and players from each program. This camp is in partnership with the City of Des Moines Recreation Department. Cost is $56 for Des Moines residents, $66 for non-residents. To register contact Des Moines Recreation at 206.870.6527.
GriefShare: Your Journey from Mourning to Joy
Boulevard Park Church
1822 S. 128th St.
Every Tues., Sept. 19–Dec. 12, 7–8:30 p.m. This 13-week seminar is for those who have lost someone close and for those who would like to experience a fuller sense of closure to this grief they've already endured. Each class has a video presentation, a time of discussion, and a time to share anything one may wish from the workbook. Registration, which includes workbook, is $15. Call 206.243.2600 to sign up for this care-sharing seminar.
Boulevard Park Library
December 2017 Events
Boulevard Park Library
12015 Roseberg Avenue S
206.242.8662
Children & Families
Family Story Times
Fri., Dec. 1, 8, 15, 22 and 29, 10:30 a.m. Family program, all ages welcome with adult. Stories, songs and fun!
Book Spoilers! 
Tues., Dec. 5, 12, 19 and 26, 5-5:45 p.m.  Ages 8 to 18. Drop in to challenge the Children's Librarian to Book Spoilers. Everyone welcome to play! Pick a book with the librarian, and win a prize if you can convince her that it ends differently than it does.
Spanish Story Times
Tues., Dec. 5, 12 and 19, 7 p.m. Family program, all ages welcome with adult. Stories, songs and fun!
Grades K-12 Study Zone
Tues., Dec. 5 and 12, 6-8 p.m.; Wed., Dec. 6 and 13, 6:30-8:30 p.m.; No Study Zone during Winter Break, Dec. 16-Jan. 2. Need a place to study or get homework help? Drop in any time during Study Zone hours for some helpful assistance from a volunteer tutor.
Movie Night: Despicable Me 3
Wed., Dec. 13, 6 p.m.
Family program, all ages welcome with adult. Popcorn provided.
Brick Builders!
Fri., Dec. 22, 3-4:30 p.m. Ages 1 to 18, ages 5 and younger with adult. Play and build with Legos® and Duplos.
Tweens & Teens
Teen Movies: Spider-Man Homecoming
Thurs., Dec. 14, 3:30 p.m. Middle and high school ages.
Hang Time
Thurs., Dec. 28, 3-5 p.m. Middle and high school ages. Come in, hang out, make a craft or play a game. Materials and games will be provided. Drop-ins welcome.
—Ongoing—
Burien Drinking Liberally
Angelo's Restaurant
601 S.W. 153rd St.
Fourth Thurs. of the month any time from 6:30 p.m. onward in the DaVinci room. An informal, inclusive progressive social group. Raise your spirits while you raise your glass, and share ideas while you share a pitcher. Drinking Liberally gives like-minded, left-leaning individuals a place to talk politics. You don't need to be a policy expert—just come and learn from peers, trade jokes, vent frustration and hang out in an environment where it's not taboo to talk politics.
Adult Ping Pong
Burien Community Center
14600 - 6th Ave. S.W.
Every Tues. and Fri., 11 a.m.–2:30 p.m. You are invited to play pong for fun and exercise, All skill levels are welcome.
Living Organized
Southminster Presbyterian Church
19834 8th Ave. S.
Every Wed., 10:30 a.m.–12 p.m. We are a group of adults who have been challenged by disorganization and clutter. We are not affiliated with any denomination or institution. There are no dues or fees to attend our meetings. We collaborate with each other to develop solutions that will help us live with dignity. Because all of our members have had a problem with disorganization, there is no shame in attending our meeting. Our learning material includes books, movies, newspaper articles, personal stories, active listening and discussion. We offer: non-judgmental support, an opportunity to express your own frustration, the courage to declutter, acceptance of who you are. For more information contact Elizabeth at 206.248.2922.
Messies Anonymous
Southminster Presbyterian Church
19834 8th Ave. S.
Every Wed., 10:30 a.m.–Noon. Messies Anonymous is a free self-help group for people who have too much clutter in their home and life. Join us as we learn the way to live with dignity.  Our process also works for those who are downsizing. Call Elizabeth at 206.248.2922 for more information.
Water District Board Meeting
King County Water District Office
12606 1st Ave. S.
First and third Wed. of each month, 10 a.m. The Board of Commissioners of King County Water District 20 meets the first and third Wed.of each month. Call 206.243.3990 for more info.
Join the Burien Lions 
Angelo's Restaurant
601 S.W. 153rd St.
Every Wed., Noon–1 p.m. Join us and help reach out to those in need in our community. Come participate in our community projects helping make Burien a better place for all. On the first Wed. of each month, we hold an evening meeting; while the weather is warm—from now through September—at 6 p.m. at the 913 Restaurant in the outdoor area, 913 S.W. 152nd St. For more information call 206.433.0715.
KCFD #2 Board Meeting
Station 28
900 S.W. 146th St.
Tues., Nov. 7, 5 p.m. The public is welcome to a special meeting of the Board of Commissioners of King County Fire District #2.
Daystar Toastmasters
Daystar Retirement Village
2615 SW Barton
Sat., Nov. 18, 10–11 a.m. Come as a guest on to experience the safe, supportive atmosphere in which you can grow your communication and leadership skills. Improve your ability to think-on-your-feet and become more comfortable speaking to groups. Arrive 5 to 10 minutes early for orientation. For more information see daystarclub.toastmastersclubs.org. or call Bill at 206.932.6706.